Darewadi village, Ahmed Nagar District, Maharashtra



Darewadi, is a drought prone village in the rain shadow region of Nagar taluka, was a picture of despair. A remote village, without any assurance of drinking and irrigation water. It receives 300 mm of annual rainfall. The total geographical are of the village is 1535.24 hectare (ha), about 197.23 ha are seasonally irrigated and 737.62 ha rainfed. Agricultural production - even in a year of reasonably good rain - was not sufficient even for 3-4 months, employment opportunities were scarce and primary education was a distant dream for the children. Women had to toil hard, either in the places to which they had migrated or in their own village to fetch of water, fuel and other basic needs.

The path to glory started when the villagers came to know about Watershed Organisation Trust (WOTR), a Ahmednagar based NGOthe Indo-German Watershed Development Programme, they approached for assistance. However, WOTR's conditionalities like, four days of shramdaan and ban on free grazing deterred them. They spend Rs 17,000 and constructed a road - which was rejected by WOTR and as villagers were not ready to accept - for about a year they kept on finding ways and means to avoid WOTR's conditionalities but failed. One bad monsoon and its differential impact on the region opened their eyes. Finally the work started in 1996. A year later, in 1997, they took the permission from the forest department (FD) to work in the reserved forest zone following the ridge to valley concept. In 1998, the project entered the full implementation stage.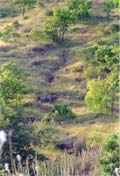 Convincing the villagers and making them understand the inter-relationship between environment and health and quality of human life was a challenging before WOTR and the villagers was to win the confidence of the entire village Awareness generation was achieved through constant interaction, audio-visual aids, exposure visits to areas where people have conserved and mobilized resources for betterment of their own life. The next stage was to mobilise and capacitate the entire community to undertake the responsibility of managing their resources and life. A series of technical treatments (contour trenches, gully plugs, farm bunds and contour bunds, check dams, etc.) along with bio regeneration (plantation, grass seeding, etc.) were undertaken. The once degraded landscape was slowly transformed, providing adequate drinking and irrigation water with increased soil moisture for better crop production and sufficient (sometimes even surplus!) fodder and fuel.
This transformation of Darewadi would not have been possible without the emergence of effective local institutions. They interfaced with WOTR as well as government departments planning, implementing and monitoring all the activities while evolving systems for conflict resolution.
The Darewadi VWC, which is the official project holder, is a registered body, having 22 members (including six women members) is nominated by gram sabha. During the implementation phase, they had their official meeting once a month. VWC and its members are the custodians of their ecosystem. The members have clearly assigned responsibilities known as portfolios. With moral incentive being the guiding force, the VWC member's discharge their responsibilities in consultation with and with the cooperation and participation of all the villagers. The village has a nine-member forest committee working jointly with the FD. Speaking on the issue of harnessing working relations with the department, WOTR commented that, "egos are kept at bay and everyone's work receives equal respect and attention. We have learnt the technique of refilling (the FD extensively uses this technique to provide more fertile depth to the plants so that they can survive. Basically they dig a small pit on the CCT and the soil from the pit is allowed to weather for some time. And, then with the same soil the pit is refilled - a small trench is built near this pit and the soil thus, removed is placed over the pit. The trench is not filled with soil, it is left as it is so that during rains water can stay for a while, percolate and provide a support to the plant.) from the forest department and it is the reason behind the good survival rate of the plants. More than 85 per cent of the plants have survived in Darewadi."
Increased agriculture production due to increased availability of water and enhanced soil moisture regime has created linkages with markets for selling the surplus. From the earlier pearl-millet farmers have diversified to vegetable cultivation, cotton, onions and improved cereals and pulses even selling the surplus into big cities like Pune, Ahmednagar, Mumbai, etc. Employment opportunities have increased from two to eighth months in a year. This was possible due to farmers' perception of 'minimal risk' because of assured availability of water. In order to conserve the developed natural resources, the VWC has taken some difficult decisions like bans on direct lifting of water from storage structures, digging of bore wells, cultivation of water intensive crops like sugar cane, and other social fencing methods. Just as scarcity leads to competition, abundance leads to greed, and both can create conflicts. In 1999, villagers themselves collectively approached the district collector issued a notice banning the digging of the bore wells.
There are eighth women's self Help Groups (SHGs) in the village and these groups have an apex body, the Samyukta Mahila Samitee (SMS) that is functioning well. Most important of all, they manage their savings and credit groups with internal lending, which provides immediate loans for their basic needs. They have undertaken a number of activities such as soak pit, kitchen gardens, improved cooking devices, water supply system, toilet construction, etc. A number of income generation activities like dairy, nursery, homestead poultry, etc. have also been undertaken. At present they own improved cattle's and sell over 1,500 liters of milk every day to milk cooperatives in Ahmednagar.
Due to the 'demonstration effect' of Darewadi, many villages in the vicinity have also taken up natural resource management along watershed lines. The enhanced capacity of the VWC of Darewadi has enabled it to undertake watershed development in neighbouring the village Chaudariwadi.
Participants were shown all the treatments and the processes behind the works were shared by the villagers. They were also to taken to the village school, where a village treatment map and two tables gave a detail account of the works done and money spent. Transparency has been another reason that has motivated villagers to work collectively. Everyone has a role. The villagers proudly showed us around and answered our never-ending queries by taking time out for us even during the peak harvest season. Before moving towards Ralegan Siddhi, the group chatted with Fr Bacher and Fr Robert (heading the regional centre, Sangamner) gave a slide presentation on the pre and post situations in both Darewadi and Akole cluster. Fr Robert generously shared his experiences and stories of bringing people together with the participants - clearly indicating that social mobilisation is not an easy task but life of the project and villagers becomes really smooth once they get this magic wand.