| | | |
| --- | --- | --- |
| Vol. 3 | No. 5 | October 2001 |

Rainwater International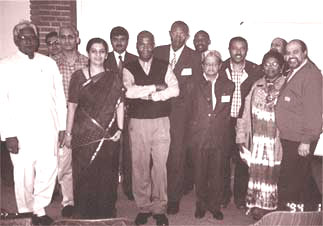 A group of participants of rainwater international 2001,
in Germany
The Centre for Science and Environment (CSE), a New Delhi-based non-governmental organisation (NGO) participated in the Rainwater International 2001 conference held between September 10-14, 2001 in Mannheim, Germany. The CSE also took a group of water experts so that they could interact with water harvesters from different parts of the world and exchange their experiences. The group comprised of:



Ramchandra Singh Deo, Chattisgarh minister for finance, commercial tax, planning and statistics, who had, way back in early 1980s cautioned against the indiscriminate exploitation of groundwater and the need of rainwater harvesting.



Shamjibhai Antala of Saurashtra Lok Manch, an activist who has raised awareness and helped farmers to recharge more than 3 lakh wells in Saurashtra region of Gujarat and is assisting several state governments in formulating rural water harvesting strategies.



R Jeyakumar, managing director of Rajparis Civil Construction Limited, Chennai, and an active campaigner and practitioner of rainwater harvesting.



Tej Razdan, a surgeon by profession and secretary of Jheel Sanrakshan Samiti, an Udaipur-based NGO, fighting with the authorities for several years now, to clean up the lakes of Udaipur, the source of the city's water supply.

The conference was jointly organised by fbr, FAKT Consultant for Management, Trainings and Technologies and International Rainwater Catchment Systems Association (IRCSA). IRCSA is an association formed to promote and advance rainwater catchment systems technology worldwide. Fbr is a German professional association of people, institutions, companies and authorities, involved in rainwater utilisation. FAKT is a non-profit consultancy founded to make technical expertise available for overseas partners of European development aid organisations. Its water sector has a strong emphasis on rainwater harvesting.

The conference was a platform to highlight the potential of rainwater harvesting in meeting rural, urban, domestic, agricultural and industrial water requirements. Participants included planners, decision-makers, members of civil society, persons involved in research and development and manufacturers and distributors of rainwater harvesting systems and components.

Sessions were held on rainwater management and utilisation, greywater recycling, technology and marketing. Apart from the conference, the International Rainwater Fair was also organised where technologies developed for rainwater usage and wastewater recycling and reuse were displayed. Posters relating to rainwater catchment systems in the urban environment, rainwater harvesting in humid and arid regions, water quality aspects, water harvesting for agriculture, education and consciousness were displayed. Excursions to sites where rainwater harvesting had been implemented were part of the conference. These included visits to an apple juice factory and Darmstadt University where rainwater harvesting has been made an integral part of water management.

One of the keynote addresses was given by CSE during the inauguration of the meeting where the need to 'make water everybody's business' was stressed and the role of water in local food security and poverty alleviation was defined.

In a session on raising awareness the CSE staffer shared CSE's experiences on raising awareness: documentation in books, the newsletter Catch Water, articles in Down to Earth, website, organising paani yatras, public lectures and other efforts.

Sensing the interest of African participants in Indian community water management practices, CSE organised a special workshop. About 30 participants attended it. During the workshop, Ramchandra Singh Deo informed about the water availability scenario fifty years from now. While painting a dismal picture he said that given the way world was abusing the water resources, fifty years from now there would be no groundwater, and whatever would be available, would be polluted. He stressed on the need for harvesting rain and suggested the construction of small water harvesting structures in the catchment of large dams, to reduce the negative impact of desilting large dams that is going on at a faster rate than anticipated.

Shamjibhai Antala shared his experience of raising awareness and recharging wells in the Saurashtra region of Gujarat. He informed about the use of several fora and socio-religious organisations for promoting awareness and the techniques of how a well in a farmers field could be recharged.

Tez Razdan informed about the campaign of the people of Udaipur in preventing further pollution of the lakes of Udaipur under the guidance of Jheel Sanrakshan Samiti. He also informed about the jal biradari formed in Udaipur and the use of street plays and songs to spread the message of water conservation.

R Jeyakumar discussed the techniques and cost involved in rooftop rainwater harvesting. The workshop concluded with a question and answer session.

CSE also participated in the International Rainwater Fair, sharing the stall space with FAKT and put up a digital exhibition on rainwater harvesting experiences in India. Despite a small place, the stall was able to attract several visitors. Most of them were attracted by the digital exhibition and also by the publications and water-related documentaries.

Participation in this meeting helped spread the message that indeed, rain is a powerful source of water. It also provided an invaluable opportunity to learn from experiences of others as well.


Students sensitised

On September 29, 2001, a one-day workshop was jointly organised by Centre for Science and Environment (CSE), a New Delhi-based non-governmental organisation (NGO), along with other Delhi-based NGOs namely, Aashray Abhiyan, Butterflies, Development Alternatives, Pravah, Toxics Link, Shristi and Youthreach, as a part of the 'Beyond Zebra' program, in Springdales school. The workshop, which was attended by the students of class 11th and 12th, was successful in sensitising the students on community-led rainwater harvesting.
Beyond Zebra is a life skills and citizenship education program, which works with principals, teachers and students to develop youth leaders. It is a 30-40 hour annual program for schools with regular workshops of 1.5 to 3 hours conducted over the year.
A wealth of information on rainwater harvesting was provided to the participating students. The morning session started with the CSE staffer explaining in detail about the different rural water harvesting practices and the role of community in it. The afternoon session introduced the students to the various aspects of urban water harvesting. The hydrological cycle was also explained. A detailed visual presentation exposed the students to the methods and technical aspects of rainwater harvesting.
During the workshop the students raised two significant issues:



The possibility of storing rainwater for daily use, in Delhi.


The possible ways of mobilising people in their respective colonies to implement rainwater harvesting.
The students decided to organise themselves in three groups to conserve and manage depleting water resources in Delhi:


Group 1: home group.


Group 2: school group.


Group 3: policy group.
They also presented a detailed action plan. Each student from the group presented a part of the plan, thus making sure that each of them got a chance to speak. Their understanding on the issue was evidently visible when they not only actually calculated the amount of water that would be wasted in holding a rain dance at the end of the workshop, but also requested the school authorities to stop such events in their school.