ONE BOOK TELLS IT ALL

After canals, politician-friendly big dams and other cement monsters, let us understand all over again the ways of managing water.
Dying Wisdom
The rise, fall and potential of India's traditional water harvesting systems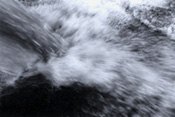 The Centre for Science and Environment dedicates the Citizens' Fourth Report to the Native Wisdom of the Rural Communities of India.
Harvest what?
The water harvesting rationale: extend monsoon bounties to dry months.
The basic principle: conserve water where it falls.
What did the post-1947 national school of water management teach?
Certainly not water management.
So Dying Wisdom looks at a millennial tradition to find answers to today's irrigation and drinking water crises.
That far back? But isn't the Arthasastra about administration?
Yes. That is why it links state prosperity to rainfall regimes, soil types, crop patterns, and localised water harvesting.
In fact, Dying Wisdom looks into India's 15 ecological zones, each with its localised systems. An awesome variety. A trove of technology.
Rain is decentralised. So is the demand for water.
Why can't we decentralise supply?
Dying Wisdom argues for a revival of local water harvesting systems.
A revival that is not an archaic return to the past.
THE WAY TO THE FUTURE IS CLEAR