Note on National Water Harvesters Network


The Programme

At the Centre for Science and Environment's conference on 'The Potential of Water Harvesting: Traditions, Policies and Social Mobilisation' organised from October 3-5, 1998. During the conference the participants decided to form a National Water Harvesters Network. CSE was recommended to be the national secretariat of the network. Since then CSE has been involved, in establishing a national level network of people, institutions and organisations involved in water harvesting. The national network has the mandate to organise and promote research, advocacy, awareness raising activities and field action programmes.

Broad Objectives

The aim of this Network is to influence the policy debate in India and to push for policies that incorporate decentralised, participatory and locale-specific water harvesting systems which use rain water, snow melts, sub-surface water etc.
To harness the power and knowledge of individuals and communities
To revive and develop the ancient wisdom of water harvesting together with modern inputs from scientific knowledge for conservation and better management of our freshwater resource for a secure water future.
Goals of the Network



To accomplish this overarching objective, the network proposes to achieve the following goals:
Building coalitions by bringing the like-minded together.
Promoting communication amongst the like-minded by providing a forum that facilitates the coming together of people and exchange of ideas and perspectives.
Creating and disseminate information on exemplary action and technologies.
The network seeks to create 'water literacy' and providing informational support to the researcher, writer and practitioner of water harvesting. It also seeks to work towards improving access to information by serving as a clearinghouse for information on activities, issues and 'technological' developments related to water harvesting.
Educating the public and policy makers.
Empowering the marginalised people and their knowledge systems in order to help them consolidate their power and efforts.
Advocating relevant changes in policy and legislation.
8. Working as a resource unit.
9. Work with all levels of government, but especially Panchayati Raj institutions to promote water harvesting at the local level.
10. The network will work towards replicating and propagating successful local initiatives.

Activities of the Network



In order to accomplish these goals the network will undertake the following activities:

Producing newsletter (English and Regional).
Creating and maintain a database on people, projects, organisations and technologies related to water harvesting.
Creating a network website.
Establishing a clearinghouse to provide technical, legal and financial information. Documenting on an ongoing basis the experiences and lessons learnt of outstanding government and non-governmental efforts.
Establishing a documentation centre of educational and training materials prepared by field action groups for easy dissemination.
Promoting active links between field action groups and with research, professional and academic institutions.
Promoting cultural connections and rituals associated with water and water harvesting.
Organising public meetings, workshops and exhibitions around the theme of water harvesting.
Organising volunteer network in support of water harvesting.
Developing links with people involved in water harvesting in South Asia and other parts of the world.
Organising training workshops.
Documenting and promoting research and study on specific issues of relevance.
Organising regional and national conferences.
Organising interactions with government and other policy makers.
Branch network of the NWHN
These are decentralised networks of the NWHN at state levels. There is a branch unit in Chennai known as the Tamil Nadu of the NWHN with Dr. A. Vaidyanathan as the chairperson. This unit is primarily involved in networking with in the state and also is responsible for the production of the newsletter "Siruthulli"
Structure of NWHN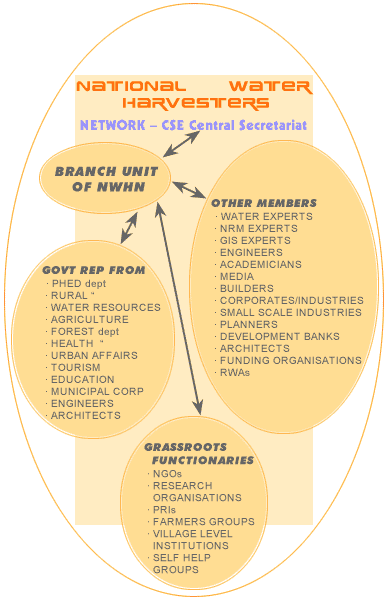 Steering Committee



The steering Committee of the National Water Harvesters Network was formed with the objective of assessing and guiding the activities of the network. The committee meets once in a year and contributes towards the annual plan of the water campaign. It comprises of water experts from rural and urban sectors, policy makers and grassroots functionaries.

Following are the steering committee members (2002)
| | | |
| --- | --- | --- |
| Rajendra Singh | Tarun Bharat Sangh, Alwar | Rural expert |
| Anil Shah | Development Support Centre, Ahmedabad | Rural expert |
| Anupam Mishra | Gandhi Peace Foundation, New Delhi | Rural expert |
| Nafisa Barot | Utthan, Ahmedabad | Rural expert |
| Mihir Bhat | Disaster Mitigation Institute, Ahmedabad | Rural expert |
| Harnath Jagawat | N M Sadguru Foundation, Dahod | Rural expert |
| M P Vasimalai | Dhan Foundation, Madurai | Rural expert |
| Tej Razdan | Jheel Samrakshan Samiti, Udaipur | Rural expert |
| A Vaidyanathan | Madras Institute of Development Studies, Chennai | Urban expert |
| Dunglena | Aizwal | Urban expert |
| R Jeya Kumar | Rajparis Civil Construction Company, Chennai | Urban expert |
| N C Saxena | Ex. Member Secretary, Planning Commission, New Delhi | Govt. |
| Shanta Sheela Nair | Secretary, Municipal Administration and Water supply Department, Chennai | Govt. |
| R Gopalakrishnan | Secretary to Chief Minister, Madhya Pradesh | Govt. |
| M S Vani | DCAP, New Delhi | Legal expert |
| Ramesh Mukalla | Swedish International Development Agency (SIDA), New Delhi | Donor |
| Vishwas Joshi | UNICEF, New Delhi | Donor |
| Narayan Belbase | New Delhi | Donor |
| Sunita Narain | CSE, New Delhi | CSE |
| Manmohan Malhotra | Rajiv Gandhi Foundation, Delhi | |
| Tushaar Shah | Anand, Ahmedabad | |