First visit


(This article appeared in Down To Earth, January 15, 2000)
With the failure of the 1999 monsoon in several areas of Gujarat and Madhya Pradesh, there is a serious drought. Summer is a good four months away, and already there are reports of riots and deaths over water. But several villages are well equipped to face the water scarcity. While travelling through the region, a Down To Earth reporter found that the villages that have built water harvesting structures do not have a drinking water problem, and some even have enough for irrigation




The story echoes the fable of the industrious ant that stocks foodstuff for winter and the lazy grasshopper that is left without food. Women and children dig the dry bed of the Sukhi river near Dahod town of Gujarat. Sitting aside one-metre-deep holes, they wait for life to seep into the holes in the form of water — all other sources of drinking water have dried up completely. "It takes at least one hour for us to get one pot of water. But we are forced to do this as there is no alternative," says Lasan Bhilwad, a tribal woman from the nearby Rentia village.


Barely 25-30 km from Rentia, all the wells and handpumps of Thunthi Kankasiya and Mahudi villages have plenty of water. The seasonal river Machhan, which flows past these villages, has enough water even for irrigation. The N M Sadguru Water and Development Foundation, a non-governmental organisation (ngo) functioning in Dahod district that is known simply as Sadguru, and the residents here have constructed a series of concrete check dams to collect rainwater for irrigation. Moreover, watershed management (wm) measures have been adapted for recharging wells and handpumps. Their past efforts are bearing fruit today.

As Lasan Bhilwad stands on the riverbed with her four children, one can understand why it is difficult to find a family in this region that is willing to marry its daughter to someone from a water-scarce village, no matter how agreeable the prospective groom may be. They do not want their daughters to undergo the agony of seeing water trickle into a hole, even as people trickle out of the village to look for greener pastures. Water means prosperity — its scarcity means poverty, regardless of material wealth. And these are particularly 'poor' times for hundreds of villages in Gujarat. The reason is summarised in one word: drought.

"This is the worst drought I have ever seen in my life," says the 48-year-old Bhilwad. The rainy season has just ended, yet there is little water. Nobody knows how the residents will survive till the next monsoon. The portents are all there to see in the deserted Piyaka village of Mandvi taluka in Kachchh district of Gujarat. All the 550 people from 21 houses have left Piyaka for good. "We were forced to leave because we could no longer face the water crisis," says Argi Badra, 44, who was on a one-day visit from Mumbai when he spoke to Down To Earth.

Most reservoirs in the Saurashtra region in southwestern Gujarat have only 9 per cent of their capacity of water, which will last for only two months, according to the Gujarat Water Supply & Sewerage Board (gwssb), Rajkot. The board says the region received a mere 356 millimetre (mm) of rainfall this year till October 30, as against an annual average of 530 mm. People in Rajkot city are getting drinking water supply for half-an-hour every day. "We really do not know how we will meet the drinking water demand in our district in April-May 2000. Already, we are supplying drinking water through tankers in several areas where there are no pipelines," says Ashwini Kumar, sub-divisional magistrate (sdm) of Rajkot district. In the Kachchh district, rainfall this year has been around 133 mm, much less than half the annual average of 266-417 mm. Already, riots are taking place in the state due to water scarcity (see p7: Riots over water).

Drought is nothing new here, but this year's water scarcity has been particularly devastating. Apart from Saurashtra and Kachchh, the districts of Dahod and Panchmahals in Gujarat as well as Jhabua and Dhar in the neighbouring Madhya Pradesh are facing a serious drinking water crisis. With little water for irrigation, the first casualty has been agriculture. After the kharif crop (harvested in autumn) failed to a large extent in these areas, there are already signs that the rabi crop (harvested in spring) will suffer a similar fate. "Rainfall was low this year and distributed in such a way that there was no run-off. So, harvesting of water did not take place. Yet many watershed areas, where rainwater harvesting and soil-water conservation measures have been implemented, are better off in terms of water availability," says Harnath Jagawat, director of Sadguru.

Water scarcity:

the region's history


Water was easily available in the region 10-15 years ago. But overexploitation has depleted underground aquifers. The groundwater table in these areas has fallen below 300 metres, says G F Joshi, executive engineer with the public health works division in Rajkot. Seawater has ingressed into the underground aquifers in a major part of Kachchh region, according to a recent report of the Gujarat Ecology Commission.

"The presence of 700,000 dugwells in Saurashtra region indicates the presence of extensive groundwater aquifers throughout the region. This means there is one well for less than 20 people, or one well for every 9 hectare (ha) of land or one every 1,000 feet (304 metres)," according to Ashvin A Shah, a us-based engineering consultant who conducted a survey in 1998 on water availability in the region. However, the use of pumpsets for water-intensive agriculture over the past 30 years has lowered the groundwater table from about 9 metres to about 46 metres, he says, indicating that the capacity of the same aquifers is still available to store water.

In the area underlain by Bhuj sandstone in Kachchh, the depth of dugwells was 9-30 metres and water level was 2-21 metres in the 1960s, according to a paper prepared by K C B Raju, adviser, Shri Vivekanand Research and Training Institute in Mandvi, Kachchh district. Today, the depth of dugwells is 30 metres or more and the depth of the bore in them is between 30 metres and 100 metres.

There are about 30,000 dugwells/borewells and about 350 tubewells tapping the underground aquifers in Bhuj and Manchar. The utilisable groundwater resources of the district estimated in 1991 are about 517.07 million cubic metres (mcum). However, more than 55 per cent of the water has already been extracted, and 57 per cent of the land area of Kachchh has been occupied by the saline mudlands of the Rann of Kachchh, which will not contribute to groundwater recharge, notes Raju. He quotes data from the agriculture department of Gujarat to say that the cropped area in Saurashtra and Kachchh has declined by 35 per cent in parts affected by seawater intrusion.

Shamjibhai Antala of Saurashtra Lok Manch, an ngo based in Dhoraji village of Rajkot, says the number of wells and borewells in Saurashtra and Kachchh has increased 16 times over from 25,854 in 1961 to 425,000 in 1998. The groundwater table was about 12-15 metres below the surface in most areas of Saurashtra and Kachchh, while today it has dropped to 215-305 metres, he says. The story from Dahod in Gujarat and Dhar in Madhya Pradesh is much the same.

Impact of this year's drought
The water problem became a political issue in Gandhinagar during the September-October general elections. The candidate from the state capital was home minister L K Advani, and the slogan doing the rounds was "Pahele Pani, Phir Advani" (Water first, then Advani). According to gwssb, 73 per cent of the villages in Saurashtra and Kachchh (3,774 out of 5,181) are expected to face drinking water scarcity this year, apart from 60 cities. About 4,730 villages of these areas are included in the "no-source" category, meaning that drinking water has to be supplied from outside to these villages.

"There is a limit to which the government can provide water through tankers. Had it not rained in the first week of October 1999, as we had feared, we might have faced serious consequences. Now, at least we have been able to catch some rainwater, which is adequate to meet the drinking water needs of the district for another four months," says P B Trivedi, district magistrate of Rajkot. "It would have been very costly for us to provide water for four months to water-scarce areas in the district through tankers," says Ashwini Kumar.

In Jhabua district, the total kharif crop yield of 1999 is estimated to be 60 per cent lower than in 1998 (106,735 metric tonnes as against 265,036 metric tonnes), according to Wasim Akhtar, collector of Jhabua district. Moreover, the rabi crop yield this year is expected to be 93 per cent lower than in 1998 (9,966 metric tonnes as against 141,099 metric tonnes). Jhabua recorded a rainfall of 536 mm this year, the second lowest in the past 25 years, according to the district administration. The average annual rainfall in Jhabua in the last 25 years has been 886 mm.
In Dhar district, the rainfall recorded this year was about 665 mm, as against the average annual rainfall of 840 mm. "Of the total 227,000 ha of the rabi area, we expect to harvest only about 150,000 ha. This is less than 35 per cent of the rabi crop last year," says Rajesh Rajora, Dhar's district magistrate. The district has 244 irrigation tanks, out of which only 12 tanks have water up to 90 per cent of their capacity, while 155 tanks have either half their capacity or less.
The need of the hour
Some really serious issues face Gujarat and Madhya Pradesh today, and the present drought has highlighted them. "Water-related disputes are gradually increasing in rural areas. They are expected to surpass land disputes in the next 10 years," Rajora fears.
Apparantely, the state cannot supply water to every village in India, when it fails to supply water in cities, where political pressure to provide civic amenities is much greater than in villages. If the government fails, people have to take the matter in their own hands. Rainwater harvesting is the only solution.

The Gujarat government is not realising the magnitude of the present problem, complains Antala. "The state government is still focussing mainly on extraction of groundwater in Saurashtra and Kachchh regions," he says. He points out a recent plan of the state government to dig 120 borewells with an investment of Rs 70 crore in Wankaner taluka of Rajkot for supplying drinking water to Rajkot city (see box: Short-term plans, long-term disasters). In Saurashtra, it has become a business for big farmers to own deep borewells and sell water to small and marginal farmers. The government has no data to show the actual number of wells and borewells in the region. "After observing the state government's reluctance, people have started managing their water on their own," he adds.
"Many government officials are complacent about water harvesting projects because they think they will be able to bring water from the Narmada to Saurashtra and Kachchh regions. It is merely a plan, nothing else," says Antala. He points out that even if the Madhya Pradesh government allows to increase the height of the Narmada dam and the water comes to Saurashtra and Kachchh, it will never benefit the people. This, he reasons, is because the government has already issued licences to 10 sugarcane mills, which will lead to cultivation of sugarcane, which is water-intensive and will eat into the water supplies.
But there are a few positive signs in Gujarat. The government has sanctioned 1,577 micro-watershed management projects in the state by July 1999. "The reasons for the failure of water harvesting structures in some regions are poor site selection and works done by contractors who try to save money. Most government water harvesting structures have failed because of these reasons," says P P Bhatt, the Ahmedabad-based project officer of Bochasanwasi Shri Aksharpurshottam Public Charitable Trust, which is involved wm activities. The state government has failed to implement its plans properly because it has not promoted the concept of participatory development in wm programmes, Bhatt says.
Even in Madhya Pradesh, not all wm projects have been successful. There are 1,200 stop dams in Jhabua and 600 in Dhar. A senior state government official, asking not to be named, pointed out that almost one-third of water-harvesting projects in Jhabua and Dhar are useless. This, he explained, was because of improper site selection. The main reason, he cites, is the implementation of these projects on political criteria and not on technical criteria. "During this year's drought, water harvesting structures have failed to yield beneficial results only in those regions where the projects have not been implemented on technical criteria but on some political criteria," he says.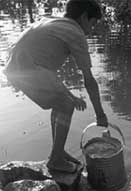 The Madhya Pradesh government is considering a legislation which would let the communities regulate and utilise groundwater resources. A welcome step by all means as a state government is now actually accepting the limitations of the administration in managing groundwater and planning to use the inherent potential of communities in India to take care of groundwater.

The way in which some villages of Gujarat and Madhya Pradesh have made light of the current drought makes it clear beyond any reasonable doubt that the answer to most problems in rural areas lies in rainwater harvesting. "The water resources of Kachchh are dependent entirely on rain. The water harvesting project implemented during the past 10 years in this area shows that it is possible to arrest the further deterioration of the groundwater regime of the area," says K C B Raju. According to Antala, "Water harvesting can easily be done by people themselves. There is no need for any government help. For this, we need to create public awareness. The message will not spread by mere lectures. Even if we harvest one-fifth of the total rain falling in Saurashtra and Kachchh, there won't be any water scarcity."

In an interview with Down To Earth, the Union minister for water resources, C P Thakur, said in the present scenario, "the role of the water resources ministry is just that of a public relations officer who liaisons between state governments. "Rainwater harvesting will be a priority of my government. The water harvesting concept has shown good results in areas where it is implemented properly," he said.

Technical soundness


According to Antala's calculations, even if an average of 550 mm of rainfall is harnessed in the Saurashtra region, there would be no shortage of water for drinking and irrigation. "If we are serious about the issue then it is important to raise the groundwater level in Saurashtra. For this, artificial recharging is important. And recharging wells and borewells is the most effective way of doing this. There are about 700,000 wells in the region. If we recharge all the wells then we will be able to irrigate about 720,000-800,000 ha of area every year, he says.

"The need for harvesting rainwater in Gujarat is greater as it is surrounded by sea on three sides and 65 per cent of Saurashtra's land is below the sea level, in some places as much as 46 metres below sea level. So, when the groundwater level goes down the seawater will enter the aquifer," Antala says.

The collected water could be stored underground by directly injecting it into open dug wells to replenish the depleted groundwater aquifers, explains Ashvin Shah. He calculates: "The population of Saurashtra is 12.3 million. The average annual rainfall is around 530 mm falling over 64,000 sq km area or a quantity of 34,000 million cubic metres (mcum) per year.... Assuming 20 per cent of the rainwater is collected, the total quantity of rainwater collected annually would be 6,820 mcum per year or about 1,500 litres of water every day per person. Considering the fact that many people do not get even 125 litres per day, the quantity the United Nations considers minimum for domestic use, the rainwater harvesting potential is indeed very high or 12 times the drinking water need. Groundwater restoration should be a priority and we should find out ways to quickly recharge the groundwater," Shah points out. He estimates that as much as 6,096 mcum of water can be put into the ground if recharging work is taken up all over Saurashtra.

The figures speak for themselves. And India has a great tradition of harvesting rainwater. Several villages are still showing the grit that has seen human civilisation through over centuries. The present challenge is about combining the common sense of the past with the best of modern science. If India fails to do this, there will be countless women like Lasan Bhilwad, digging dry riverbeds for a pot of water. There will be an increasing number of riots over water. The choice is between rainwater harvesting and a parched, violent future.

Holding their own




Villages which have harvested rainwater are faring quite well in the face of drought


Water harvesting systems have certainly benefited a large section of society in the Saurashtra and Kachchh regions. There is no way better than such systems to optimally tap water resources," says R C Trivedi, former chairperson of Gujarat Pollution Control Board, who lives in Ahmedabad.

Manibhai Padmabhai Patel of Dhoraji village in Rajkot district, says: "After I started recharging my well, not only can I cultivate crops even during drought but the crop production has also increased several times over." Mohanbhai, also of Dhoraji, started recharging his well ten years ago. Since then, his total cropped area has doubled. Another resident, Dayabhai Premjibhai Patel, says his crop area more than tripled after he began recharging his well four years ago.

According to Shamjibhai Antala, who has done yeoman's service in creating awareness about recharging of wells in Saurashtra, "The farmers today realise that the government will do nothing for them. So, farmers are now building water harvesting structures on their own." Antala recalls picking up the idea of recharging wells from a vigilant Dhoraji farmer, named Ramjibhai Manjibhai: "From 1985 to 1987, there was scarcity of water. In 1998, the rains were good. This farmer made efforts to divert rainwater from a nearby stream into his dry well. The experiment was successful and Ramjibhai's well was the only one which had water in the summer."

"Preliminary reports from Dhar district of Madhya Pradesh show that in areas where watershed management (wm) measures have been taken, crops and the groundwater table have not been affected as adversely as areas where no soil-water conservation measures were taken. The number of handpumps and wells that have dried up in wm villages is definitely lower than in non-wm areas," says Rajora.

To investigate the impact of the drought, the district administration randomly selected 25 samples each of areas where wm activities have been undertaken and areas where these have not been adopted. "We found that the loss of kharif crop in non-wm areas is around 40 per cent, as compared to just 10-12 per cent in wm areas. I think moisture control [in the soil] has played a role in mitigating the damages," he says. Preliminary reports say the situation is much the same in Jhabua district. "Nearly 20 per cent of the total area of Jhabua, which is covered under wm projects, is in a better position in terms of water availability. Crop loss has been 10 per cent less in areas with such projects," says Sachin Sinha, additional collector of Jhabua who is also the chief executive officer of the zila panchayat (district council).

The impact of the wm measures can be assessed in terms of seasonal migration for employment (see table: Staying put!). "The migration rate has not reached the proportion that were expected. In October, nearly 274,986 children received polio vaccination. This month again, we have reached very close to this figure. Normally, a family takes along its children when it migrates. As the number of children receiving polio vaccination this month is nearly the same, it indicates that the rate of migration is not high," says Wasim Akhtar, collector of Jhabua. He adds that in areas where stop dams are successful, in Jhabua tribal people are reaping crops of 40 quintals per hectare, making them the second highest wheat producers in the state.

"We have taken up micro-watershed projects in around 40 villages in the past 4-5 years. We found that wherever water harvesting works have been carried out properly, the drinking water problem has been solved to a great extent," says Anil Shah, chairperson of Development Support Centre (dsc), an ngo based in Ahmedabad.

"This year's drought has worked as a catalyst in increasing awareness about the importance of rainwater harvesting to deal with water scarcity. The people are realising the importance of wm. In fact, villages that do not have wm projects are demanding such projects now," says Rajora. "We have received many applications from non-watershed villages to bring them under watershed projects now," says Sinha. Mohan Singh, sarpanch (head) of the Umari panchayat in Jhabua district, says after suffering severe crop damages and drinking water crises, people in Umari are demanding wm projects. Down To Earth takes a look at some villages that are shining examples today.

"This year's drought has worked as a catalyst in increasing awareness about the importance of rainwater harvesting with water scarcity"

— Rajesh Rajora District magistrate, Dhar, Madhya Pradesh




The Bhils of Dahod



The people of this small village of Bhil tribals in Dahod district had been facing a serious water crisis. About 78 per cent of them used to migrate for at least 10 months. There were no wells in the village. The farmlands were of no use; there was no water. "We used to walk four to five km in search of drinking water," recalls 70-year-old Madia Fatha. Things changed for the better in 1994. Today, the people are confident about weathering any drought. This has only been possible due to wm projects and the construction of a series of check dams with the assistance of the Sadguru foundation on the seasonal river Machhan.

According to Harnath Jagawat, director of Sadguru, "When I discussed the idea to work on water problems in this area, many government officials and politicians laughed at me. They asked where would I work when there was no water in the area. They did not realise that I was thinking of rainwater." The residents organised a meeting in February 1994, requesting Sadguru to build a check dam on the Machhan. The dam was completed in April-May 1994 within a record 85 days, such was the level of people's enthusiasm. The engineers of Sadguru worked out the technical details.

Later, a series of dams were built all along the Machhan to slow down the run-off and impound the water for irrigation. The Sadguru foundation has also carried out an intensive watershed project by stone trenching and bunding, terracing and planting trees in the area. Since then there has been a total transformation (see table: Making themselves prosperous). After the construction of the check dam, a reservoir has been created that has a capacity of 453,070 cubic metres. The river that used to dry up four months after the rainy season has enough water to meet the irrigation needs despite the drought. "This has been possible only because of constant recharging of groundwater through watershed interventions," explains Rakesh Pandey, deputy director of Sadguru, who led the team that worked out the technical aspects of the water harvesting structures. "The 'cascadal reservoir model' has been very successful," says Pandey, explaining that it involves building small dams near the source of the river and the construction of a series of small irrigation structures downstream. The water trapped in the dams recharges groundwater. Jagawat points out that the water in the Machhan is from last year's rain as there was no run-off this year. The rainfall this year was a mere 350 mm, compared to the annual average of 830 mm, Pandey points out. Yet, all the 23 wells have enough water to meet their drinking water requirements. The farmers will cultivate three crops as there is enough water to irrigate 135 ha of land. The water is accessible to all 154 households of the village.

Today, the residents are entirely responsible for managing the dam. Jagawat estimates that almost the entire population of the village is now above the infamous 'poverty line', with the average household income rising from Rs 8,000-9,000 per year to Rs 35,620 per year. Sadguru has constructed another check dam on the Machhan near village Mahudi. Farmers here are now growing wheat, sugarcane, gram, maize, tomatoes and other vegetables. Says Ramjibhai Katara of Mahudi: "Earlier, I had to work as a labourer hundreds of kilometres away from home. Today, I employ labourers in my field."

At Raj-Samadhiyala village



About 20 km away from the district headquarters of Rajkot, this village shows how environmental management can bring about a socio-economic turnaround. According to Narayanbhai Limbasia, a 70-year-old farmer: "Around 15 years ago, people were unwilling to marry their daughters to grooms in this village due to the water crisis." More than 75 per cent of bores in the village yielded no water, says Hardevsinh Balwantsinh Jadeja, head of the village council.

About 10 years ago, the village was declared a desert area and put under the arid zone development programme of the state government. In 1986-87, the residents undertook wm projects. Jadeja led the villagers to construct 12 check dams between 1986 and 1988 (see box: Man with a mission). The villagers planted thousands of trees, and undertook stone-trenching, bunding and terracing in their fields on the lines of wm. The state government launched a wm project in 1995-96 in this village, and the District Rural Development Agency (drda) allocated Rs 17 lakh. Since 1998 the villagers have implemented around 50 micro-watershed projects (a micro-watershed project is within an area of 500 ha).

Today, there is ample water. Farmers have sown cotton, wheat, groundnut and vegetables. Even though there was only 316 mm of rainfall this year — against an annual average of over 500 mm — the groundwater level in most of the wells is about three metres, and is 1.5 metres in some wells. "All the 280 wells, 5 handpumps and 35 borewells have water. The surface water is available for at least 10 months now," says Jadeja. There are 51,000 trees in the village today, as against just 1,600 in 1988. The farmers are now developing wastelands.

The farmers' earnings have increased significantly. The residents point out that they earn around Rs 2.5 crore more than the neighbouring villages of Aniyala, Pada, Hadmmatiya Golida, Dhandhiya and Shadan, which do not have water harvesting structures. Raj-Samadhiyala sells vegetables worth Rs 50 lakh every year. "In 1990, when water was scarce, my father used to earn Rs 1.5 lakh from his farms. Today, I earn around Rs 10 lakh from the same land," says Jadeja.

Says Devsinhbhai Bhavanbhai Kakadia, 60: "I used to earn Rs 5,000-10,000 per year from my 6.4 hectares. Today, my income is about Rs 1-1.5 lakh. I am confident of earning at least Rs 50,000 even during the present drought."
Jadeja points out that water has not only brought about prosperity but social well-being as well. He claims there is no crime in the village, no police case is registered at present against anyone from the village and that people leave their houses open and unguarded.

Before 1988, most of the families used to migrate in search of livelihood. Migration for employment has ceased now. Today, there are just 50 families below the poverty line, as compared to 138 in 1988. Ashwini Kumar, sdm of Rajkot, says Raj-Samadhiyala received the prize of Rs 25,000 as the best village panchayat in Gujarat.

Gandhigram



This village in Mandvi taluka of Gujarat's Kachchh district has embarked on rainwater harvesting and wm quite recently. For the past 10-12 years, the residents have been facing a drinking water crisis. "Even officials of the Geological Survey of India failed to get water from a borewell a few years ago. They left this area never to come back. But we cannot leave. We have to live here and we have to find our own solutions," says Bhimji Premji Chaudhury, president of the Gram Vikas Mandal (gvm, the village development group) of Gandhigram. The groundwater table has fallen below the sea level due to overextraction. The seawater has now seeped into the underground aquifers, making them saline.

At present, Gandhigram is supplied drinking water through pipelines. But the villagers do not know how long they will get this water. They want to be on the safe side. Last year, they took a bank loan to construct their own check dams. "We borrowed Rs 15 lakh from a local person and took an additional loan of Rs 5 lakh from a bank. We have also contributed Rs 5 lakh to the project in the form of shramadan (voluntary labour)," according to gvm members. Six months ago, the residents constructed a dam on the Khari river which flows nearby. There are about 400 people in the village, of which 25-30 people have migrated this year due to the drought. The village has decided to reserve whatever water is left in the dams for drinking water. Apart from the dams, the people of Gandhigram have also undertaken a micro-watershed project. The drda is carrying out a watershed project in Gandhigram with the Shri Vivekanand Research and Training Institute as the implementing agency.

Lalji Vishram Chaudhury, the 68-year-old chairperson of the watershed committee, says: "We have received Rs 28 lakh from the government. With the help of this money we have constructed 4 big dams, 30 small dams and plugged 31 nullahs." He says the results are showing: "Gradually, we are getting more returns. From one acre (0.405 ha), we can now fetch Rs 1,000-2,000, which was impossible a few years ago. With the help of water harvesting structures, we have around 400 ha of cultivable land, most of which was barren."

Mandlikpur village


In the past six years, the 3,500-odd residents of this village in Rajkot district, which falls in the Saurashtra region of Gujarat, have come a long way. After a prolonged water crisis, the village is well on its way to solve the problem through recharging of wells. Shamjibhai Antala of the ngo Lok Manch, who has helped recharge around 700,000 wells in Saurashtra, says: "Recharging wells is the lifeline for farmers here." Of the 150 wells in Mandlikpur, farmers have recharged about 110, most of the work being done by individual farmers. Residents are also capturing rainwater through roof-top harvesting systems. Rasikbhai Patel of Mandlikpur says he can now store 10,000 litres of water every season. It is enough to meet the needs of his family of five throughout the year. This is the same village where there are four 300-metre-deep borewells, Antala reminds.

"I started recharging my well six years ago. Since then, it has not dried up, as it used to earlier. Today, it is possible for us to cultivate rabi crop," he points out. Patel's two wells are 24 metres and 16 metres deep respectively. "You can irrigate 4 ha of land after recharging one well," Antala says.

Before the village took to capturing rainwater, hundreds of families used to migrate every year to Surat, Ahmedabad and Mumbai in search of employment. But the rate of migration has come down. Even in the current drought-affected year, very few families have left the village. "Going by the experiences of my neighbours, I have also decided to harvest rainwater through my well. I am constructing a kundi (a covered tank) this year," says K V Khat of the nearby Pedla village.

There are varied techniques to recharge a well. Some have made slopes to direct the water to their farms. Some others, like Chimanbhai Radadia of Dhoraji, have laid pipelines for the purpose. Says he: "We have recharged our well by constructing a 106-metre-long pipe that is three metres deep. In the past five years, crop production has almost doubled."

Micro-watershed management in Jhabua



A micro-watershed management project was launched under the Rajiv Gandhi Mission for Watershed Development in this village of Jhabua district in 1996. Since then, a lot has changed. The underground aquifers have been recharged and all the eight handpumps in the village yield water throughout the year, says Bhurji Bhawar of the village's watershed committee.

According to R K Gupta, additional chief executive officer of the zila panchayat (district council) of Jhabua: "This change has only been possible because of people's participation. Most people who used to migrate from this village do not leave now. They have found employment here itself." Even in the face of the present drought — it only rained about 439 mm against the annual average of 980 mm — they are doing quite well. They are confident that their handpumps are not going to dry up very fast. "In the past four years, we have been able to catch enough rainwater through the micro-watershed projects in this area," says Kasani Bai, president of the village's Baira ni Kuldi, a women's self-help group. Earlier, even normal years proved to be difficult as there was no water in the area. Today, not only has the cultivable area increased due to water availability but their yield per hectare has also doubled, says Gupta (see table: The watershed boom).

Mohan Singh, sarpanch of Umari panchayat which is about 30 km from Ghelhar, told Down To Earth that after facing severe crop damages and a drinking water crisis, people in Umari have realised the importance of wm projects. "They are now demanding wm projects in their villages. They know plenty of water is available in areas under wm," he says.

Experts all over agree that rainwater harvesting is the best way to improve the lot of villages




Short-term plans, long-term disasters
The government of Gujarat has launched a project worth Rs 70 crore to dig 120 bores in the Wankaner taluka of Rajkot district to supply drinking water to Rajkot city. At present, the city is supplied water for 20 miniutes every two days. According to P V Trivedi, district magistrate of Rajkot, the project is part of a 'short-term' policy. But there is great resistance to it among political circles.
Digvijay Singh Zala of the Congress party, who was deputy minister environment in the Union cabinet from 1982 to 1985, has filed a case in the Ahmedabad High Court against the plan, saying it will have a negative impact on the ecology of the region. The area is one of the few patches where underground aquifers still have water. Zala fears the groundwater would be depleted even in this region if the plan goes through. However, Trivedi says that this is a forest area and there would be a natural recharge of the groundwater. According to a senior district official, the plan was laid down even before a proper study was conducted. It was made just on conventional grounds that there is potable water available at 61 metres.
Narottam Patel, irrigation minister of Gujarat, was quoted in some local newspapers as saying: "We have to provide drinking water to Rajkot at any cost. We will also face the case in the court but we will provide the water. We should not discuss ecological concerns at this moment because water is important for people at the present. This is the priority for my government."
"The only live source of drinking water from Rajkot to Junagarh is the Bhadar River and the Phofal dam. As we are drawing water from the Phofal dam for four cities, including Dhoraji, we cannot draw more water for Rajkot. Otherwise, the dam will dry up in another two months. So, we required some solution to meet the drinking water crisis till the next monsoon," says Trivedi.

Man with a mission

The credit for the socio-economic turnaround of Raj-Samadhiyala village in Rajkot district of Gujarat goes to Hardevsinh Balwantsinh Jadeja, the 48-year-old head (sarpanch) of the village council. He thinks that rainwater harvesting is the only solution to deal with the grave water crisis in the Saurashtra region of the state.
In 1985, Jadeja, a post-graduate in English literature, was selected for the post of deputy commandant in the Central Reserve Police Force, a rank equivalent to deputy superintendent of police. At the same time, Jadeja was also offered the post of sarpanch by the village development committee. He opted for the latter, a courageous decision as he was foreswearing the comfort and security of a government job. "If you are strong as a person prosperity comes to you. You do not need to run after it. Today, I lead a life of comfort and luxury in my own village along with my neighbours," Jadeja observes.
In 1986-88, Jadeja organised the village to take up 12 watershed management (WM) projects. He also initiated a drive to plant trees. Today, the village is one of the most prosperous ones in the area.





Harvest of hope


January 15, 2000