THAR DESERT



Jawan Lal Rebari


Initially involved in adult education and health activities, Jawan Lal took it as a challenge to transform degraded lands to productive assets in Barwa village for about 110 families. Jawan Lal says, "We realised the importance of water and afforestation early, but people were not ready to join us and it took us one year to win them over to our way of thinking." The panchayat, which was reluctant to hand over the degraded lands, was persuaded by Jawan Lal. But more problems cropped up when the villagers were misinformed that the land to be developed would be occupied by Seva Mandir. Finally, after a lot of clarifications and meetings the matter was settled. In early 1980s, he played a key role in constructing a check dam in collaboration with the village panchayat. This was followed by the construction of ponds in 1998 and 2000. Jawan Lal wants to extend the watershed management programme to improve the standard of the farming sector in the village. Arranging a separate meeting for women helped in overcoming the attendance problem owing to the purdah system.

Jawan Lal says, "Our women handle their own meetings separately and they have opened their savings account also. Savings have grown up to Rs 2,30,000." Today, he stands tall amongst other village leaders for his uprightness and dedication.







Laxmi Narayan joshi,


Laxmi Narayan Joshi, watershed committee chairman of Saipur village, has been a source of inspiration for the villagers. The watershed work started in 1998-99. Medbandi, a stone embankment built on the lower side of an agriculture field on a hill slope to conserve soil and moisture and help create a level field for cultivation was done in about 300 hectares of agricultural land. A pond of about 1.5 ha with 8,000 cubic metre storage capacity was also built.

Joshi says, "There was a lack of vegetation in the watershed area which resulted in soil and water erosion. Improper management of soil and water resources in the area led to poor recharging of the well and it affected the supply of fuel and fodder."



Due to medbandi in agricultural fields, water requirement of plants is being met better. The villagers have also been convinced to replace wheat with sarson (mustard), jau (oats) and channa (gram), crops that require less water.



"It is easy and judicious to promote water efficient crops in our area. We have planted 6,000 trees in 62 ha land. It promotes groundwater recharge by reducing the flow," Joshi adds.









Maharaja Gaj Singh


Though he has lost the political authority over the people of Thar, who once used to be his subjects, Maharaja Gaj Singh continues to work for their well-being. This 38th Rathore Chief of Marwar, lovingly known as Bapji, is actively involved in popularising community-based water harvesting practices in the Thar region. Concerned with the growing water crisis, he teamed up with Rajendra Singh, the secretary of the Alwar-based non-governmental organisation (NGO) Tarun Bharat Sangh, to organise Jal Chetna Yatras and sammelans to spread the message. His ability to relate to the villagers in their own language, and addressing their livelihood concerns has earned him creditability and support of the people of Pali, Barmer and Jalore districts of western Rajasthan. Due to his concerted efforts he has also generated interest among the other sardars of the former princely states of Jodhpur, Nagaur, Jaisalmer, Barmer, Jalore, Sirohi and Pali to take up similar activities.

Working as a catalyst, the Maharaja is motivating locals to get involved and work for a better (and wetter) future instead of relying on state handouts. In return, he has received complete cooperation from the people. While expressing his gratitude, Bapji said, "In the present context maharajas no longer have wealth. I am lucky to have invaluable wealth in the form of your support and dedication to mitigate this perpetual problem." A royal water crusader, indeed.

For details:
Brig Shakti Singh
Umaid Bhavan Palace,
Jodhpur, Rajasthan
Tel: 0291-2510101
marwar@del3.vsnl.net.in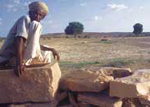 Magga Ram Suthar

Magga ram suthar


Magga Ram Suthar, 67, makes beris or kuis. He belongs to the Suthar (carpenter) community and comes from Pithala's only Suthar family. He also knows how to catch the meagre rainfall (annual average: around 160 mm) in the area during the monsoon.

In Pithla, groundwater can be struck at a depth of 90-107 m, and this water is mostly saline. In many areas, however, a rocky belt of gypsum, known as bittoo, runs under the surface. It is this belt of gypsum that is the key to Maggar Ram's method of water harvesting.

During the digging of a beri, once the bittoo level is reached, it is lined with stones.

An interesting feature is the shape of beri in areas where the bittoo is found at a shallow level - the mouth of the beri is made narrower to prevent water loss by evaporation. It gets wider as the depth increases, giving greater surface area for water to seep in.

Magga Ram constructed his last beri 15 years ago. Today, there is no demand for new beris. In 1991 a government tubewell struck fresh water some seven km away from Pithala. This water reaches the village through a pipeline. But even today, when this tubewell fails, villagers walk up to Magga Ram's beris.

Premjibhai Patel




Premjibhai Patel had to go to Mumbai for work in 1975 but the fast-paced lifestyle and a desire to do something meaningful perturbed him endlessly. Finally, he returned to his village Bhayavadar in Upleta block of Gujarat. There he brought about a revolution of sorts. One that showed people that the answer to the fuelwood problem in the arid region was growing simply more trees. This also solved the problems of erosion and water shortage. Now, he is concentrating on the construction of traditional check-dams in Upleta.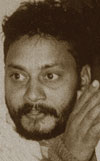 Rajendra Singh

Rajendra Singh


On October 2, 1985, five young men got off a bus at Kishori village in Thanagazi block of the district of Alwar, Rajasthan. They were from the Tarun Bharat Sangh (TBS), a voluntary organisation set up in 1975. Among them was Rajendra Singh, the secretary of TBS. Rajendra Singh spearheaded the movement for the regeneration of the area. Always an activist, he had fought against illegal quarrying in the Sariska Tiger Reserve, Rajasthan. No engineers were called. They were guided by traditional wisdom. Mangu Lal Patel, an old man from nearby village Gopalpura told them, "Do not talk too much; dig tanks and build johads. You will get results."

This year, on July 30, 2001 Rajendra Singh was conferred the Magsaysay award for community leadership. When the news reached him, he was touring Sikar, Rajasthan to do what he does best - mobilize communities to manage their water resources. On receiving the award, Singh said, "The social technique adopted by the people and TBS has been recognised with the achievement of this award. The award is for the people."


For details:
Rajendra Singh
Tarun Bharat Sangh (TBS)
Bhikampura-Kishori Thanagazi
Alwar-301022
Tel- 01465-25043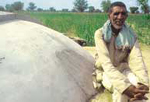 Ran Singh

Ran Singh


Ran Singh of Lahsedi village, district Churu. Rajasthan makes kundis.

Ran Singh started building kundis since he was 13 years old. So far, he has built some 400 or 450 kundis. With local groundwater being saline, these

kundis

are the main source of water for the villagers.

A tall, well-built, articulate man of 62, Ran Singh says, "Pipelines are most unpredictable. The government waterworks are like waterless eyes that cannot see. What is their use?"

He understands rain and the behaviour of water - how it travels and how it should be stored. Making a kundi needs considerable engineering skills and takes about 25 days. After selecting an appropriate area, the first consideration is the incline, asit should catch as much rainwater as possible.

Kundis have brought Ran Singh a lot of respect in his village. Visitors throng his house almost every day. People greet and salute him as he walks down the local street. He is always eager to share a joke with his neighbours. Despite his age, a good joke is never lost on him. He catches it like water.
<<back