Anil Agarwal
Anil Kumar Agarwal, the founder of the Centre for Science and Environment, spearheaded the Jal Swaraj campaign. His thoughts, ideas and opinions remain the driving force behind the movement. Agarwal conceptualised and edited Dying Wisdom, that explore the tremendous potential of India's traditional water harvesting systems; and Making Water Everybody's Business, that documents technologies that are being practiced even today by communities in various parts of the country. These two widely-read publications have gone a long way in putting the issue of community-based water management. in the national agenda.

Agarwal, who passed away on January 2, 2002, graduated as an engineer from one of India's leading engineering colleges in 1970, but gave up a promising technical career to become a science journalist in order to explore the country's scientific and technological needs. He joined Delhi's leading daily, Hindustan Times, as a science correspondent in 1973 and soon discovered India's most evocative environmental movement known as the Chipko Movement in 1974. The reportage of this movement not only led to a nationwide interest in environmental conservation but also brought home to Agarwal the importance that the environment and its natural resource base hold for the local village economy and for meeting the daily needs of village people in terms of water, firewood, fodder, manure, building materials and medicinal herbs. This was still a time when the leadership of the developing world still believed that economic development must take precedence over environmental conservation. But this understanding of the relationship between the poor and their environment soon turned Agarwal into a lifelong environmentalist and a reknowned environmental analyst and writer.






Anna Hazare

Anna Hazare


Anna Hazare is one of India's most noted social activists. A former army jeep driver and Ramon Magsaysay Award winner, Anna is well known and respected as the man who turned the ecology and economy of the village of Ralegan Siddhi around. The village has become a model of rural development through the implementation of government schemes designed for the upliftment of the rural poor. His name is synonymous with rural development and people's power.

Hazare hit the headlines in May 1994 when he undertook a protest fast at the Sant Dyaneshwar temple at Alandi, Maharashtra. Earlier, the same month, he launched the Bhrastachar Virodhi Janandolan (People's movement against corruption), after having returned his Padmashree in April.

In 1998, he was hauled to court on a defamation suit filed by then Maharashtra social welfare minister Babanrao Golap. After a few days in jail, he was released following a public uproar.
He is a staunch Gandhian.



His watershed management style is as follows:




Conservation of water

Voluntary spirit

Self-reliance

Education

Social upliftment

Women's emancipation

Participation of youth

Consensual politics

Prohibition

Family planning

Ban on felling of trees

Ban on open grazing
More on Ralegan Siddhi

For details:
S Anna Hazare
Ralegan Sindhi
Ahmednagar-414302
Tel-02488-40277,40224 (fax)




Anupam Mishra


A Gandhian and an environmental activist, Anupam Mishra is among the most knowledgeable persons in India on traditional water harvesting systems. He has travelled to various part of the country, especially Rajasthan, Madhya Pradesh, Maharashtra and Uttar Pradesh, visiting various water harvesting systems managed by people. He has also interacted with grassroot-level water harvesters, inspired and supported them and helped them in their traditional water harvesting systems campaign. He has written two books on traditional tank management in India and various traditional water harvesting systems in Rajasthan titled Aaj bhi khare hai talab and Rajasthan ki rajat boonde. Mishra continues to travel to different parts of the country, while keeping in touch with grassroot-level water harvesters and NGOs and inspiring them. The mission of the Gandhi Peace Foundation is to promote the environmental activities of rural development agencies; to prepare survey reports on distressed areas and place them before concerned authorities; to disseminate environmental information through the publication of up-to-date reports on environmental issues; to organise workshops and seminars for environmental experts, policy makers, individuals and organisations engaged in environmental issues.


For details:
Gandhi Peace Foundation
221 - 223, Deendayal Upadhyaya Marg
New Delhi 110 002
Tel: 23237491, 23237493

Professor A Vaidyanathan

Professor Vaidyanathan is an eminent agricultural scientist, whose area of specialisation is management of tanks. He led the study conducted by the Madras Institute of Development Studies, that has made a case for the renovation of tanks, traditionally
managed by the communities in South India to mitigate water crisis in urban as well as rural areas. Vaidyanathan=92s publication, Tanks of South India, that takes an in-depth look at these issues has wide acclaim. At present, he is the chairperson of the Tamil
Nadu unit of the National Water Harvester's Network. Formerly, he held the post of chairperson, government of India, Planning Commission Committee on Irrigation Pricing (1992) and Member, government of TamilNadu, High Power Committee on
Wasteland and Watershed Development (1996) as well as Chairperson, Indian Society of Agricultural Economics. He has written books like India's Agricultural Development in a Regional Perspective, Performance of Indian agriculture since Independence in Agrarian Questions: Water and Resources Management: Institutions and Irrigation in India by Kaushik Basu (ed.).

For details:
Professor A Vaidyanathan
B-1 Sonali Apts
11 Beach Road
Chennai 600090
Ph: (044)24919607





Ashwini Bhinde


The people of Nagpur district, Maharashtra joined hands with their local administration and successfully harvested 11,000 billion litres of rainwater at virtually no cost. Their initiatives pushed away the usual water scarcity by at least three months.

September 12, 2001 arrived with a new dawn, when Ashwini Bhide, a lady IAS officer in Nagpur's zilla parishad agreed to implement rainwater harvesting in her area at the suggestion of Mohan Dharia, who is working with Vanrai, a Pune-based non-governmental organisation. Within a short span of five days, she not only organised a training workshop for her colleagues working at the grassroots level but also placed a system of checks and balances to ensure that the panchayat samitis implement the project seriously and not just on paper.



The results speak for themselves. In just 21 days, they successfully constructed about 222 bandharas (weirs) as developed by Vanrai. These bandharas comprise of bunding the village nallahs with sandbags piled up in the shape of a dam. While Vanrai deposited 80,000 sandbags for the project, the respective gram panchayats also contributed with 60,000 bags. In this region, Kolhapuri bandharas used to be popular, but they are not only expensive to build but also difficult to maintain. According to Bhide, "A Kolhapuri bandhara requires Rs 50 lakh to harvest 390 TMC of water. Moreover, a regular state project would have taken more than a year to take off. About 1,000 Kolhapuri weirs exist in the district and less than 100 are functioning." On the other hand, bandharas like those made by Vanarai make use of the locally available sand and shram daan (voluntary labour) by villagers, thus eliminating the money and corruption factors.



The notable feature is that members from the state and society worked together. Girish Gandhi, working with Vanrai, said, "We have implemented this project in many places in Nagpur and Pune districts. But this is the first time that the district administration has implemented it on a large scale" - thus, marking a new beginning….





B B Hardikar


"We do not need bore wells. By spending a very small fraction of the amount that we would have otherwise spent on digging a well, we can catch still more water," says Bheema Bhat Hardikar, a farmer from Anavatti, Karnataka. He speaks from his three years of experience in rainwater harvesting that has ensured enough water for the nursery on a part of the 25 guntas of land that he owns. Adike Patrika, a local magazine, introduced him to the idea and he decided to implement it. A 700 ft stormwater drain around the farm has been dug. Ten earthen bunds are built at a cost of Rs 250 across the stormwater drain. An infiltration pit near the well collects the runoff from the drain. The excess water from the first infiltration pit flows into the second one and then, back to the drain. He has also constructed small trenches to divert all the runoff from the neighbouring areas to the storm drain. All these works have yielded good results.

For details:
Brahmin Street, Anavatti,
Shimoga DT 577 413
Karnataka
Tel: 0818 - 2467 110



Bhupal Singh


Bhupal Singh from Nahi Kalan, Raipur, Uttranchal, not only mobilised his village to fight for a ban on limestone mining but also in sustaining a campaign to protect its forest and water as well. Since 1980s, the village has not faced any water-related problems.

There was a steady depletion in the groundwater table due to limestone mining. The impact was reflected on the forests as well. The seasonal river Bidalna was often running dry. But as villagers were getting work, few complained. It all started when the young people protested. But the mining contractor stonewalled their queries. He was just interested in his profits. So, the villagers decided to fight for their land and rights. The support from Sunderlal Bhaugana and Chipko Andolan was encouraging. The Supreme Court order in the late 1980s banned all mining activities in the entire region.



The issues were taken up on a priority basis. Protection of forests is essential. The region receives about 3,500 to 4,000 mm of rain annually. The terrain is characterised by steep slopes. Dense forests are a pre-requisite for effective development of water resources. Due to these works, the overall soil moisture and vegetative cover got enhanced. Singh mobilised villagers to desilt four ponds and constructed three on the flat sloping hilltops. For more works, money was needed and it was not available. However, due to lack of basic infrastructure like roads, people are migrating.

For details:




C R Shanmugam




C R Shanmugam, a civil engineer, works as a project consultant for Dhan Foundation, a Madurai-based NGO. He has revived about 20,000 300-1,000-year-old water tanks, which are now managed by people in villages across Tamil Nadu. The tanks recharge groundwater, besides ensuring water for irrigation. "A man with a vision and wisdom" is what people say about him. But, in all humility, Shanmugam believes he is "only a cog in the wheel".




Chewang Norphel

Chewang Norphel


Chewang Norphel, 62, of Leh, Ladakh, makes zings and artificial glaciers.

Norphel says, "I realised that all the problems in the region were related to water. In most areas. It was scarce. In others it was being wasted."

In Ladakh, the annual average rainfall is 50 mm. The only source of water are glaciers, which melt in summer. This water reaches the villages late in the season. The locals manage this water carefully and store it for the year.
Norphel proposes that artificial glaciers be built as a substitute for dams. He believes that dams are an enormous financial burden and they bring about environmental and social hazards. Artificial glaciers are easy to build. First, Norphel channelises glacier water into a depression lying in the shadow area of a mountain, hidden from sunlight. He places half-inch-wide iron pipes at the edge of the depression. As the water keeps collecting in the pipes, it freezes. As more water seeps in, it pushes out the frozen blocks, and in turn, itself gets frozen. This keeps happening in a continuos cycle, and these frozen blocks create a clean, artificial glacier. Norphel has made four such glaciers.

In 1996, a year after retirement, Norphel joined the Leh Nutrition Project, a non-governmental organisation, as project manager for watershed development.



Devendra


Devendra, who is in his 60s, is the president of the Kedar Village Tank Farmers Society in Tamil Nadu. The society was formed in 1989 and there are around 217 members working with it from 13 different communities. The society operates and irrigates an area of approximately 119 hectares. The Centre for Water Resources, Anna University, gave the society Rs 27.6 lakh for research in 1990. After forming the society, they collected Rs 40,000 as seed money and the government also pitched in with a grant of Rs 50,000 for the work. The society designed the structures themselves and constructed a 1.5 km long road all along the canal to maintain it and also to mobilise their vehicles and machines for their fields. This reduced the cost of transportation and the villagers could save 50 per cent of the cost of harvesting.

Initially, the society collected money from the villagers. Then the Irrigation Management Training Institute, Trichi, gave them a generous grant, which the society has kept in a fixed deposit and the interest on it is used for maintenance purposes, which comes to about Rs 30,000 a year.





Devendra says, "Before the intervention of the society, small farmers did not get water because big land owners took a long time to irrigate their land. The society intervened and constructed an earthen sub-channel so that the water reaches both the small and big landowners."





Initially, the society did face difficulties. Water channels were being damaged. This was checked by the active cooperation of local people who fixed a fine of Rs 100 for such irresponsible acts.





People reported an increase in the productivity of their lands due to the availability of water even during the drought period. This has drastically changed their economic status.





E R R Sadasivam


E R R Sadasivam is the owner of a 'tree museum' in Elur village in Coimbatore district of Tamil Nadu. Spread over 30 ha, the museum houses over 100 species of trees and also hyenas, wild cats, jackals and peacocks. When he inherited this property in 1950, it was just a barren patch of land. It was his hard work, with the assistance of the villagers, that transformed it into what it is today. 112 villages are now enjoying the benefits of this hard work, with all the barren land being converted to woodlands, and that too, without any financial assistance. For Sadasivam, profit is not the driving force. According to him, happiness lies in making people understand the value of trees. To his peers, he is a 'national asset', and rightly so.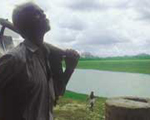 Ganesan

Ganesan


Ganesan manages the water supply of Madaivini Patti, a tiny locality on the outskirts of village Vairavan Patti in Madurai district, Tamil Nadu. He is a neerkatti (irrigator).

Ganesan believes that if effective, kanmoy (tank) management is crucial to social harmony. He knows the topography of his village at the back of his hands. He knows exactly where the water comes from and where it should go. He knows the water needs of each and every farmer. He maintains the kanmoy embankments and operates the sluice valves that release water in the channels.

Ganesan is poor. In exchange for maintaining the channels and the kanmoy, he receives rice from each farmer in proportion to the field size (4.5 kg of rice per 60 cents of crop area). In addition, he gets 4 kg of rice from each farmer for operating the sluice valves. For Ganesan, however, work in the village is restricted to the monsoon. For the rest of the year, he has to look for daily wage work either as an agricultural labourer or as a loader in the nearby towns. Sometimes he manages Rs 50 a day, sometimes even less than that.

Ganesan's two sons and four daughters are not interested in carrying on with the neerkatti tradition. But as long as there are paddy fields, the limited water will need to be managed with care. There will have to be a neerkatti.


Hardevsingh B Jadeja

Jadeja, the former head (sarpanch) of the village council of Raj-Samadhiyala village in Rajkot, transformed the socio-economic status of his village by implementing water harvesting projects. He is now the taluka pradhan, looking after 93 villages. A post-graduate in English Literature, he had organised the people in his village to take up 12 watershed management projects. He also initiated the drive to plant trees. Today the village is one of the most prosperous in the area boasting over 3 crores in earnings and cultivating two crops despite the drought situation. The once-water starved village no longer faces drinking water scarcity thanks to his efforts.

For details:
Harshdevsingh B Jadeja
Vill. Raj-Samadhiyala
Dist Rajkot
Ph: 9825075246, 0281-285246


Harnath Jagawat
Jagawat heads an NGO working in the field of natural resource management. He and his team work on the development and regeneration of local natural resources through participatory management. The focus is on land and water as the entry point before going on to integrate these with other resource management activities. They work in the tribal areas of western India, mainly in the states of Rajasthan, Gujarat and Madhya Pradesh, covering over 350 villages and 77,000 rural/ tribal families. Through their work they have demonstrated the importance of water harvesting for the development of rural tribal areas as well as its role in combating drought. During the drought of 1999-2000, these villages were part of the success stories covered in many national and international media reports of those who had withstood the test of managing on stored water. Through community participation, the organisation has endeavoured to develop and expand environmentally, technically and socially viable interventions leading to poverty alleviation. Empowering women and other disadvantaged groups to ensure equitable and sustainable development is one of their goals.

For details:
Harnath Jagawat
Director
NM Sadguru Water and Development Foundation
PB No. 71
Dahod 389151
Ph: (02673)222030, 231350
Email: dirsadguru@satyam.net.in




Laxman Singh
A simple enthusiastic native of village Laporiya, Jaipur, Laxman Singh, has revived village's ecosystem by adopting a sustainable water management approach. Popularly known as the chauka (dykes) system. This unique method involves rectangular plots of land that store rainwater in dyked pastures. Even at the height of summer, when the grass all but dies out, the roots can be seen lying down dormant and binding the soil while also retaining the soil moisture. Following a scientific approach, the excessive runoff from chauka flows to a seasonal river. Further, a six kilometre long channel brings water to the three tanks - Anna Sagar, Dev Sagar, and Phool Sagar are built in a series.

In early 1980s, he travelled and experienced the conservation practices from different parts of India, enriching and strengthening this well known innovation. Working with water since 1978, Laxman Singh and the other residents formed Gram Vikas Navyuvak Mandal Laporiya (GVNML). It has renovated and constructed village tanks with people participation. For past several years, the region has been ravaged by severe drought but a visit to this village belies this reality.



Janaki
Illiteracy, poverty, five children to look after and belonging to a backward community have not thwarted Janaki - a woman in her 40s - to use her innovative skills and solve the persisting water problem in her village of Kepulakodi, about 32 kms from Mangalore, Karnataka.

To avoid a kilometre-long slippery walk down the hill during the monsoons, she came up with the idea of using her saree to harvest rainwater to meet her drinking water needs. First, she firmly fixed bamboo rods to the saree to keep it stable against heavy rains and winds. Then, its four corners were tied to bamboo poles, giving it a funnel-like shape. Thus, water could easily sieve into the pitcher. "Even 15 minutes of rain is sufficient to meet cooking and drinking water needs", said Janaki. Impressed by its user-friendly applicability, a local non-governmental organisation, Maithri Trust, is promoting it.






Jawan Lal Rebari


Initially involved in adult education and health activities, Jawan Lal took it as a challenge to transform degraded lands to productive assets in Barwa village for about 110 families. Jawan Lal says, "We realised the importance of water and afforestation early, but people were not ready to join us and it took us one year to win them over to our way of thinking." The panchayat, which was reluctant to hand over the degraded lands, was persuaded by Jawan Lal. But more problems cropped up when the villagers were misinformed that the land to be developed would be occupied by Seva Mandir. Finally, after a lot of clarifications and meetings the matter was settled. In early 1980s, he played a key role in constructing a check dam in collaboration with the village panchayat. This was followed by the construction of ponds in 1998 and 2000. Jawan Lal wants to extend the watershed management programme to improve the standard of the farming sector in the village. Arranging a separate meeting for women helped in overcoming the attendance problem owing to the purdah system.

Jawan Lal says, "Our women handle their own meetings separately and they have opened their savings account also. Savings have grown up to Rs 2,30,000." Today, he stands tall amongst other village leaders for his uprightness and dedication.







Jethu Singh Bhatti
General Secretary of Thar Integrated Social Development Society, a Jaisalmer based non-governmental organisation is a committed environmentalist. He has been involved in awareness generation, implementation of the traditional water harvesting practices and dissemination of traditional technical wisdom in the region. He has revived systems like Nadis (village ponds), Paar and Tankas in the villages along with the villagers. Bhatti has also worked extensively in reviving and developing the orans (sacred grooves) in Jaisalmer district. Bhatti developed his skills got motivation to carry forward the work while working with Magha Ram Suthar - a barefoot engineer. At present he is highly committed towards developing a region specific drought-proofing model for Jaisalmer district.

For further information contact
Jethu Singh Bhatti
General Secretary
TISDS
Silwata Para
Shiv Road
Jaisalmer - 345 001
Tel: 02992 - 250534
Fax: 02992 - 253639
E-mail:

jethusinghjsm@yahoo.co.in




K G Vyas


Working as a geophysicist at different levels, Vyas has given a well-researched analysis guiding the state's policy decisions in favour of promoting rainwater harvesting. Later, he also advised the government on technical aspects of the Rajiv Gandhi Watershed Development Mission. Although he retired in 1998, the government continued to seek his services till 2001. Very few know that he has been a reputed academician with a decade of teaching experience. Vyas has also written two books on the subject - Economic Geology (1973) and Applied Aspects of Dug Well Hydraulics (1993).

For details:
7, New Adarsh Nagar Colony,
Adhaetal,
Jabalpur 482 004
Madhya Pradesh


Komal Lochan Jani


A concerned villager, he mobilised his village Kursala in Kalahandi, Orissa, to overcome its persistant water shortage. The result is evident. The village, which used to face a drinking water scarcity in the month of January, now has adequate water for irrigation even in May and June. Dawn arrived in Kursala in the early 1990s, when, appalled with the depleting water status and growing poverty and migration, an educated villager Komal Lochan Jani decided to take action. He knew the groundwater levels would improve only if rainwater is used for recharging. Jani has also heard that a good vegetative cover (including grasses and forests) facilitates the recharge process as this cover acts as a filtering medium. Thus, he started by mobilising the youth to work for the conservation of forests that were vanishing. Gradually, the people of Kursala took up his concern and initiative, and they worked together. Intensive plantation work (including fruit-bearing trees) was taken up. About 50 small ponds were built and sustainable water management practices were sacredly adopted. Kursala has not only broken the cycle of irregular rains, drought and migration but have recently handed over 492 acres of forest back to the state as well.

For details:
Komal Lochan Jani / Amrinder Kishore
The Indian National Trust for the Welfare of Tribals (INTWOT)
7/C - 7/230, Rohini,
New Delhi 110 085
Tel: 27046583, 27055172
Intwot@bol.net.in
www.helptribals.org

Kunhikannan Nair

Kunhikannan Nair


Kunhikannan Nair looks very young for his 55 years. He carves surangams.
Nair's fields in Kodom Vellur village of Kasaragod district, Kerala, are lush green, with coconut, areca nut, rubber and pepper trees and a little paddy. Although plantations have mushroomed in northern Kerala, there is not much money to be made in the fields.

Nair recalls the sleepless nights he used to spend worrying about water for his fields. Kerala is one of the wettest states in India. But very little water actually gets stored due to the slope of the Western Ghats, despite the heavy monsoons.

At 53, Nair arranged for a Rs 5,000 loan from a cooperative bank to make his first surangam. Today, Nair doesn't have to spend sleepless nights any more. Thanks to his surangams, he has assured water supply for paddy. He is now able to save a lot of money which he would otherwise have spent hiring pump sets. The yield of coconut has risen. There is enough water for home and fields all through the year.




Laxmi Narayan joshi,


Laxmi Narayan Joshi, watershed committee chairman of Saipur village, has been a source of inspiration for the villagers. The watershed work started in 1998-99. Medbandi, a stone embankment built on the lower side of an agriculture field on a hill slope to conserve soil and moisture and help create a level field for cultivation was done in about 300 hectares of agricultural land. A pond of about 1.5 ha with 8,000 cubic metre storage capacity was also built.

Joshi says, "There was a lack of vegetation in the watershed area which resulted in soil and water erosion. Improper management of soil and water resources in the area led to poor recharging of the well and it affected the supply of fuel and fodder."



Due to medbandi in agricultural fields, water requirement of plants is being met better. The villagers have also been convinced to replace wheat with sarson (mustard), jau (oats) and channa (gram), crops that require less water.



"It is easy and judicious to promote water efficient crops in our area. We have planted 6,000 trees in 62 ha land. It promotes groundwater recharge by reducing the flow," Joshi adds.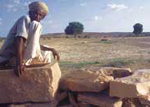 Magga Ram Suthar
Magga ram suthar


Magga Ram Suthar, 67, makes beris or kuis. He belongs to the Suthar (carpenter) community and comes from Pithala's only Suthar family. He also knows how to catch the meagre rainfall (annual average: around 160 mm) in the area during the monsoon.

In Pithla, groundwater can be struck at a depth of 90-107 m, and this water is mostly saline. In many areas, however, a rocky belt of gypsum, known as bittoo, runs under the surface. It is this belt of gypsum that is the key to Maggar Ram's method of water harvesting.

During the digging of a beri, once the bittoo level is reached, it is lined with stones.

An interesting feature is the shape of beri in areas where the bittoo is found at a shallow level - the mouth of the beri is made narrower to prevent water loss by evaporation. It gets wider as the depth increases, giving greater surface area for water to seep in.

Magga Ram constructed his last beri 15 years ago. Today, there is no demand for new beris. In 1991 a government tubewell struck fresh water some seven km away from Pithala. This water reaches the village through a pipeline. But even today, when this tubewell fails, villagers walk up to Magga Ram's beris.


Mahesh Sarita

Mahesh and Sarita
Shabdo village in Fatehpur block in Gaya district of Bihar is still struggling to come out of the shock caused by the death of two of their Jal Yodhas (water warriors). Mahesh Kant and Sarita of the Institute of Research and Action (IRA), a Patna based NGO, who revolutionized the villagers' life by reviving an age-old water harvesting system – ahar and pyne, were shot dead on January 24, 2004. They fell victims to the region's land mafia, who consistently opposed IRA's work in the region.
To unite the villagers from different castes and community, in this naxalite dominated region and then imparting the lessons on water conservation was never an easy task for Mahesh and Sarita. Few months back, Mahesh shared his experiences, "In the beginning we were considered as state government's spy and were not readily accepted by villagers". But they did not give up.

They educated the villagers on the relevance of ahar and pyne in the socio-economic well being of the local community. This traditional water harvesting technique comprised of a channel (locally named as pyne) diverts water from rivers to a tank (ahar) from where it is distributed to the fields. The system went into disuse because of siltation as well as encroachment by the influential lot, adversely affecting the livelihood security of the local population.

Persistent efforts started yielding its results after almost three years. 30,000 villagers from forty villages (including Shabdo) came together forgetting the caste differences to revive Hadadwa pyne—45 kilometre long water harvesting system. There was very little external assistance for this initiative—most of the work came in as shramdaan (voluntary labour). The villagers have also devised a management system in the form of sinchai samiti --the irrigation committees --who operate and maintain the ahar and pyne. The impacts are visible—two crops in a year (quite unusual few years back) resulting in additional revenue. Most of the tubewells have water today, thanks to the groundwater recharge facilitated by the ahar.

Another outstanding initiative was the introduction of community farming in Shabdo—first of its kind in the region. Today, management of 175 acres of agricultural land belonging to forty families (individual share being 2-3 acres) is looked after by the Sinchai Samiti. Daily meetings are organized to finalise the day's plan of action. Instead of every one working in the field, the work is delegated to individual farmers (as decided in the meeting) in rotation. The benefits are also shared in accordance to the landholdings.

IRA has also promoted diversification in income generation activities as well. For the first time in 2003, fishing was done in the ahar spending Rs 8, 000. The return was three folds. Interestingly the return is again channelized back into this activity.

For their efforts, Mahesh and Sarita, the young activists will be always remembered forever for their contribution to the society. At the same time it is a challenge for the villagers to keep the momentum going…





Manna Singh


Manna Singh, a farmer, is the chairman of Sitapur project in Madhya Pradesh. Couple of years back, 46-year-old Singh was sent as a district representative to Anna Hazare for getting trained. In the year 1996, Union ministry of rural development supported the Sitapur project with a financial aid of Rs 12 lakh. The work started in 1997 and is expected to be completed soon.

In the rainy season, the hills called Bhilai hills used to carry sand and silt and make the field unfit for cultivation. So far, 32 check dams have been constructed at a cost of Rs 41,000 and the Raksamada dam at a cost of Rs 93,000. As a result of this, the land has become cultivable. Moreover, he is actively pursuing afforestation of the region near the Son river so that the cultivation of the nearby villages located in the lower landscape do not suffer from the sand and silt which flows towards it and washes away the fertile soil.






Mansukh Bhai Suvagia, Saurashtra, Gujarat



Concerned over the water level in the region of Saurashtra, which had receeded from 15 m in 1990 to 120-210 metres in 1998, Mansukh Bhai Suvagia, a 37-year-old government servant decided to initiate steps to tackle the problem.

With the help of villagers, he launched a Lok Fund scheme and collected more than Rs 1 lakh to build 17 check dams in the area. "These are the cheapest check dams in the whole country," says Suvagia.





Well-planned locations and building according to the requirements were the two main reasons for the low cost of construction. Cost was further reduced as the villagers built the dams themselves.





Suvagia's wife Rasila helped him out in his work by mobilising the village women to get involved in the building of the dams. Four dams have been built in the area with the help of local women.



At present, in over 100 villages of the Saurashtra region, money is being raised to build dams. The amount of money collected ranges from Rs 1-5 lakh. Jamka village in Junagadh district is successfully carrying out the work of building check dams. The village is 1,011.7 hectares in area with a population of 3,000 and the area under cultivation is 809.4 hectares. Even though the area has one river and four rivulets, the water supply is inadequate. Moreover, with 1,200 bore wells the water level has gone down to 200 metres in the last 15 years. The villagers started constructing the dams in 1999 and so far, 51 check dams and two ponds have been built to harvest water. As a result, the water situation has improved and the farmers are able to cultivate kharif and rabi crops even during drought conditions. Mansukhbhai projects the profit as around Rs 3 crore in the years of good rainfall. This includes money from agriculture, livestock and trees used for afforestation. "It puts the government in a very bad light," says Suvagia. He is all set to spread the message to the rest of Saurashtra and has already created awareness in about 500 villages. He feels that CSE is doing a good job of spreading the message of self- help to other parts of the country.




Moulana Iftikhar Hussain Ansari




Moulana Iftikhar Hussain Ansari is a politician, a businessman and now the 'Green Maulvi' of Jammu and Kashmir. As minister for housing and urban development, he has been credited with establishing the J&K Lakes and Waterways Development Authority in 1997 to preserve the Dal lake. Hampered by a massive fund crunch, there has only been a marginal change in the lake's condition. But the de-weeding process has been started with some success. The Moulana firmly believes that he can tide over the current problem. Once the glory of the Dal is restored, he plans to start cleaning the Jhelum river.




Narayan Hazary




Narayan Hazary is an ardent believer of the Panchayati Raj system. He advocates the concept of 'village democracy' in Kesharpur village. The list of his achievements is endless: He started a village-level school in 1954; he set up the Despran Madhusadan Library in 1957; he established Pragati Shishu Sangh, a children's organisation; and from 1972 he spearheaded the Buddhagram Environmental Movement (BEM) to regenerate the forests. BEM was aimed at regenerating the green cover of the barren Binjagiri forest and Malati hills. The forest and the hill are finally regaining their cover. Meanwhile, Hazary teaches political science in Nagaland but remains the guiding force behind all activities in Kesharpur village.





Obensao Kikon




Obensao Kikon comes from Wokha district in Nagaland. An 'ardent jungle burner' at one time, his stint as the chairperson of the Market Federation of Nagaland changed his outlook, and there has been no looking back ever since. His 615-ha land in Wokha is full of teak and bamboo trees. He encourages plantation of short-rotation species to help the local people meet their fuelwood demands. Besides, he also heads the Kimpvur Valley Multipurpose Cooperative Project Society comprising three villages. What is his aim in life? To enhance the living standards of the poor, he says.
His aim: to enhance the living standards of poor people.




P. R. Mishra

Parasu Ram Mishra


Parasu Ram Mishra, the man behind the Sukhomajri experiment, passed away on March 25, 2000 in Palamau, Jharkhand. He was 75.

A leading soil conservationist at the Soil and Water Training Institute, Chandigarh, Mishra spent most of his years converting Sukhomajri and other villages of Palamau from drought-prone poverty-stricken hamlets to self-sustainable units of prosperous economic activity.

When Mishra embarked on the Sukhomajri project in the early 1970s, the village was riddled with ecological problems. The land was sparsely vegetated and it could sustain only poor crops. Soil erosion caused heavy runoff and soil loss. Even though the region had an adequate 1,100 mm of rainfall, groundwater levels were low.

Mishra's intervention was to change all that. Today, Sukhomajri possesses a forest wealth estimated at Rs 90 crore.

The transformation of
Sukhomajri
from a barren land into a green belt was due to a model of sustainable development called the Chakriya Vikas Pranali (CVP) that was developed by Mishra himself.

The CVP's basic strategy is to make a one-time investment of cash, plants and technology and to convert it into a self-sustaining process of production and reinvestment from a common village fund. The investment in what Mishra calls a 'multi-tiered, multi-rooted, multi-layered' planting cycle guarantees year--round employment for all members of the village society ("students" in CVP terminology) and returns - in the short, medium and longer terms - from grass and vegetables, fruit trees, and timber respectively.

A typical block of 8 or 12 ha of pooled land is divided by water-retaining tie-ridges into smaller quadrants and literally filled with plants, intercropped to maximise the symbiotic relationships of nitrogen-fixing and nitrogen-hungry species. Yams and other tubers go underground, pulses, beans, fruits, bamboo and timber spring up from the earth, the different root systems carefully grown together to prevent overcrowding and to maximise use of groundwater at all levels.


Popat Pawar
An enterprising sarpanch, Popat Pawar brought water, prosperity and respect to his village Hivare Bazar, in Ahmednagar, Maharashtra. With the support of the village youth, Pawar transformed his village from a 'punishment zone' to the one that got Maharashtra its first National Productivity Award for the best watershed work. He is an ardent follower of Anna Hazare and believes, "The development process needs both the state and society to work together. However, the society should always be on the drivers' seat and work responsibly."

It all started in 1989, when the youth of the village wanted a change. The village had about 22 liquor shops, and excessive gambling and violence had ruined its reputation, society, ecology and economy. The drought of 1972 had marked the beginning of a disaster and they wanted it to end. Pawar was elected sarpanch with popular support.



His was not an easy journey, but he never gave up. After forming the yuva mandali (village youth group), he concentrated on improving education standards. The village school was locked for two months till the state assigned good teachers. Pawar's first success, however, was also closely followed by his first failure. The plantation work that they had begun with was vandalised by some villagers. Henceforth, he decided to take up works only on demand. The entire focus shifted to building the moral base of Hivre Bazar in accordance with the path shown by Anna Hazare.



Once the attitude of the people changed everything started falling in place. Thanks to their diligence, in 1994 under the joint forest management programme, afforestation works were taken up, successfully. Today, the village boasts of a thick forest cover, maintained by the villagers themselves. In 1995, under Adarsh Gaon Yojana, watershed works were taken. About 52 earthen bunds, two percolation tanks, 33 loose stone bunds and nine check dams were built. With increased water availability villagers have diversified without encouraging unsustained water use practices. Even the state has acknowledged the efforts by funding a training centre for the sarpanches.





Pawar insists on using state funds for village development. He says, "It is our money and we want to use it for the purpose it has been allocated". Significantly, he is taking
Hivre Bazar
on the path on environmental self-reliance. He specifies, "For the past one-year, the people have taken all the decisions themselves. I am not even consulted, just updated". An inspiring journey, indeed.

For details:




Premjibhai Patel




Premjibhai Patel had to go to Mumbai for work in 1975 but the fast-paced lifestyle and a desire to do something meaningful perturbed him endlessly. Finally, he returned to his village Bhayavadar in Upleta block of Gujarat. There he brought about a revolution of sorts. One that showed people that the answer to the fuelwood problem in the arid region was growing simply more trees. This also solved the problems of erosion and water shortage. Now, he is concentrating on the construction of traditional check-dams in Upleta.




Pandit Punyadhar Jha




Pandit Punyadhar Jha alias Bol Bam. A resident of Andhra Tharhi village of Madhubani district in Bihar, the octogenarian has spent a good part of his life planting trees. Jha has planted a record 10,000 trees in various districts of Bihar till now, and he plans to continuing doing so in the future.
His knowledge bank: the Agni Puranas, which detail traditional plantation methods.
His motto: one tree is equal to 10 sons.

R K Gupta
District collector of Khandwa district in Madhya Pradesh, R K Gupta is actively involved in not only creating awareness on water conservation and its management but working towards making it a reality as well. He is a man with multiple facets. He is an engineer and an IPS (Indian Police Service) officer with profound interest in agricultural research. His calculations show that "Even with 50 per cent of annual rainfall, it is possible to avert drought". The rainfall in Khandwa, for the past three to four years has been 30 to 40 per cent less than usual. In spite of this, there has been no drinking water problem, no fodder shortage, soil erosion has reduced by 90 per cent, per capita income has increased two-fold, and almost this entire area is under rabi cultivation. Gupta and his team has innovatively redesigned the existing strategy for the works done under Pani Roko Abhiyan (PRA), a community-based rainwater harvesting program of the MP government, that has resulted in this transformation.



Gupta's 'total water management strategy' entails the creation of earthen structures to store and percolate the runoff rainwater. Even five to seven cm of rainfall does not go waste. "After completing the water budget (a detailed assessment of the demand and supply of the water) of the district, it became evident that 90 per cent of the water is used for cultivation - and, most of it is groundwater. Thus, this source needs to be replenished", emphasised Gupta.





The size and kind of the structures is determined by the cost of water that they store. All the structures like earthen checks, kundis, bunds, bori bandhans, Khandwa hydraulic structures have been redesigned to meet the local requirements.





"In 2001, we started the technical training of 14,000 villagers, with the hope that at least 1,000 of them will actually implement - and, it happened. In one village, a villager diverted the access water used in animal shed to the dried bore well. After 15 days, he found out that a dry hand pump about 100 m has started yielding. The villager realised the importance of rainwater harvesting. And, we just shared such experiences to motivate others", said Gupta.





Some experiences from Khandwa.




It took some time for the people of Dhanta village to understand the concept. Initially, with the cooperation of the few villagers, nallah (drain) recharge work was undertaken. The entire catchment area was treated with a total water management technique. Three months after the monsoon, the water table in the pond at the tail-end of the nallah started increasing. This incident changed the attitude of the villagers. As a result, "The wells that used to dry up in summers even after normal rains now have adequate water. It just takes four hours for the well to recharge after eight hours of extraction", said a villager.

The villagers of Dhotakheda collectively constructed a kuccha bandh on a seasonal nallah - Chotapchaad. With this structure not only was their annual water problem solved, they also had enough water to share it with nearby villages.

Jeevan Singh Pawar, a resident of Attubhikari village, about 16 km from the district headquarters, recharged a nearby well by diverting the leaking water from the air valve of the irrigation pipeline. As a result, the well that used to dry up in January now had water at a depth of 10 ft - enough water to irrigate the rabi crop.
These stories clearly indicate the strength of rainwater harvesting systems in effectively dealing with drought. "We are at the take-off stage, as now people start the works and then approach us for financial assistance. This is our achievement," says Gupta.

For details:
Chief executive officer
Zilla Panchayat
Khandwa
Madhya Pradesh
Tel: 0733 - 23264



R S Jamir




R S Jamir is the first Indian Police Service officer from Nagaland. More importantly, he is the co-founder of the Luzheto Welfare Society, a social forestry organisation. After the demise of co-founder Hekiye Sema in 1998 he has been carrying forward the work single-handedly. Although restricted to Luzheto village, his work in regenerating the barren lands has helped people live off the forests once again. As a sign of gratitude, villagers have named a hill after him. "He was at the right place at the right time. We can never thank him enough," says a villager on Jamir.




Maharaja Gaj Singh


Though he has lost the political authority over the people of Thar, who once used to be his subjects, Maharaja Gaj Singh continues to work for their well-being. This 38th Rathore Chief of Marwar, lovingly known as Bapji, is actively involved in popularising community-based water harvesting practices in the Thar region. Concerned with the growing water crisis, he teamed up with Rajendra Singh, the secretary of the Alwar-based non-governmental organisation (NGO) Tarun Bharat Sangh, to organise Jal Chetna Yatras and sammelans to spread the message. His ability to relate to the villagers in their own language, and addressing their livelihood concerns has earned him creditability and support of the people of Pali, Barmer and Jalore districts of western Rajasthan. Due to his concerted efforts he has also generated interest among the other sardars of the former princely states of Jodhpur, Nagaur, Jaisalmer, Barmer, Jalore, Sirohi and Pali to take up similar activities.

Working as a catalyst, the Maharaja is motivating locals to get involved and work for a better (and wetter) future instead of relying on state handouts. In return, he has received complete cooperation from the people. While expressing his gratitude, Bapji said, "In the present context maharajas no longer have wealth. I am lucky to have invaluable wealth in the form of your support and dedication to mitigate this perpetual problem." A royal water crusader, indeed.


For details:
Brig Shakti Singh
Umaid Bhavan Palace,
Jodhpur, Rajasthan
Tel: 0291-2510101
marwar@del3.vsnl.net.in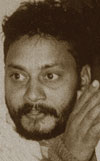 Rajendra Singh

Kishori vill.

(Alwar) Rajasthan

Rajendra Singh
On October 2, 1985, five young men got off a bus at Kishori village in Thanagazi block of the district of Alwar, Rajasthan. They were from the Tarun Bharat Sangh (TBS), a voluntary organisation set up in 1975. Among them was Rajendra Singh, the secretary of TBS. Rajendra Singh spearheaded the movement for the regeneration of the area. Always an activist, he had fought against illegal quarrying in the Sariska Tiger Reserve, Rajasthan. No engineers were called. They were guided by traditional wisdom. Mangu Lal Patel, an old man from nearby village Gopalpura told them, "Do not talk too much; dig tanks and build. You will get results."

This year, on July 30, 2001 Rajendra Singh was conferred the Magsaysay award for community leadership. When the news reached him, he was touring Sikar, Rajasthan to do what he does best - mobilize communities to manage their water resources. On receiving the award, Singh said, "The social technique adopted by the people and TBS has been recognised with the achievement of this award. The award is for the people."




Ram Karan Bhadana


Ram Karan Bhadana, a Gujjar, is not involved in sheep rearing as others of his community. He is committed towards development. He is a well-known activist for development works in his village, which has a population of 2,000-2,500. He was actively involved in creating awareness, giving importance to tree and pond worship, making ponds and removing encroachments from pastures. He constructed three ponds one after the other and changed the face of the village. The first pond is named Phoolsagar because it is surrounded by flowers. The second pond is named Devsagar because of the temples that surround it. The third pond is directly linked with agriculture and is named Annasagar. Four chaukas (bunds) have been made to store water for livestock. The money was raised from many sources, including friends and relatives.

Bhadana says, "Earlier our people were going to Jaipur and other towns to work as labourers but now they are in their own village. The lands which were earlier not able to sustain them are now producing profits for them."

Ram Karan says, "The villagers' efforts and Bhadana's motivation have changed the face of the village. We have made good channels for irrigation and started cultivating in the lands, which were earlier lying barren."


Ramkaran Bhadhana
An unassuming villager of Laporiya in Jaipur, Rajasthan, who is ardently involved in the sustainable development and management of water resources. Bhadhana is known in his village for his selfless work. He has always tried to combine conservation practices with spiritualism. Explaining his unflinching faith, Bhadhana said, "The last time we had good rains was in 1997. But we will survive this drought as well. By god's grace we have water". Though the region is ravaged with drought, Laporiya gathered in December 2002 to celebrate 'Dev Uthni Gyaras', a Hindu way for thanking the bountiful nature. They also performed pooja at three village water tanks that are completely dry. One cannot help asking what are the villagers grateful for? "These are the reason why there is water in our wells. We collect whatever little rain we get. Without these, Laporiya would have been history", shared Bhadhana. About 189 families of Laporiya, like most of the other villagers of Rajasthan, are facing the worst spell of drought but what sets them apart is the unflinching faith in their water and soil conservation works.

For details:
Ram Karan Bhadhana
Laporiya, P O Gugardu,
Jaipur 303 008
Tel: 01428-224486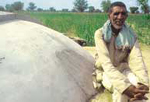 Ran Singh

Lahsedi vill. (Churu)

Rajasthan

Ran Singh
Ran Singh of Lahsedi village, district Churu. Rajasthan makes kundis.

Ran Singh started building kundis since he was 13 years old. So far, he has built some 400 or 450 kundis. With local groundwater being saline, these kundis are the main source of water for the villagers.

A tall, well-built, articulate man of 62, Ran Singh says, "Pipelines are most unpredictable. The government waterworks are like waterless eyes that cannot see. What is their use?"

He understands rain and the behaviour of water - how it travels and how it should be stored. Making a kundi needs considerable engineering skills and takes about 25 days. After selecting an appropriate area, the first consideration is the incline, asit should catch as much rainwater as possible.

Kundis have brought Ran Singh a lot of respect in his village. Visitors throng his house almost every day. People greet and salute him as he walks down the local street. He is always eager to share a joke with his neighbours. Despite his age, a good joke is never lost on him. He catches it like water.





Rakesh Trivedi




Rakesh Trivedi (50) is a multi-faceted personality. A professor of zoology, director of the eco-estate faculty of the Centre for Environmental Protection, Research and Development in Indore, Madhya Pradesh, and a contributor for Nai Duniya, a Hindi daily. His obsession with trees has also earned him the title 'Tree Man of Indore'. So far, he has planted 6,000 trees in the city alone. But that's not enough. He believes he has to plant many more trees, God and 'people willing'.




Ranjit Kumar Pattnaik




Ranjit Kumar Pattnaik is a household name In Angul district of Orissa. In 1988. he went on a padyatra across 600 villages In Angul to raise awareness about the Importance of natural resources. Pattnaik established the Youth Association for Rural Reconstruction. Initially aimed at fighting against pollution of the Brahmani river by Industries. Pattnaik has also been Instrumental In forming village organisations to save forests and sanctuaries In the state.



Ravindra Shetye


Can mango and cashew plants grow successfully in a water-scarce land, without further degrading the environment? The answer is yes. Ravindra Shetye, a Mumbai-based ecologist has done it successfully by harvesting and utilising rain on his 60 acre and in Dahagaon village of Ratnagiri district, Maharashtra. On January 29, the Ashoka foundation conferred him with Ashoka Award'. It all started when in 1992 he decided to develop an abandoned land in a village with no electricity or any perennial source of irrigation. During monsoon, he conserved rain in stone-lined tanks, constructed on various sites of the plantation with the capacity to hold 0.2 million litres of water, ensuring frequent water for the plants for the first three years. Today, about 5,000 cashew and 2,000 mango trees have started giving the initial yield. The annual capital input is Rs six lakh. Shetye is now planning to share his gains with the entire Konkan region.

For details:
Socio-economic Eco Development
10, Amitchs, Whireless Road,
J B Nagar, Andheri (East)
Mumbai 400 059
Maharashtra




Roland Martins




Roland Martins is the driving force behind Jagrut Goenkaranchi Fauz. perhaps Goa's most effective grassroots organisation. He has led many protests against unsustainable tourism projects. One of his notable campaigns has been against the government's plan to freeze a 75-80-km stretch of coastal Goa for 19 luxury hotels. The plan was eventually scrapped. Then there was Operation Cold Turkey against drug traffickers and Operation Blockalds to spread awareness about aids. Despite many successes. Martins remains a foot soldier. literally for he uses public transport and figuratively for his perusal of the mission.



Sachidanand Bharti


Ufrakhal, Paudi Garhwal located in the midst of Chamoli and Almora was known as the backward area in the region. However, as Sachidanand Bharti entered the scene, transformation set in. He started mobilising the entire village, especially the women, to work for forest conservation. Bharti and his village-based organisation Dadhutoli Lok Vikas Sansthan started receiving support as locals started understanding the need to treat and develop water, land and forest in an integrated manner to achieve sustainable results.

Bharti guided villagers to take up afforestation work. Initial failure such as dying saplings instigated him to find a solution. After a number of discussions with the villagers, it was decided to dig small pits near the newly planted saplings - so, that when it rains these pits collect enough water. The idea worked. By the year 1990-91, the village could boast of one of the thickest forests in the region. Today, this forest is covered with trees like Baas, Kaafal, Amaat, Chir, Awala among many other species.



Bharti's path has been illuminated by the guidance of Anupam Mishra and various community-based water harvesting initiatives going on in different parts of the country. With the support of the villagers, he started digging a series of 1,500 small pits (locally called Jal Tarais) in the forests of Gaadkhark. The impact was immediate and evidently inspiring. Today, a number a small nallahs (drains) have become perennial, which culminate into a big nallah known as Gaadganga.

Sachidanand Bharti is a media-shy person, who is working selflessly for the community and the nature. The works are carried without any external financial assistance. By simply mobilising what the community has to or is willing to offer. Bharti has motivated the locals to deliver the message of conservation and prosperity.

For details:
Dadhutoli Lok Vikas Sansthan
Ufrakhal,
Paudi Garhwal, Uttranchal




Shivanajayya


Shivanajayya is a person of many talents. He is the principal of a college, a writer, an organic farmer and a water conservationist.

He has a five-acre farm in Tumkur district, Karnataka. The soil in this region is red. Rainfall is highly erratic - as a result the farmers are completely dependent on bore wells. Following the practice, in 1990, he also got a bore well dug. The yield was good for the next four years after which it started falling. He was forced to lower the pump from 140 to 180 feet. Yet, the situation did not improve, adversely affecting the crops sown.





While trying to find a solution, he realised that barely 30 feet away from the bore well flowed a seasonal rivulet, which had water till the month of January. This encouraged him to go in for an artificial recharge technique.



A deep trench was dug from the casing pipe to the riverbed ensuring a regular supply. Blue metal was spread around the pipe and the trench was refilled with soil. To check the inflow of leaves or other materials, a mesh was tied on the outer end of the pipe. Expenditure was not more than Rs 1,000, and the results are worth noting. The output has doubled and the bore well runs for more than six months a year.

For details:
Kadalivana, J C Pura,
Chikkanayakanahalli TK,
Tumkur DT 572 214
Karnataka




Shamjibhai Jadavbhai Antala




Shamjibhai Jadavbhai Antala has many names - Pied Piper of Saurashtra. rainmaker. one-man army and messiah. He has accomplished the impossible in a land with a history of severe water scarcity, hostile climate and rocky topography. He has ensured that the fields remain green by teaching people the importance of rainwater harvesting. He propogated the concept of well recharging amongst the rural masses in Gujarat. He is a member of the Gujarat Ecology Commission, State Watershed Mission Advisory Committee(Govt. of Orissa) and Rajiv Gandhi Watershed Mission (Govt. of MP).


Shamjibhai Antala
Ram Krupa Near Mandan,
Opp. Bus Stand, Dhoraji - 360410
Gujarat
Tel: (02824) (O) 223150 (R) 221940



S

hree Padre



Popularly known as the 'Rainman of Canara Coast', Shree Padre has used his journalistic skills to create a strong farmer network throughout western Karnataka and north Kerala.

Apart from writing a weekly RWH column in the leading Kannada daily, Vijaya Karnataka, he has so far conducted more than 350 RWH slide-shows in the nooks and corners of southern Karnataka and northern Kerala. Taking information/inspiration from his writings hundreds of farmers have got success in RWH without govt subsidy and with a very low cost. Shree emphasises in-situ methods and gives importance to traditional methods as well. His persistent efforts to popularise RWH has yielded fruits. Today there are many new-comers who are spreading the awareness through the now popular Neerimgisona Banni ( Come, let us harvest water) workshops in southern Karnataka. He has written 8 books on the subject, out of which one is in English. ( Rainwater Harvesting) Padre is the convener of an informal platform for RWH , Jalakoota that documents success stories from world over and disseminates the selected ones to people. He says he would be grateful if grass-root rainharvesting activists can share their experiences,success stories & relevant photographs for him to document & spread.His favourite slogan : " If water scarcity splits people, Rainharvesting can bring them together."

It all started with Adike Patrike, a monthly newsletter launched in 1988 to give farmers a voice. Several 'writing workshops' were conducted for the interested farmers. He encouraged them to share their problems and solutions through the newsletter. Padre has also come up with the idea of 'Samruddhi', a group giving voice to those farmers who can neither read nor write. Once a month, the group organises a meet, where farmers just discuss various issues and then the dialogue is edited and published in the Patrike. In 1995, Adike Patrike started a series on the various ways in which people conserve water. "I constantly stumble upon a farmer or a householder who has devised a novel method. They are often simple but suited to the situation", says Padre. Recently, he has started sharing these stories with the CSE newsletter Catch Water as well, widening the network.

Shree is always on the look out for information on Traditional Water Conservation Systems, Community RWH successes, Success Stories of RWH , Commonmen spreading RWH awareness etc.He says he will be grateful to receive & share info on these areas.

For details:
Post Vaninagar,
Via Perla, Kerala - 671 552
Phone : (08251) 647234 (R) ; (04998) 266148 (R)
E-mail : shreepadre@sancharnet.in
Web : www.farmedia.org/profiles/Padre.html


T R Sureshchandra
"When knowledge is combined with careful observation, solutions are bound to be found," says T R Sureshchandra, an arecanut farmer from Kalmadka, Karnataka. This is the way he solved his water related problems.

It all started in 1999, when he dug a 205 feet deep bore well as a supplementary source of irrigation. He used 15 sprinklers. The yield was good. However, to his dismay a year later the yield started dropping. A thorough examination revealed that on the side of this bore was a rainwater harvesting tank and in monsoon the excess runoff used to overflow touching the casing pipe - yet there were no signs of significant natural recharge.



Suresh, a regular reader of Adike Patrika, a local farm magazine, had some idea about artificial recharge. He started feeding the dry well by siphoning water from the tank during the monsoons. Positive results encouraged him to revive another farm pond to ensure sustained irrigation supply.

For details:
Tottethody House
Post: Kalmadka
Karnataka



Tiameren Aier


Former state minister for industries, (Mokukchung) Nagaland

Tiameren Aier is a former state minister for industries and also owner of teak and rubber plantations in Mokukchung district of Nagaland. He is involved in educating people about the adverse effects of jhum (shifting) cultivation. He has also started a college where he plans to introduce environmental awareness training to farmers and dropouts. Unfortunately, not many in his hometown are aware of the 'green face' of this former politician.

V Radha and Manisha Mhaiskar
They are senior officers from the Indian Administrative Services (IAS) posted in Aurangabad and Wardha districts of Maharashtra respectively. Their style of functioning has ensured active community participation in developing water supply schemes, without spending a penny out of the state exchequer. Initially it was very difficult for V Radha to convince the people of Sarola village to revive their 30-year-old percolation tank, which was running dry. Today, it is brimming with water. It is the only village among the 700 in Aurangabad district not to suffer from water scarcity. Things took a positive turn when, instead of financial support, she offered farmers to freely use the self-dug out silt from the pit. On its part, the administration has ingeniously modified the Employment Guarantee Scheme - allowing people do water related works for employment.

In Wardha, three schemes were already underway - Jalada, Sampada and Vasundhara - when Mhaiskar came on deputation. Her challenge was to consolidate and sequence the existing schemes to make water supply sustainable, by involving the community. The administration has ensured transparency at every level. The state government has applauded these initiatives, as replicable models.


Vasimalai M P
M.P. Vasimalai is Executive Director of a national NGO, Professional Assistance for Development Action (PRADAN) in India. After his graduation in Agronomy, he served for two years on an irrigation research program with Tamil Nadu Agricultural University. Subsequently, he completed management studies at the Indian Institute of Management, Ahmedabad. He worked with a Gandhian NGO to actualize the self-governance of villages by promoting people organizations and facilitating the implementation of poverty alleviation programs by village assemblies. He was involved in enhancing the capacity of NGOs in natural resource management for more than a decade. He is a member of a national advisory committee to the Water Resources Ministry whose goal is to build farmers' stakes in Government programs. He is currently involved in Institutional development of people-based economic organisations. He provided
advice to field operations in natural resource management enterprise
promotion and rural women's credit programs.







Vijay Kedia
'Where there is a will there is a way', goes a popular saying, which perfectly applies to Vijay Kedia, an Aurangabad-based mechanical engineer/builder. While working on his family farm, his improved his understanding of water and its various facets. Further, the knowledge of raditional rainwater harvesting systems of Rajasthan encouraged him to innovatively modify the existing techniques to suit the local context. The Dewas roof water filter, Kedia-farm pattern bandhara (an earthen dam, commonly found in Maharashtra) and a rain gauge are the result of eight years of exploration. The potential of these low cost structures in eradicating ecological and economic poverty has been widely acknowledged. A Kedia bandhara costs only Rs 5,000 and can capture 70 - 80 per cent of the monsoon runoff, while keeping the soil moist for next five to six months. It is constructed by digging a two feet wide and eight to ten feet deep trench before the bandhara, and refilling it with soil after vertically lining it with a PVC sheet. The trench acts as a vertical aquifer. The PVC sheet stops the water from percolating outside. In his farm, following the seventh century model at Ghadasisar in Jaisalmer, the bhandaras are constructed in a series - thus, preventing the runoff going waste. The wells are constructed in the bottom of the bhandara - ensuring a sustained availability of water.

These days he is actively spreading the knowledge around with one message - "Sai jitna dee jiye, wame kutumb samaye" (the rain god is giving us enough water, it has to be managed intelligently), which Kedia believes can sustainably solve the water scarcity.

He has also designed a simple rain gauge, which costs only Rs 2, with a two-litre plastic bottle.

For details:
72, Pannalal Nagar
Aurangabad 431 005
Maharashtra
Tel: 0240-2337974 / 2339934


Vilasrao Salunke


Prominent water warrior and founder of paani panchayat, Vilasrao Salunke, passed away on April 23 2001 following a heart attack. At the time of his death, he was 65. Salunke has been closely associated with CSE. He initiated a system of equitable distribution of water through a people's council. In this system, the number of family heads with no land holdings decides the water distribution. He is widely recognised for his zealous effort to promote community-based management. His works were acknowledged and honoured with the Jamnalal Bajaj Award in 1985, and the Stockholm Award in 1986.

For details:
Gram Gaurav Pratisthan
113 St Patriks town,Cooperative Society
Pune-411013
Tel-020-670158/9,670285