MIRA MODEL SCHOOL'S RAINWATER HARVESTING SYSTEM

RAINWATER AVAILABLE FOR HARVESTING
Total rooftop and surface area: 16,200 Square metres (Sq.m)

Average annual rainfall in Delhi : 611 millimetres (mm)

Total volume of rainwater harvested : 4,454 cubic metres (m³), or 44,54,000 litres

This is 45 per cent of the total water harvesting potential.

WATER SUPPLY SOURCE
The non-potable water requirement is mainly fulfilled by the two borewells in the campus. The municipal water supply takes care of the drinking water requirements.

RAINWATER HARVESTING SYSTEM
Rooftop rainwater and surface runoff harvesting

WESTERN SIDE OF THE BUILDING
A part of the rooftop along with the surface runoff from the paved area near the playground is intercepted in a drain that is connected to a desilting chamber. The silt-free water from the chamber (measuring 300mm x 300mm
x 300mm) enters a recharge structure of 1m x 1m x 1m. To facilitate recharge, a 15m deep borewell of 100mm diameter is provided inside the recharge well. A layer of pebbles and sand filled inside the recharge well acts as filtering media, ensuring the quality of runoff that is being recharged.

EASTERN SIDE OF THE BUILDING
Rooftop rainwater and surface runoff in the eastern side of the building is channelised through a stormwater drain to a recharge structure measuring 2m x 2m x 3m. To facilitate recharge, an 8m deep borewell of 100mm diameter is provided inside the recharge well.


THE FOOTBALL GROUND
Runoff from the playground is captured on the northwestern corner of the playground in a recharge well of 1.5m x 1.5m x 1.5m by means of a trench filled with pebbles surrounding the pit. The 14m deep borewell provided inside the recharge well facilitates recharging of the aquifer. Overflow from this structure drains into another recharge well of dimensions 2m x 2m x 2m through a network of pipes linked through chambers.

The project was implemented in June 2001. The cost of the entire rainwater harvesting system was Rs 1.20 lakhs.

IMPACT

Water level data

Although water levels are very shallow in this area, they are declining rapidly due to the heavy exploitation of ground water.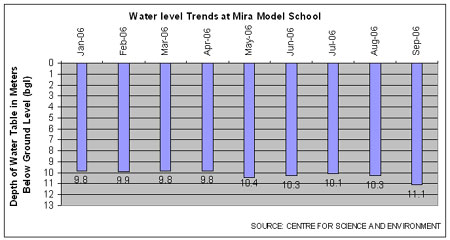 ---
---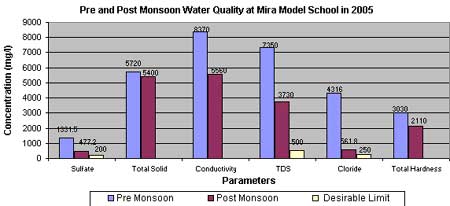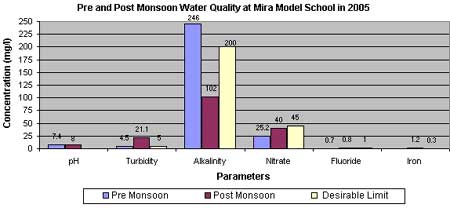 ---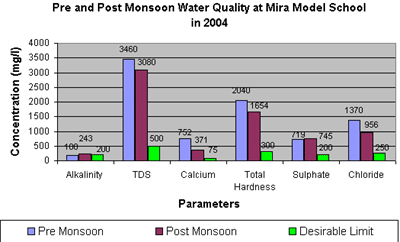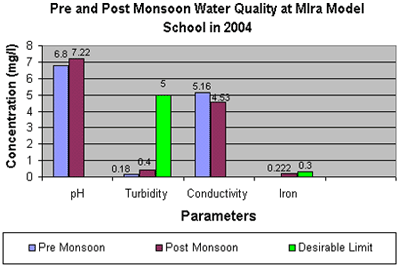 ---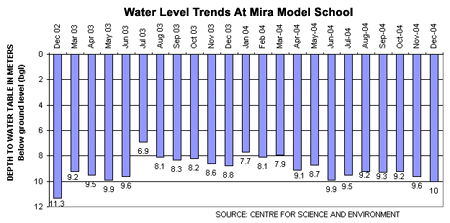 ---


Kulbhushan Oberoi, Chairperson, Oberoi Education Society

"This (2002) has been a year of severe stress, with Delhites reeling under a major water crisis. But we have been spared. We are using water frugally, but there is enough for us to feel comfortable."




For Details:


Mr Atul Bhalla,
Mira Model School
B Block, Janak Puri,
New Delhi
Telephone Nos. +91 (011) 25500489, 25508486(O),25798513(R), 9810397887