Vol. 2 No. 2 April 2001

Water warriors speak out
While approaching Neemi, the sound of water pumps becomes prominent. The immediate reaction is to consider it as a hallucination but soon the doubt is cleared. The sound of pumps is for real. This village can impress anyone!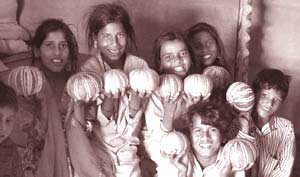 Reaping fruits of water wisdom
Centre for Science and Environment (CSE), along with Tarun Bharat Sangh (TBS), an Alwar based NGO organised a three-day Rashtriya Jal Sammelan (national water conference) from 21 April to 23 April 2001 under the aegis of Jal biradari (water community) in this village.
The participants came from 23 different states of India including Andhra Pradesh, Jharkhand, Bihar, Uttar Pradesh, Orissa, Chattisgarh, Jammu and Kashmir, Haryana, Gujarat, Rajasthan and Madhya Pradesh.
In Neemi, till 1994 there were vast areas of land that were barren. As agriculture was at its worst the villagers migrated as wage labourers to Jaipur, which was like a second home to them. During that period Radhu Gujjar, a 71 years old resident of Neemi visited his relatives in Alwar. There he heard about TBS, which had transformed many degraded villages into flourishing ones. The only mantra followed was to stop water, wherever possible, within the village boundaries. The villagers brought around a dramatic transformation in Neemi with the help of TBS. Today the village boasts of producing 2-3 crops from 2,000 bighas of land. The villagers are cultivating peas, mustard, potato, tomato, cucumber, melon, watermelon and a whole lot of other fruits. Apart from vegetables, dairy forms an integral part of the village economy. Interestingly, reverse migration is taking place and labourers from other states are coming to this village in search of work on the agricultural land.
In order to motivate and inspire people to replicate this initiative in other similar affected areas, CSE along with TBS organised the Rashtriya Jal Sammelan at this village. The purpose of organising the meeting in Neemi was so that the participants could see for themselves how water conservation could bring about a dramatic turnaround in even the most destitude of villages.
The Jal biradari is a group, which has been formed to make community-based water management a national movement and a reality in every single village of India. The biradari will work towards re-establishing the relationship between people and water and also restoring the diminishing control of communities over water. CSE and Rajendra Singh would be spearheading this as a national movement. The biradari's genesis was in a paani sammelan (water meeting) organised by CSE on March 23-24, 2001 — Mere gaon ki kahani meri jubani (The story of my village in my words)
Representatives from non-governmental organisations, funding agencies, government departments and media attended the three-day sammelan at Neemi and shared their water woes and also related their experiences in drought proofing their respective villages. During the meeting it was evident that there is a strong need for a national movement in water harvesting.
After the initial introduction to the village, the participants divided themselves in five groups to discuss the existing water problems and its solution. The issues that were identified for discussion were:

Reason of drought and it's solution


Proper utilisation of government funds for drought relief/drought proofing


How to address the problems of drought and flood. How can drought and lood management be addressed by the national water policy


Adoption of water conserving agricultural practices


How can water management be made a people's movement.

On the following day the leaders of these five groups shared the inputs as well as the recommendation with the rest of the participants.

Speaking on the occasion Anil Agarwal, chairperson, CSE said "The investment of Rs 4.5 lakh in the water conservation efforts led to an annual income of about Rs 45 lakh in Neemi. If the same experiment is replicated in all the villages of the country it would give a tremendous boost to our economy". According to him, if 100 mm of rainfall is stored in an area of 1 hectare, then 1 million litres of water
can be conserved which is possible and sufficient for even extreme drought-prone regions of Barmer and Kachch. But if we waste rainfall even Cherrapunji, the village in Meghalaya where highest rainfall to the tune of 11,000 mm is recorded suffers from water shortage. Anil Agarwal mentioned that the gross nature product is more important than the much talked about gross national product by the economists and planners. "In the coming years there will be water warriors in every village. There is no scarcity of water, actually there is scarcity of intelligence. About 150 years ago there was no government agency involved in the matters of water, people managed it themselves. We have to revert to the same wisdom again."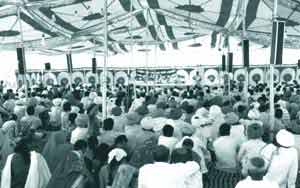 Rashtriya Jal Sammelan at Neemi
While releasing CSE's latest book on water — Making Water Everybody's Business, Practice and Policy of Water Harvesting, the heavy industries minister Vallabhbhai Kathuria said "I have come here as a water warrior and not as a minister. Let us take an oath to built not one but thousands of check dams to ensure surplus water." The book compiled by CSE was termed as Jalveda (Veda of Water) by Rajendra Singh. "If we have to fight against drought, we must start the battle before the drought. In order to remove poverty we must concentrate on water. In 10 years, we can ensure that every village has increased its income by 5 crores" said Anil Agarwal, on the occasion of the book release.
Later, participants from different states resolved to do their utmost to promote water conservation under the aegis of Jal biradari. They were given a chance to share their modus operandi with the rest of the members of Jal biradari. The commitment of the participants towards the newly assigned task reassured that community-based water management has the potential to combat water crisis at the local level.
The initial investment of just Rs 4.5 lakh in water conservation efforts today gets neemi an annual income of about Rs 45 lakhs. Interesting reverse migration is taking place and labourers from other states are coming to neemi in search of work
During the three-day meeting, state level Jal biradaris were formed to popularise water harvesting at village, panchayat, block and district levels. The Gujarat contingency of 189 members elected Shyamjibhai Antala, a columnist of the regional newspaper Sandesh to look after the Jal biradari of the state. The other members from Gujarat such as Manubhai Mehta, Prembhai, Babubhai Jhabalia, Deepak Mepani and Pratap Singh Rathod pledged to undertake water management work in their respective regions. "The federation of NGOs of Jammu and Kashmir will decide the steps to be taken to form the Jal biradari in the state. This will be intimated in due course," said Govinder Singh, the activist from Jammu and Kashmir Paryavaran Samiti (JKPS), a Jammu based NGO.
The delegates from Azadi Bachao Andolan (ABA), a Allahabad based NGO working in the states of Uttar Pradesh and Bihar, talked about water being the sine qua non of life: even the basis of Dharma and culture is water. It is the fundamental right of life. Malin Patnaik, the activist from Agragami, a Bhubaneshwar– based consortium of NGOs took upon himself the responsibility to bring together the Orissa-based NGOs to find out the strategy for managing water in Orissa. The representatives of other states took up similar initiatives as well.W