Vol. 1 No. 3 August 1999

The Chennai branch unit of NWHN: full steam ahead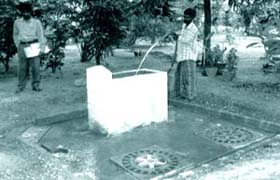 Groundwater being recharged in Chennai
Under the able leadership of A Vaidyanathan and the steering committee, the branch unit of the National Water Harvesters Network (NWHN) is going full steam ahead. Thanks to Nirmala Lakshman of The Hindu, a series of articles have been published in this newspaper to spread the message of rainwater harvesting and its potential.
The Chennai branch unit was the first unit to be established in April' 99 and according to A Vaidyanathan "Being the first branch of NWHN and given the progress the city has made in terms of water harvesting, this unit has to be the model for future branch units". A meeting with builders was organised in June' 99. Realising the crucial role of builders in strengthening the cause of rain water harvesting (RWH), the unit involved builders in all its activities. The consistent efforts of the Steering Committee (SC) as well as the desire to promote RWH resulted in the meeting being well attended.
Participants

Steering Committee Members
A Vaidyanathan,
Professor Emeritus, Madras Institute of Development Studies
I Ragade,
Vice- Chairman, Alacrity Foundation
R Jeyakumar,
Managing Director, Rajparis Constructions
S Raghavan,
Centre for Policy Studies
R Ramani,
Deputy Manager (Retd), Oil and Natural Gas Commission
A Parida,
Senior Scientist, MSSRF

Others
R Lakhani,
IAS, Deputy Commissioner (Works), Corporation of Chennai
M Madhavamoorthi,
S.E, Head Quarters, Chennai Metro Water Supply and Sewerage Board (CMWSSB)
Annamalai,
Senior Hydrologist, CMWSSB
LM Menezes,
IAS (Retd), Executive Director, FAIRPRO
Rajamanickam,
Director, Vasanth Builders
Sridaran,
Anand Builders
M Narayanan,
SUDSUN Housing Development India Ltd.
G Ghosh,
Principal Correspondent, The Hindu
Issues discussed included strategies to promote the concept of RWH and make it accessible to the people. The participants agreed that it was imperative to share the advantages of RWH with the people. Vaidyanathan pointed out that contradictory to popular belief, installation of RWH structures involved low expenditure. Ragade of Alacrity Foundation pointed out that the quality and the quantity of groundwater has shown considerable improvement in areas where RWH projects have been implemented. The wells now yield iron-free water, while other salts also have leached out. According to R Ramani a resident of Korattur who has been harvesting rainwater at his residence for the last nine years, the quality of well water has improved considerably over the years and is now close to being potable.
There was a consensus regarding the need to rigorously implement RWH not only in residential areas but also in office complexes. L M Menezes, Executive Director, FAIRPRO felt that mere enactment of laws for RWH was not enough and would require strong government support. G Ghosh of The Hindu, stressed on the need to involve residents to implement RWH for its sustainability.
Action points included the need for wider dissemination of information through adopting a comprehensive media campaign, as lack of information has been the major impediment in unrestricted use of RWH. It was suggested that G Ghosh's articles, published in The Hindu be brought out in booklet form. The Chennai Metro Water Supply and Sewerage Board (CMWSSB) has brought out a booklet in Tamil. It was suggested that the contents of this booklet be revised and appropriately expanded to include line drawing, cost estimates and names of the persons who have the expertise in constructing RWH structures, which Madhavamoorthi of CMWSSB approved. An action plan for RWH in slums was suggested. The participants expressed the need of conducting an evaluation for assessing the impact of the existing RWH works of CMWSSB. In addition a survey and preparation of a master plan for implementing RWH in all government buildings was to be explored.
The involvement of architects in promoting RWH was also highlighted, as they too have a major task to perform in establishing RWH at the micro level. The unit plans to organise a meeting with leading architects to generate their interest in the issue and sought their cooperation.
These action points have moved beyond the paper stage. The Madras Institute of Development, Chennai, has agreed to undertake a project to assess existing rainwater harvesting programmes and structures in Chennai. The Centre for Science and Environment (CSE) is supporting this three-month project.
To keep up with the pace CSE has appointed R P Mony to assist Vaidyanathan on a full-time basis.