Vol. 1 No. 2 June 1999

Making water everybody's business.

The Centre for Science and Environment conference on 'Potential of Water Harvesting: Traditions, Policies and Social Mobilisation' held in October 1998, had urged for the recognition of traditional wisdom in managing water resources. The conference advisory committee recommended a series of actions to be taken when it met in March 1999. One of the main recommendation that emerged from this was setting up of a National Water Harvesters' Network (NWHN) to bring like minded people together to propogate the importance of making 'water everybody's business.' The network will disseminate information among the network members through this newsletter on a bi-monthly basis, along with the directory on water harvesters' revised on a regular basis. In addition, the network will carry out policy research and advocacy, and set up branch networks in different parts of the country.

This newsletter will play a key role in keeping track of developments in the field of water harvesting. In this issue a column on water harvesting technology and a column on water policies has been included. We are grateful to our readers who have provided valuable comments to improve the structure of the newsletter.

To initiate networking in regional areas, the NWHN setup the Tamil Nadu unit on April 30, 1999. This network, under the Chairmanship of Prof. A. Vaidyanathan, professor emeritus, Madras Institute of Development Studies, will serve two basic purposes: (i) to provide an opportunity for individuals and institutions actively engaged in water harvesting, initially, in Chennai, to share their knowledge and experience and promote free and open interaction among them; and (ii) reach out to a wider public within Chennai and outside to propagate the role of urban rainwater harvesting in terms of technology, experience and its potential contribution in meeting urban water needs. In an effort to spread awareness on the issue of urban water harvesting, the regional network in coordination with CSE published a series of articles in a leading newspaper. To promote water harvesting, the network has targetted builders in the city, the municipal councillors and the Chennai Metropolitan Water Supply and Sewage Board (CMWSSB). A series of meetings with builders were held to evaluate the works on water harvesting in various complexes. The builders, in coordination with the CMWSSB are preparing a key paper for a National Urban Water Conference to be organised by the network in early 2000. The network's aim is to bring the state and civil societies together and provide a platform for 'co-management' of natural resources. The network will strive to ensure equity among the members for establishing a cohesive, sustainable and meaningful action plan for a shared stewardship of our limited resources.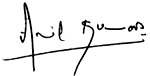 Anil Agarwal
Director