Vol. 2 No. 3 June 2000

Glimpses of books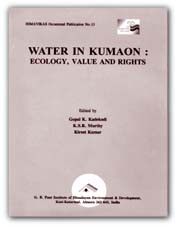 Water in Kumaon: Ecology, Value, and Rights,

Gopal K Kadekodi, KSR Murthy, Kireet Kumar, HIMVIKAS Occasional paper No 13, GB Pant Institute of Himalayan Environment and Development, Kosi- Katarmal, Almora, pp 256



The approach of this book is different. Instead of valuing water in terms of productivity in agriculture and industry, or in terms of the costs of supply, the book looks at the value of water as a basic need for human life. It examines water in terms of what it means to the people of Kumaon, more specifically to the women, since it is the women who are affected by water availability and lack of it. The book describes water resources, use patterns and the hardships that people face in accessing water in selected villages in the region. It reveals the willingness of the people to pay for drinking water. It thus seeks to look at water-related issues in a regional context and suggests regional policy interventions.

Kumaon is the origin of five major rivers of India, namely Kali, Alaknanda, W. Ramganga, Kosi and Gaula, all rivers that ultimately empty into the Ganga. The irony? While the region's contribution to water in the plains is significant, the region itself suffers from water shortage in the natural springs and rivulets.

The rainfall cycle in the region is declining. The stocks of water in various subsystems such as rivers, tanks, groundwater and springs is going down at a faster rate than the declining rainfall. Meanwhile, demands on water continue to increase.

The people from the region travel, on an average, between 0.5 to 2.8 km for drinking water collection. As for the women, they spend an average of 30-40 per cent of their time in collection activities, be it fodder, fuel or water. The vagaries of nature, the drying up of water sources, all add up the uncertainity of drinking water availability. The policy initiatives for these regions to improve water resources must include the promotion of water harvesting systems, soil erosion control, additional resources from the state as well as public participation.

The book addresses an issue that is relevant for the whole country: that of water rights and water law. The research findings follow a pattern that has become familiar from other parts of the country. The local communities have become alienated from the natural resource base and are losing their traditional management and conservation skills. Supportive interrelationships within communities has broken down, leading to widespread conflict in the region. The state's efforts at managing water has only led to gross mismanagement of this resource. What is really required is an integrated natural resources programme to replace the fractured legal and policy framework that is presently in place.
CSE in news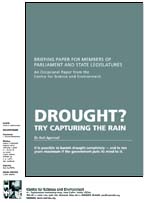 Centre for Science and Environment has been working on the issue of community-based water management and rainwater harvesting for over a decade now, and we strongly believe that it is possible to make the country drought proof, if rainwater harvesting is conserved. In order to intensify our rainwater harvesting campaign, we have published a briefing paper for members of Parliament and State legislatures – "Drought? Try capturing the rain" by Anil Agarwal. The document elucidates the possibility to banish drought completely in ten years through rainwater harvesting only if the government exerts itself. The briefing paper deals with a plethora of issues concerning rainwater harvesting. Issues like potential of rainwater harvesting, drought proofing versus large scale irrigation, structures with a social process and contribution of rainwater harvesting in eradicating rural poverty have been adequately highlighted. The objective behind the briefing paper firstly was to sensitise the leaders to the various aspects of rainwater harvesting. Secondly to motivate them to popularise rainwater harvesting in their respective constituencies.
The briefing paper can be downloaded from our website www.cseindia.org