Vol. 2 No. 4 August 2000



A class for the governors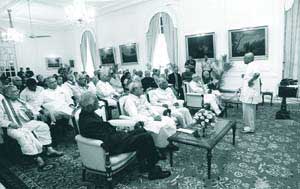 Anil Agarwal presenting a paper at Rashtrapati Bhavan
During the state governors meet held in the capital on 12th and 13th of July, 2000, a concerned President KR Narayanan invited Anil Agarwal, director of Centre for Science and Environment to present a lecture on environment issues at Rashtrapati Bhavan. In addition to the governors and lieutenant governors of all the states and union territories, were present the president, the vice president, the prime minister, the ministers for home, defence, finance, external affairs, science and technology, agriculture, law and several others.
Agarwal presented a paper on Protecting the quality of life and eradicating rural poverty. He placed before the gathering several facts relating to the state of India's environment: while rural land management and energy quality has gone up over the last decade, what has deteriorated is the urban quality of life, environmental health, wildlife protection, and river water quality. While the rural regions provide some examples of best practices that can be replicated, no such example exists for the urban region.
Focussing on the drought situation faced in many states of India, Agarwal explained that while the government spent money on irrigation development and drinking water supply schemes, no effort had been made to drought-proof the country. Instead, the government had tampered with the country's hydrological cycle, without a thought of maintaining its integrity. It was this thoughtless action that was leading to major imbalances in water availability.
Agarwal described the potential of rainwater harvesting in drought- proofing the country, as well as in eradicating poverty, describing examples of successful rural rainwater harvesting, wherein community-based rainwater harvesting had dramatically changed the ecology and economy of the region. While expressing happiness at the initiatives of various politicians in community rainwater harvesting, he warned that unless communities were socially mobilised and participated in the efforts, success could not be ensured.
He concluded by describing the scientific challenges before India and the need to promote science for ecological and social security.