Turning a crisis into an opportunity
Blame it on the rain gods or the government. But the drought is for real. Comes summer and the country witnesses a spectre of water crisis as diverse as its culture. A total of eight states have fallen foul of the rain gods so far- Gujarat, Madhya Pradesh, Orissa, Rajasthan, Chattisgarh, Himachal Pradesh, Maharashtra and Tehri Garhwal districts in Uttaranchal. Some states are in their second, or third year of drought (see Table 1). In the 70 important water
Table 1:Frightening figures
Chhattisgarh: 10,252 villages in 12 of 16 districts hit, 94 lakh people affected.
Gujarat: 12,240 villages in 22 of 25 districts, 291 lakh people, 107 lakh cattle.
Madhya Pradesh: 22,490 villages in 32 of 45 districts, 127 lakh people, 85.7 lakh cattle.
Orissa: 15,000 villages in 28 of 30 districts, 119 lakh people, 399 lakh cattle.
Rajasthan: 31,000villages in 31 of 32 districts, 330 lakh people, 399 lakh cattle.
Himachal Pradesh: All 12 districts affected, 46 lakh people, 88,000 hectare of crop area.
Maharashtra: 20,000 villages in 26 of 35 districts, 455 lakh people, 2.58 lakh cattle.
Uttaranchal: One district affected.
reservoirs in India, the storage position is officially described as the lowest in a decade. Ground water levels have fallen considerably in the eight drought hit states. In a number of districts, says the nodal agriculture ministry, the fall in water levels is at the rate of over 2 metres a year- this includes eight districts in Chattisgarh, 13 in Gujarat, 30 in Madhya Pradesh, 18 in Orissa and 15 in Rajasthan. But in this grim picture of despair and despondence, there do exist a few communities who are able to combat the situation due to their past investments in rainwater harvesting and conservation. Newspapers atleast two in Indore have switched roles from being mere reporters to activists for rainwater harvesting. (See Box: Where pen is mightier)

Where pen is mightier
Nai Duniya and Dainik Bhaskar, two Hindi dailies in Indore who had been reporting diligently on the water crisis, went a step ahead in March, 2001. They took it upon themselves to mobilise not just their readers, but also the state, social workers and prominent citizens, in an effort to conserve water. While Nai Duniya has been involved in the campaign since year 2000 summer, Dainik Bhaskar launched their campaign early this year by flagging off the Pani Bachao Andolan or the save Water Movement and calling for a dry holi. This year Nai Duniya backed by their Nai Duniya Jal Seva Trust carried out information boxes regarding rainwater harvesting regularly in their paper which highlighted issues for purifying water to first flush devices. "When riots and murders took place for water, we knew we had to do something about it,"commented Mahesh Srivastava, editor of Dainik Bhaskar. They organised a three day long conference with Chief Minister Digvijay Singh; activists like Anil Agarwal, Medha Patkar and Vandana Shiva and celebrities like Miss World Priyanka Chopra and bollywood director Mahesh Bhatt. "We wanted to take up developmental issues which would affect people directly," says Ravindra Shukla, the main force behind the Nai Duniya's campaign. "As a newspaper, we probably could not go out and do the work, but we could definitely support the NGOs which do."
With a scanty rainfall, the spectre of drought is looming large over many parts of northern India. 31 of the 32 districts of Rajasthan and 32 out of 45 districts in Madhya Pradesh are facing a drought. The low rainfall pushed the water table down and the traditional water sources have dried up. It has affected a total of 425 lakh population in both states. Cropped area of 33.48 lakh hectare in Madhya Pradesh had been affected and the total water availability in four major reservoirs was as low as 15.4 per cent of the 10 years average. In Rajasthan, some 30, 585 villages as compared to 23, 400 last year have been hit. People of the arid zone in western Rajasthan and some tribal areas are on the verge of starvation. A combination of starvation and disease has already claimed many lives.
The Hindustan Times staff while driving into the drought hinterland, stumbled upon deaths of Veera Hona, Rota Heera of Gaman tribe, and Mala Pargi of Pargi in three different villages of just one panchayat- Medi in Kotada tehsil of Udaipur district. In Jooda village in Jooda panchayat of the same district , two persons had died of starvation. Banswara district, called the Cherrapunji of the state, has also borne the brunt of the drought. Last year the district received only 48 per cent of its normal rainfall. The river Mahi, its source of drinking and irrigation water, was running dry with little water even in the dammed areas. According to Bansi Lal Singhvi, secretary of Udaipur unit of the communist Party of India (Marxist), in each block of Udaipur district some 70,000 people were affected but on an average only 800 or so were given work. The number of people employed was very low and work was offered for just 15 days as demand was very high. Sada village in Kotra block in Udaipur lies at the end of a road coming under Gujarat has only one handpump for its 300 households. Krishna Avatar, a teacher informed the Frontline that while there was no water, liqour was freely available in the village. Narayan Lal, a farmer, said that a few villagers have died of disease and hunger. There were reports of two or three people dying every four days.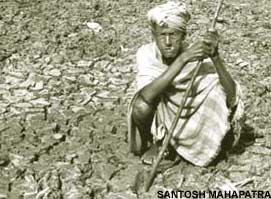 A grim reality: A farmer in Balangir, Orissa
The plight of the tribals is particularly sad. In times of acute shortage they are known to have eaten chapatis, made from grass called godra. Today, even this grass is not available. The only greenery was provided by the ubiquitous cactus, which even the goat would not eat. These tribal people are completely dependent on rain, even moderate means of irrigation are not available to them.
Drought, which is a regular visitor to Gujarat, has already claimed 13,133 villages spread over 23 districts out of 25 districts as drought affected this year. Last year this figure was 9,449 in 17 districts. Only Valsad and the Dang districts have not been declared drought affected this year. According to May 1, 2001 statistics a staggering 25 lakh people of the five crore population were employed in drought relief works across the state, a figure which surprised officials in Gandhinagar since they hadn't imagined the situation was so bad. This figure is more than five times the number of persons engaged in relief works as on May , 2000. The successive drought has resulted in crop failures and recession has set in business and industry. In Saurashtra, Gujarat's groundnut bowl, only six lakh tonnes of groundnut was produced this year against 20 lakh tonnes in a good year. The cotton crop has been ruined besides wheat and pulses due to lack of irrigation.
In Maharashtra, India's second most industrialised state, 19 districts are already under the grip of drought. The water crisis currently plaguing Maharashtra threatens to get worse. The number of villages facing acute water shortage increased by 204 during the last week of April. The overall figure touched an alarming 1,246 at end of the month. The gravity of the situation can be gauged by the fact that last year this figure was 616, which has more than doubled this year, pointed out a water supply department official. The department has already pressed 862 tankers into service for supplying water. The worst hit area is the Nasik revenue division where 327 villages and 197 hamlets are being supplied water by tankers. In Pondhe village in Purandar taluka of Pune district, village elders are permitted only one glass of water per day. " our young and able-bodied cannot go thirsty if they must find work," says Lokhandibai. Presently only six tankers reach 12 arid villages and 32 hamlets in the taluka. Village Malshiras, Nasik district and its 2,000 people depend on two of them, nowhere near the panchayat samiti's demand for 28 tankers for 44 villages and 74 hamlets. There is no water to spare for the 800 cattle head and 1,000 livestock.
In a report to the central government, the Himachal Pradesh state government had said that as many as 15, 571 of the 16, 916 villages in the state were badly hit by the drought. Bilaspur and Solan were reported as worst affected areas. The wide spread seriousness of the situation was realised only after The Indian Express reported (on May 22 and May 23, 2001) that Amar Singh, a farmer in Jaunton village of Kangra district committed suicide as his family faced starvation. Amar Singh was forced to consume poison as he could not provide food to his family due to crop failure this year. Poor rains this year spoilt the crop of many farmers in the Kangra belt. The report estimated that the loss in terms of money was nearly Rs 145 crore to the rabi crop and Rs 155 crore to horticulture. In Shimla, what could be called a rare phenomenon, temperature soared above 32 degree celsius in the month of May. Normally showers used to drench this hilly city whenever the temperature crossed 28 degree celsius. Few areas in the town are getting only half an hour of municipal water supply that too once in two days. Earlier in such situation, the locals used to depend on the springs and baoris, traditional rainwater harvesting systems for meeting their requirement. However, this year, due to inadequate rains and scanty snowfall, such natural water sources have also dried up.
In Jammu and Kashmir, the situation is not much different. The people in Doda are trying hard to cope with the fact that they are facing the worst ever drought in living memory. The state has witnessed 72 per cent less rainfall this year resulting in low water level in the rivers and a reduction in water table. All hopes of a good snowfall and rains have crashed. The people of these areas are a troubled lot with most of their livestock dead and water and fodder rarely available. Almost 90 per cent of the rabi crop has been damaged in these areas. For Jagdish Singh, a fruit merchant, it has become a question of survival. "This is spring time and it used to be all green at this time of the year, " he says. Today there is not a single green leaf on any of the trees and the earth has developed cracks. Villagers here have forgotten the tapped water for nothing flows into the nallahs or the rivulets which bring water to the reservoirs and then to their taps forcing the women to walk miles for a mere pitcher of water.
People come together for success of 'Pani Roko Abhiyan' in Madhya Pradesh
The Orissa state government has declared 3,877 villages and 13 wards of 28 districts of Orissa as drought affected. Situated in a perennially rain shadow area from where frequent reports of starvation deaths hit the headlines, Balangir had received barely 762 mm rainfall against its normal quota of of 1,230 mm last year. As a resultant barring a few, almost all the water bodies numbering about 6,000 have dried up this year. In Kalahandi, drinking water crisis had become critical in blocks of Bhawanipatna, Golamunda, Narla, Kesinga and Lanjigarh. Tanks, wells, streams, and other water bodies had gone dry while rivers like Ret, Udanti and Sandol had virtually no flow. This made people completely dependent on tubewells which were yielding very little or no water as the groundwater table too had gone down drastically.
One of the rewards of consecutive years of drought resulting in drastic depletion of ground water levels seems to be a creeping realisation among the people and the planners about the need of water conservation. Since the 1950s, the centre has had drought programmes with provisions of employment opportunities for the drought- affected people to prevent migration, which are supposed to build durable assets for the villages – but the schemes have done little to mitigate the plight of people reeling under drought. Conservationists are questioning the approach of the government funded relief system as well. They suggest that the thrust now should be at building community assets that help in conserving water and recharging aquifer that have gone dry due to over exploitation. The schemes should concentrate on building checkdams, cleaning of ponds and rainwater harvesting projects that would bear fruit in the succeeding years.
Take the case of Dumara Waste Land Project in Rajasthan, covering one time wastelands in villages like Somalpur, Dumara, Masina, Amba, Bhanwata, Nadi, Ajaysar and Kharkhedi, started in 1994. The project located in Pisangan and Srinagar panchayat samiti areas 15 km from the Ajmer district headquarters, has caught the fancy of the people. According to Shankar Lal, a farmer in Saradhna panchayat, water levels have been on the rise. Even when the region had only 295 mm rainfall in 2000- 2001, against 580 mm in 1994- 95 when the project got going. Water is now available at a depth of 14 feet in Saradhna compared to 75 feet in 1994. "If there is water, we can look after ourselves," observed Ram Karan, a member of the local village watershed committee, with a newly acquired confidence.
Village Bastwad in Belgaum district in Karnataka has two percolation tanks constructed by the government during a severe drought in 1972. These tanks would augment the groundwater aquifer there but due to non-maintenance they have deteriorated severely and have dried up. The last few years drought has left the village parched and thirsty making the villagers aware of the potential and need of these tanks. Their hope of water was brightened through Department of minor irrigation's 'Jal Samavardhane Yojana Sangha' (JSYS), which will restore one of the tanks at a cost of Rs 3.71 lakh. The villagers have now teamed up with the JSYS and are contributing 15 per cent of the cost. In this context , the initiatives of the Madhya Pradesh state government under the guidance of Chief Minister Digvijay Singh are worth an applaud. The 'Pani Roko Abhiyan' launched by the state government has been extremely successful. (See Box: Stop water )

Stop water
The Pani Roko Abhiyan was an effort of the Madhya Pradesh government to convert the crisis of drought that the state witnessed into an opportunity for water conservation. Over seven lakh water harvesting structures were created in these five month,.
11,690 new tanks made
16,213 old tanks renovated
14,385 new dug wells made
79,671 dug wells renovated
1,14,035 dug wells and 50,968 tubewells recharged
75,418 handpumps recharged
32,403 farm ponds constructed
25,017 dug-out pits made on farmlands
1,70,777 soak pits made
9,744 rooftop rainwater
harvesting structures
1,05,983 miscellaneous
structures
All of these add to 7,06,304 water harvesting structures. In addition 6,940 km of field bunds and 7,132 km of contour trenches were constructed. Additional water impounding capacity created was 9487.62 lakh cubic meters. Out of Rs 415 crores spent on this Pani Roko Abhiyan, Rs 99.35 crores came from people.

Government sponsored watershed development programmes have been there for some time but the renewed enthusiasm now about the programmes, especially the farmers, is a clear indication that slowly but surely the people's perception on water are changing. Overwhelming people's response to the ongoing water conservation drive in the drought hit Mandsaur district in Madhya Pradesh has virtually revived the age old system of joint social responsibility for water management. under the campaign, an under-construction Rs 3.50 lakh pond at Borda village has been named Samanvayasagar, literally meaning lake of cooperation.

Several initiatives are coming from local non governmental organisations (NGO) as well. On one hand Tapas, a New Delhi based NGO has filed a public interest litigation (PIL) against the Delhi Jal Board (DJB) for lack of safe drinking water in the city, emphasising on the need for roof top rainwater harvesting ( See Box : Order, order). On the other Rural Centre for Human Interest (RUCHI), a non governmental organisation, has shown the way to the hill people how to combat drought and deluge by successfully implementing integrated watershed development projects in the Rajgarh block of Sirmour districts, Himachal Pradesh. The 17 odd checkdams and 17 storage tanks which have been providing life- sustaining irrigation to crops during the current drought have become the centre of attraction and inspiration for the farmers of the adjoining states.

Order, order

On the 11th of May, the Delhi Jal Board (DJB) along with the Municipal Corporation of Delhi (MCD), New Delhi Municipal Corporation (NDMC) and the ministry of urban development was summoned by the Delhi high court (HC) in regards to a petition on water shortage in Delhi. Public interest litigation (PIL) had been filed by Tapas, a local NGO instigated by the lack of safe drinking water and receding groundwater table in Delhi. The HC asked the union urban development ministry to answer as to when the building bye-laws will be amended to make rainwater harvesting mandatory. On the other hand DJB did not look very keen on rainwater harvesting and quoted during the hearing of the PIL, "DJB said that water harvesting was not feasible for Delhi because of haphazard housing system." Tapas countered by submitting a copy of CSE's publication Making Water Everybody's Business to the court citing the case of amendment made in Chennai's building by-laws. The court has now asked the union urban development ministry to take into consideration, the Chennai Metropolitan Groundwater (Regulation) Act while ordering rainwater harvesting for Delhi.

The chairperson of the DJB recently said that a 40 million gallon treatment plant has been partly commissioned and can treat water subject to availability. Knowing the scarcity of water, where will water be available for treatment? Rajesh Kumar, Spokesperson of Tapas adds, "About 40 per cent of DJB water is lost due to leakage and pilferage". Tapas has also suggested to the court monitors DJB who claim of having installed water harvesting mechanisms in 100 of its buildings.

In the last hearing held on the 28th of May, 2001,on request made by Tapas, CSE was asked by the court to be present for the hearing. On that day, the court decided to link the case with another PIL on disappearing water bodies. The court asked CSE to be a consulting party in the case. CSE is helping Tapas by providing examples of rainwater harvesting from India and all over the world.

In Orissa's drought-sticken Balangir district, where almost every soul reeks of hunger, small efforts like rainwater harvesting structures (RWHS) for possible support to paddy crop are a ray of hope. Presently less than 3 per cent of its estimated 3.45 lakhs hectare of agricultural land has irrigation facility, while rest is rainfed. RWHS essentially are not meant for direct irrigation, but were conceptualised to hold the flow water and facilitate soil and underground recharge. But in place like Balangir, where every drop of water matters, few have patience to wait so long. "Catch water by all means if that is of any use for the thirsty millions or can yield an extra gram of crop in the field," is evidently the new thrust of the administration.

Anil Agarwal, CSE chairperson says: "If the experiment of community based water harvesting and management is done in all the villages of the country, it would give a tremendous boost to our economy." Agarwal suggests that governments should decentralise water policies and help communities adopt the technologies most suited to them for water harvesting. He finds support in Madhya Pradesh chief minister Digvijay Singh, who says," Decentralisation in water conservation is the cheapest way to prosperity. Just 100 mm of rainfall that falls on a hectare of land can give upto 10 lakh litre of water. Given India's national average rainfall of 1,100 mm and an land area of 3000 lakh hectare, if the rain that falls between 1-2 per cent of India's landmass is captured, this is enough to meet the drinking water requirements of a billion people at a liberal 15 litres per day. Thus while on one hand we have ample rain, on the other hand we have a rich tradition of rainwater harvesting systems, tried and tested over centuries to suit the different ecological regions in the country. No wonder the 13,500 checkdams built in the Saurashtra- Kuchch region of Gujarat under the 'Sardar Patel Participatory Water Conservation scheme' are brimming with water after only four days of rain. These checkdams which were lying empty last year, due to lack of rains and were much criticised, now have 1,520 million cubic feet of water in store which will help in recharging ground water as well as irrigating over 52,000 hectare in drought hit region.

It is quite apparent from the examples the extent of devastation the failure of monsoon has caused in the eight drought hit states. But on a closer look , there are examples of villages in the same geographical settings of these states which are better off with water for their basic needs. With the rain god not treating them differently, the difference has been brought about by capturing every drop of rain and judicious management of the resource. A lesson to be learnt and applied.

Source:
Reports on the drought published in various national and regional dailies from March till July, 2001)