Vol.3

No. 3

June 2001
Threat to hopes
Picture this. A small village along a dry nallah, (drain) with only one handpump as water source for both humans and livestock. This is Lava ka Baas, a small village with a population of about 500 in Thanagazi tehsil of Alwar district. Frustrated with government apathy and inability to provide them relief over the last three consecutive droughts, the villagers, with the assistance of Tarun Bharat Sangh, an Alwar based non-government organisation (NGO), constructed an earthen checkdam over a small nallah (drain) that feeds into the Ruparel river. The structure was built in a record time of less than four months with Rs 3 lakh (out of the total cost of Rs 8 lakh) being contributed by the villagers themselves. Once a totally parched village, Lava ka Baas could now hope to get adequate water because of the structure which was brimming with water with the first shower of rain itself.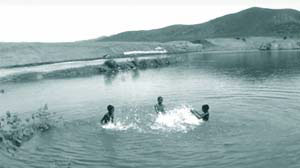 Little had they known that their dreams were soon to turn into a nightmare with the orders from the state irrigation department to demolish the structure and to arrest Rajendra Singh, secretary TBS. The district authorities said that the construction of the dam violated Article 55 of Rajasthan Irrigation and Water Drainage Act 1954 and was thus illegal. A notice issued by the department of Irrigation to Rajendra Singh, on May 22, 2001 said, "The unauthorised earthen dam constructed at Lava ka Baas by you with the help of villagers is unsafe as it has not been made according to the technical standards.You are directed to drain the filled water in that dam within 15 days, and in future, no water should be stopped in that dam."The district authority and officials of the state irrigation department have been regularly visiting the site and threatening the villagers to demolish the structure.
Deeply concerned at these developments the Centre for Science and Environment (CSE), a New Delhi-based non-government organisation is planning to take a group of eminent persons consisting of Dr M S Swaminathan, chairman, M S Swaminathan Research Foundation; N C Saxena, secretary, government of India; Om Thanvi, chief editor of Jansatta; Mohan Gopal, director of the National Law School accompanied by Anil Agarwal, chairperson, CSE and Sunita Narain, director, CSE to visit Lava Ka Baas to assess the efforts of the community, followed by meeting with Ashok Gehlot, Rajasthan chief minister and a press conference on July 19, 2001 in Jaipur.
---



The Bhopal front
A regional gathering of jal biradari, the water community was held in Gandhi Bhawan at Bhopal on May 25-26, 2001. Jal biradari spearheaded by Rajendra Singh of Tarun Bharat Sangh, an Alwar based non-governmental organisation has its genesis in a paani sammelan, organised by Centre for Science and Environment, a New Delhi based non-governmental organisation on March 22, 2001. Jal biradari is a community formed to make participatory water management a national movement in rural and urban areas. The conference was organised by Sampark, Jhabua; Eklavya, Bhopal and Action Aid, Bhopal. Non governmental organisations and individuals working on water issues and villagers attached directly with water related works from Chhatisgarh and Madhya Pradesh participated. Around hundred and twenty five tribals involved in the work also came for the meeting.

There is a need for a water policy which can serve the purpose of the community and not only vested interests

Welcoming the participants Sadhna Pathak, regional manager, Action Aid, said, "Only those people can understand the agony of drought, whose farms are not sown, where there is no fodder for their livestock and no water to drink. Humans have always disturbed the natural balance and today there is a need to reestablish that balance." Neelesh Desai of Sampark, Jhabua provided an overview of the objectives of the gathering and said, "It was decided in the meeting of the jal biradari at Neemi that we should also organise a regional water conference and form the jal biradari in Madhya Pradesh. Almost whole state is under drought and organisations, individuals and government are working towards mitigating the problem. This water work can only go forward by making it a people's movement."

Rajendra Singh explaining his experiences of water conservation works in Rajasthan, said, "The works related to water was a complete responsibility of the community before the independence but after the independence community came back giving all the responsibilities in this regard to the government. Result is clear. Even by spending 19,000 crores, Rajasthan government has not made a single village drought proof during the period."For past 17 years, we have been working on water following the path of our ancestors which has expanded to more than 750 villages of Rajasthan. The initiative has not only improved the economic status of people but has also brought down the migration from these villages. Villagers have made their own rules and regulations for use of the water and maintenance of the water harvesting structures.

Exposing the anomalies in the proposed national water policy of the government, Rajendra Singh said, "It is only meant to serve the purpose of companies involved in the business of water. There is a need of a policy, which can serve the purpose of community not only the vested interest."

Group discussions on the methodology of expanding the Jal biradari and on the national policy were organised which was chaired by Rajendra Singh. On the issue of making the water people's responsibility and to make everyone understand the importance of water it was suggested that:
Water conservation should be taken as a social responsibility.
Literature on water conservation should be available in the local language and add in the school curriculum.
Awareness campaigns and water marches should be organised regularly.
Media should promote the successful examples and best water workers should be honoured.
Water conservation should be promoted through use of related phrases, proverbs, and organising water awareness week, street plays and regional water conferences.
All traditional water harvesting structures should be revived through community participation.
Another important issue was to chalk out the water policy for Madhya Pradesh. The suggestions made were:
The management of drinking water should not be linked with commercial water requirements.
The village panchayats should be vested with power to give permissions to open new industries and close polluting ones.
The dam site should be decided in consultation with all the stakeholders.
Waste of water through creation of swimming pools, water parks and water fountains should be stopped.
Over-extraction of groundwater should be controlled.
The forest policy should be armed with policies of soil and water
conservation.
Traditional agricultural practices should be regenerated so that farmers in the rainfed areas need not depend on the monsoons solely.
Common man should be motivated for water conservation and water budgeting.
In the concluding session, K G Vyas, consultant, Rajiv Gandhi watershed development mission said, "When the government prepares the water policy it must ensure that distribution of water between urban and rural is well balanced."
A book Bund Bund Se Ghat Bhare edited by Rahmat of Action Aid and Suresh Mishra of Eklavya, was released by Anil Agarwal, Chairperson of the Centre for Science and Environment, New Delhi in the same meeting. Speaking on the water policy Agarwal advised, "Water policy should be kept in the hands of villagers not in the hands of government or non-governmental organisations. " At the end
of the session, Agarwal said in his chairperson's speech, "Presently I want to prepare a water warrior in every village so that in next five to ten years their numbers and organisation will become so strong that the governments will be dwarfed in front of it."
For further information:
Eklavya
E-1/138, Arera colony
Bhopal- 462016
Tel: 467552