"Urban Rainwater Harvesting" training programme July 13-17, 2009, CSE, New Delhi
Participants list

"Urban Rainwater Harvesting" training programme July 06-10, 2009, CSE, New Delhi
Participants list

"Urban Rainwater Harvesting" training programme March 23-27, 2009, CSE, New Delhi
Participants list

"Urban Rainwater Harvesting" training programme January 19-23, 2009, CSE, New Delhi
Participants list


CSE participates in international conference on water

On February 10, 2006, CSE participated in the international conference on "New Trends and Technologies in Water Management & Recycling". The conference was organised by a New Delhi based organisation Everything About Water. The conference on 'Clear solutions to Clean Water: RATIONALISE; REDUCE; REUSE; RECYCLE; RECOVER' was held during "3rd Everything About Water Expo 2006" on February, 9-11, 2006 at NSIC grounds, Okhla industrial area, New Delhi.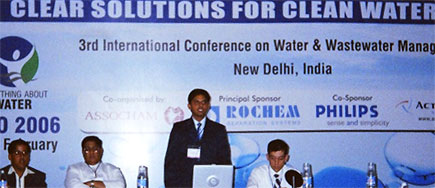 Salahuddin Saiphy, CSE's rainwater harvesting expert presenting a paper


The broad sessions of the conference included Water Resource Management: A Macro Perspective; New Trends and Technologies in Water Management & Recycling; and Industrial Water and Wastewater Treatment. CSE's rainwater harvesting expert, Salahuddin Saiphy was invited to make a presentation on "Rainwater Harvesting in Industries: possibilities and economics". During his audio visual presentation, he explained different techniques of rainwater harvesting with self explanatory illustrations.

He also elaborated upon do's and don't of rainwater harvesting in industries along with case studies of successful rainwater harvesting in few industries like Hero Honda Motors, Tex Corp Limited. He emphasised that industries has large catchments and most of them suffer water shortage, in the given circumstances, rainwater harvesting can be a good option for industries to fulfil its growing water requirements. It makes much more sense for industries to harvest rain where municipal supplies are irregular and have to pay quite a lot due to city's water pricing structure. However he cautioned that the system has to be designed carefully in industries specially considering the chances of any contamination to the groundwater aquifers. He stressed up on the use of rooftop catchments in industries to avoid pollution.



CSE stall at Water Expo-2006, New Delhi

Centre for Science and Environment (CSE) participated in 3rd Everything About Water Expo-2006 held in New Delhi. The Expo was organised by Everything About Water from February 9-11 at NSIC grounds, Okhla industrial area, New Delhi. CSE was media partner of the event.

CSE set up its stall in the exhibition hall where more than 100 industries, NGO and manufacturers of water treatment commodities exhibited their products. CSE's exhibition incorporated series of posters on rainwater harvesting and Down to Earth coverage on various water issues. Along with exhibition, CSE films on water were also screened simultaneously with latest production "The Rain Cathers" a practical guide to solve your water problems. CSE publications and films on water were also put on available at the stall.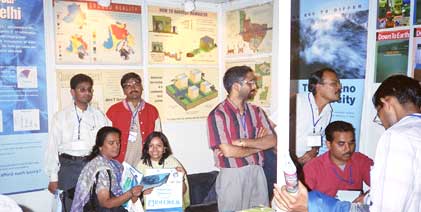 CSE's exhibition stall at Water Expo-2006

To cater large interest of the visitors on rainwater harvesting, CSE engineers also offered 'miscellaneous services' at the stall. They provided technical guidance on rainwater harvesting to interested industries, individuals and organisations across the table. A large number of visitors from different parts of India visited the exhibition stall and benefited from the technical experts on rainwater harvesting.