SPREADING WATR LITERACY

CSE participates in two nature festivals in Delhi, Jaipur
---
CSE's ninth paani yatra takes yatris to Gujarat to witness the miracles of three water stalwarts who have transformed entire communities— Harnath Jagawat, Nafisa Barot and H B Jadeja.
---
OCTOBER 4, 2002: PRESS RELEASE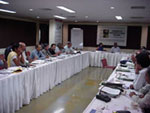 CHAMPIONS OF URBAN WATER BODIES SEEK WAYS TO REVIVE DYING WETLANDS




---
CSE TO LAUNCH URBAN WETLANDS CAMPAIGN
Formal launch of campaign to follow two-day workshop on urban wetlands issues from Oct. 3-4 at India Habitat Centre.

---
CONSTRUCTION INDUSTRY LEARNS ABOUT RAINWATER HARVESTING

CSE conducts training programme for builders, engineers and architects

---
AUGUST 21, 2002: JAYALALITHAA LAUNCHES NATION'S FIRST RAIN CENTRE IN CHENNAI
Permanent exhibition set up by CSE and Akash Ganga Trust highlights rainwater harvesting potential in urban areas

---

NEW RAIN CENTRE IN CHENNAI
Tamil Nadu Chief Minister J Jayalalithaa launched the nation's first Rain Centre in Chennai on Aug. 21. The last word on rainwater harvesting, CSE's Rain Centre is a joint venture with Chennai's Akash Ganga Trust, and is a comprehensive resource on rainwater harvesting
More...
---
TRAINING PROGRAMME ON RAINWATER HARVESTING
A two-day free workshop from Aug. 13-14, 2002 on rainwater harvesting for builders, architects and engineers

---
Stockholm water symposium 2002
The 2002 Stockholm Water Symposium "Balancing Competing Water Uses - Present Status and New Prospects" August 12-15, 2002.
---
Entering the Water World

To generate awareness regarding rainwater harvesting in urban areas - Centre for Science and Environment (CSE), a New Delhi-based non-governmental (NGO) had put a stall in Nature Mela (fair) at Dilli Haat between February 1 - 14, 2002. The mela was organised by Dastkar, a New Delhi-based NGO involved in promoting traditional handicrafts for cultural revival and economic regeneration.

---
Next Paani Yatra June 24-June 29, 2002
CSE is all set for its sixth Paani Yatra. Only 20 people will be taken to Alwar and Jaipur — to see the ground-breaking work done by the local communities to harvest rainwater.
---
Training Programme for Masons and Plumbers (Schedule)
Centre for Science and Environment is organising a two-day training programme on May 30-31, 2002, for masons and plumbers on implementation of urban rainwater harvesting. The venue is 41, Tughlakabad Institutional Area, New Delhi-110 062.
---
Paani Yatra

The fifth Paani Yatra, from 14-19 October 2001, was organised by the Centre for Science and Environment (CSE) to help raise awareness about rural water harvesting.

---
Release of Making Water Everbody's Business
The Centre for Science and Environment released Making Water Everybody's Business at the India Habitat Centre, New Delhi on March 23, 2001.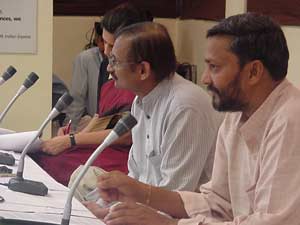 ---
NWHN Steering Committee Meeting
The steering committee of the NWHN is meeting in Delhi On March 22, 2001. They will take up issues of direction and future plans for the network. For more information about the steering comittee meeting E-mail sumita@cseindia.org.