Vol. 2 No. 6 December 2000

Carrying a torch to dark zones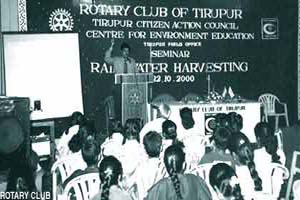 R Jeyakumar talking to the residents of Tirupur regarding water harvesting
The Chennai unit of the National Water Harvesters Network-Tamil Nadu (NWHN-TN) has been popularising rainwater harvesting in areas identified as dark zones (areas where the groundwater depletion is more than 100 per cent). As part of the awareness campaign, CSE's networker based in Chennai and R Jeyakumar (member of NWHN-Tamil Nadu's steering committee and a builder by profession), visited the city of Tirupur in October 2000. They presented a paper on Urban rainwater harvesting — a simple and effective method for sustainable water supply at a seminar on rainwater harvesting held on 22nd October. They emphasised the need to harvest water in Tirupur as it falls in the dark zone. The seminar, organised by the Rotary Club of Tirupur and Tirupur Citizens Action Council, in coordination with Centre for Environmental Education–Tirupur Field Office, evoked a positive response from the people.
Tirupur, known for its knitwear exports, is facing extensive groundwater depletion due to large-scale extraction by the dyeing units located here. The effluents let out by the dyeing units have also polluted the groundwater.
The presentations highlighted the potential of water harvesting in localities and met interested residents of Tirupur who have taken up the initiative of popularising water harvesting in their own area. They visited Jaivabhai school, known for setting an example by adopting water harvesting. Students contributed by constructing a check dam and percolation pit near their well to harvest rainwater. These have yielded positive results and the water table has risen by 1.3 metres.
The network members visited Tamil Nadu Export Knitwear Industrial Complex (TEKIC) located at Ponnapuram village, Mudalipalayam to assess the potential of rainwater harvesting in the area. A hydrogeological and geomorphological survey was conducted. Later, a project proposal for rainwater harvesting was submitted to TEKIC by NWHN-TN. Recommendations include the construction of two recharge dug-cum-borewells, conversion of abandoned borewells into recharge structures and the use of stormwater drains as recharge structures.