Vol. 4

No. 1

February 2002
Orissa's progress
The second advisory meeting of the watershed mission programme of Orissa was held on February 13 under the chairmanship of Orissa's chief minister Naveen Patnaik. The advisory committee members included Anna Hazare, Ralegan Siddhi, Maharashtra; Shamjibhai Antala, Rajkot, Gujarat; Professor Radha Mohan, Orissa; Mohan Kanda, joint secretary from the ministry of land resources; and, Centre for Science and Environment (CSE) a New Delhi-based non-governmental organisation's representative amongst others.

The director of the watershed mission, Saurabh Garg began by reporting on the progress made on the recommendations of the first advisory meeting held in February 2001. Awareness creation and capacity building at the micro level were the activities given priority, leading to the exposure visits of farmers and bureaucrats to Ralegan Siddhi.

While participating in the discussion, Anna cautioned that watershed programmes should only be initiated in villages where the community is willing to contribute

shramdaan (voluntary labour). Shamjibhai appreciated the determination of the government to make watershed a national movement. The CSE representative suggested that paani yatras (water tours) could be organised for journalists by the state so that they could see the efforts of the villagers which would then help in generating awareness through reporting - thereby, ensuring the continued momentum. It was also essential to analyse whether five years was a sufficient time period for the programme to become sustainable after the government's withdrawal. Anna stressed on the need for good training programmes for the villagers so that the maintenance of structures could be done by them. Radha Mohan warned that equity issues also need to be addressed to make the programme sustainable.

As part of its initiative the mission is also publishing a quarterly newsletter called Bhumi Panchayat in English and Oriya. An exhibition was organised, which also gave participants from the 300 best watersheds in Orissa to share their experiences. The farmers also went to see the Hindi film Lagaan to see the impact of community participation.

For further information:
Saurabh Garg, Director, Watershed Mission,
Agriculture Department,
Government of Orissa, Bhubaneswar,
Email: watershd@ori.nic.in


Entering the water world
To generate awareness regarding rainwater harvesting in urban areas Ñ Centre for Science and Environment (CSE), a New Delhi-based non-governmental (NGO) had put a stall in Nature Mela (fair) at Dilli Haat between February 1 Ð 14, 2002. The mela was organised by Dastkar, a New Delhi-based NGO involved in promoting traditional handicrafts for cultural revival and economic regeneration.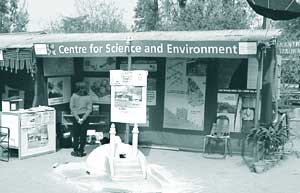 CSE's stall at Dill Haat to popularise rainwater harvesting
The model of kundi (Churu's traditional practise of harvesting and conserving rainwater for drinking purposes) and a person holding an inverted umbrella attracted people's attention. Kids came, touched it to know more about it - leading to its dismantling, then used to run away and again used to show up as soon the structure was restored. For some it was a flying saucer, temple or a kuan (well), but not a kundi from any angle. A craftsman from Gujarat, who was participating in the mela was amazed to see a kundi, in Delhi. It was a learning experience for both the kids and adults, as everyone wanted to know more about the kundi. And, once they knew how people in Churu are catching rain Ð the poster series on rural and urban rainwater harvesting attracted their attention. Children visiting the stall were particularly interested in knowing and discussing more about rainwater harvesting. Uptil now for most of them the main source of water was tap and their water motor can always fill their water tank ensuring a regular supply. After visiting the stall they realised that the rain is a lot more than just a season.
Most of the grown up visitors were interested in the cost benefit analysis of catching rain Ð i e what are they going to gain at the individual levels? Next question was how could they apply this technique in their houses? CSE engineers' technical advice and a collection of essential books on water quenched the thirst of about more than 500 visitors hailing from different backgrounds.
CSE's stall generated a lot of interest amongst visitors, while encouraging them to participate in the water campaign.