Experiencing Gujarat
To understand the role of community-based rainwater harvesting in controlling rural poverty, 21 persons from Bangladesh, Italy, Sweden and India joined the fifth

paani yatra (water pilgrimage) to the villages of Gujarat. It was organised by Centre for Science and Environment (CSE), a New Delhi-based non-governmental organisation (NGO) from January 27 – February 3.

Lush green fields and water available for drinking as well as irrigation purposes in the villages visited during the

yatra made it difficult for us to believe that it rained below average in year 2001 for the third consecutive year. We realised it only when we were informed by the village communities (see box: Yatri's speak)

working under the guidance of N M Sadguru Water and Development Foundation, Dahod; UTTHAN in Dahod and Patan; Disaster Mitigation Institute (DMI) in Patan and Surendernagar and Hardevsinh B Jadeja in village Raj-Samadhiyala, Rajkot district of Gujarat.
Yatri's
speak
"Before leaving for paani yatra, I had no knowledge of rainwater harvesting but now I will be able to catch rain for my house. I will also share it with my neighbours and friends." Subhash Prashar, Indo-German Social Service Society, New Delhi, India
"Paani yatra is a commendable initiative promoting a sense of self-worth and pride at the local community level. Participation in the yatra has enhanced my understanding on water related issues through different levels of interaction." Elena Mancusi, Society for international development, Rome, Italy
"My knowledge of water and its management by local community has been sustainably improved. We will implement rainwater harvesting to improve poor people's access to pure drinking water." Santosh C Sarker, Proshika, Bangladesh
"Practical examples helped me in understanding about water. I will share this knowledge with my organisation, and also link it up with our partners in Tamil Nadu, who are working in agriculture." Petra Zather, Swallows, Sweden
"I have actually seen water conservation methods, met with the people involved. This paani yatra will surely make every participant think twice before turning on a tap unnecessarily." Lalita Pai, Mumbai Grahak Panchayat, Maharashtra, India
On January 27 the rain joined the natural resource management unit of CSE in welcoming the yatris (water pilgrims) for the detailed presentations on rainwater management in both urban and rural areas, in CSE's office at New Delhi.
On January 28 the group reached Dahod to understand Sadguru's community-based initiatives. The director of Sadguru's, Harnath Jagawat while welcoming us to the organisations campus in Chosala village introduced us to their initiatives and accomplishments of reviving several local rivers and rivulets in the tribal regions of western India. One such river is Kali-II, which we saw at Chosala – approximately 35 kilometers (km) long and with a catchment area of 24,000 hectares. The river has become perennial due to the construction of a series of eight check dams at appropriate distances across the entire length of the river. The yatris appreciated the organisation's recent initiative of digging wells in the riverbed immediately below check dams for an easy access to drinking water during the summer months.
Green fields accompanied us to Mahudi village, Dahod district, where we saw river Machhan, which has became perennial after 1994. A healthy mix of engineering skills and community participation has unleashed ecological, economic and social transformat ion in the village. Agriculture is flourishing in the village, where earlier there was not enough water to drink. To enhance their economic benefits, the villagers have installed lift irrigation system, which is managed by the community. Every user has to pay Rs 25 per hour for irrigating their fields. The villagers are also adopting innovative techniques ensuring increased production without increasing the use of water – 'telephone system' of growing tomatoes is one such instance that we saw. The discussion with the villagers enhanced our understanding about the dynamics of community mobilisation. Our next stop was Polapan village, Banswara district, Rajasthan, where we understood the processes and impact of watershed works like loose stone check dams, earthen check dams, nallah bunding etc. These works have provided drought proofing to the village. Drinking water is available throughout the year in the village, as women joyfully narrated. Vankol village, Dahod was the last stop of the day, where we understood how rainwater harvesting has strengthened local communities to work collectively for development.
Next day, on January 29 before moving to our next destination the yatris had an experience-sharing session with Jagawat.
We reached UTTHAN's regional office at Limkheda block, Dahod where we were briefed about the organisation and its various activities before moving on to Pipotara village, Dhanpur block, Dahod. Pipotara is a tribal village and due to neglect by the village community, the rain used to flow out from their village. With the guidance of UTTHAN, they implemented soil and water conservation works like, loose stone check dam, earthen check dam, nallah bunding, vegetative contour bunding, cemented check dam — solving their basic problems related to livelihood insecurity. The interest of the villagers in the work is clearly visible from the fact that they regularly contributed Rs 5 from their daily payment of Rs 40 , despite of their weak economic condition. The visit concluded with a village meeting, largely dominated by the women–proudly sharing their experiences with the visitors.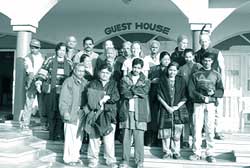 Yatris gathered to cllect memories before moving on to Rajkot
Then, we all drove to Ahmedabad to meet Nafisa Barot, the executive trustee of UTTHAN. She introduced us to the organisation's approach of actively involving women in the works.
On January 30 we reached Balisana village in Mehsana, Patan district to understand how by harvesting rainwater and recharging the shallow aquifer the village community has found a solution to the fluoride problem. UTTHAN has actively supported their efforts. In the year 2001, it rained on only three days in Balisana. The villagers have not only harvested enough drinking water for the entire year but have also been able to save it from getting contaminated with fluoride. Accompanied by the villagers, the yatris saw how it was done.
On the way to Radhanpur, yatris stopped to see the traditional water management practices like Rani ki vav a step well constructed by Bhim Deva (1022–1063 AD) from Solanki dynasty of Anahilwada, Patan. We also saw Shastralinga talab in Patan.
In the evening, DMI, an Ahmedabad-based NGO gave a presentation about their organisation and accomplishments in the field of rainwater harvesting.
On January 31 the group moved on to experience the initiatives of DMI. In Madhutara village, Santalpur block, Patan we saw the plastic lined pond constructed by the villagers, to deal with salinity. The pond with a capacity to store eight crore liter of water costed
Rs 42 lakh, with villager's contributing about ten per cent of the total cost in cash. The meeting with the villagers informed the yatris about how the works were executed. The group moved on to see earthen check dam constructed by the villagers of Bakutra and its four neighboring villages. In the evening, we moved to Surel village in Surendernagar district to understand the initiative of 125 households in implementing rooftop rainwater harvesting to fight the problem of salinity.
On February 1 the group moved to Rajkot district, where we saw the works done by Jadeja in and around village Raj-Samadiyala. Jadeja has effectively applied the remote sensing technique in the implementation of the water harvesting structures. Today, the village is one of the most prosperous in the area, following the principles of local self-governance. In the evening, we meet Shamjibhai Antala, member of the Water Management Forum Institution of Engineers, India and National Water Harvesters Network. He fondly shared his experiences of working with community and how 0.3 million wells in Saurashtra were revived.
On February 2 before leaving for Delhi, the participants had one hour of experience-sharing session with Mihir Bhatt, the director of DMI, discussing their initiatives in including rainwater harvesting in the new constructions coming up after the last year's earthquake. These experiences clearly revealed that human made drought can be avoided by comprehensively harvesting rain.