Vol. 4

No. 1

February 2002
Urban rainwater harvesting: the way ahead
One year ago, the government of Delhi and Central Ground Water Authority (CGWA) passed an order making rainwater harvesting mandatory in Delhi to check the depleting groundwater tables. It is indeed a commendable initiative, but has not been able to yield positive results.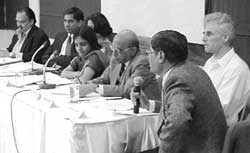 The panel discussion in progress
Why?, a question which has been bothering many. Taking the lead, Centre for Science and Environment (CSE), a New Delhi-based non-governmental organisation (NGO) organised a one-day workshop and a panel discussion on February 6 - Urban rainwater management: the way ahead. It was an interactive platform for the interested individual and institutions to share their concerns and to find a way to facilitate the implementation of the order. The financial, institutional and technical issues in urban water harvesting were discussed.
The workshop was primarily attended by the engineers, architects and builders, as it concentrated on the technical aspects of urban rainwater harvesting. A delegation of water harvesting experts from Germany and Netherlands shared their experiences on rainwater harvesting and its purification, grey water recycling and eco sanitation.
The panel discussion which followed the workshop had representatives from CGWA, Delhi Cooperative Housing Finance Corporation (DCHFC), Bureau of Indian Standards (BIS), Delhi Jal Board (DJB), Klaus Koenig, fbr, a German NGO, Vinod Kumar Jain, founder chairperson of TAPAS, a New Delhi-based NGO, M C Chaturvedi, a renowned water expert and Sunita Narain, the director, CSE, in the panel. A diversified group of participants who attended the discussion included representatives from NGOs, educational institutions, research organisations, resident welfare associations , builders, architects and contractors.
Some of the participants also raised their concerns regarding the financial commitments. "Who is going to fund all this? Is there anybody prepared to give us subsidy?" asked a resident of Som Vihar Apartments, New Delhi. To this query, the special general manager of DCHFC mentioned about a loan scheme, which they are planning to launch for water harvesting projects undertaken by group housing societies. While subsidies and financial assistance were worrying some of the participants, it was the lack of information on the technical experts and contractors involved in rainwater harvesting that worried the most.
Unregulated construction of colonies in and around Delhi and the manner in which permission was given for such developments without ensuring proper water supply was questioned by many. Klaus Koenig enlightened the audience with the systems of taxation and subsidies that are practiced in Germany.
While concluding the discussion Sunita Narain said " The issues of demand side management, financial and institutional support, groundwater contamination and last but not the least an integrated approach containing water literacy, economics etc needs to be addressed. But let us not stop doing the smaller things at our own level thinking about the bigger picture" She also reiterated that CSE would continue to work for the creation of a more water literate society and to bring about the changes at the policy level.
Share your views !
The Bureau of Indian Standards (BIS) has initiated the process of formulating guidelines for water harvesting in rural and urban areas, by setting up an expert committee headed by R K Sharma, Chief Engineer Central Water Commission (CWC).
Five key areas were identified for the study like surface runoff harvesting, catchment area treatment, watershed development, artificial recharging, water harvesting under special conditions such as groundwater harvesting, snow harvesting and sewage harvesting.
BIS is planning to utilise the experiences of those who are involved in the above fields.
If you are a person or an organisation with an expertise on rainwater harvesting — be it in rural or urban areas, share your views with BIS. Let your voices be heard!
Please write to:
The Director
Water Resources
Bureau of Indian Standards
Manav Bhawan
Bhahadur Shah Zafar Marg
New Delhi–110 003
Tel: 32115928
Fax: 3221535