Vol. 3

No. 6

December 2001

Net power
Concerned at the depletion of the groundwater resources in villages in coastal Goa, citizens sent an email to the Saligao member of the legislative assembly (MLA) Wilfred D' Souza, urging him to take action. During the special Goa assembly, held to mark 40 years of the end of Portuguese rule in Goa, D'Souza, while discussing environment related concerns, raised the issue of groundwater depletion. "I have been asked to do something. What am I to do?" he said in the assembly. He went on to say that the issue was 'out there on the internet' and this meant that 'everyone' was aware of it.
SaligaoNet is an email mailing list with some 130 readers from Saligao, a village some eight kilometres from Panaji, Goa. After a campaign on the net, some Saligaonetters wrote to D'Souza. About 38 villagers signed a petition. Though the numbers are not huge, it did have the impact of bringing about a quality discussion in the assembly. Moreover, since these petitioners were the very voters of the MLA, he sat up and took notice.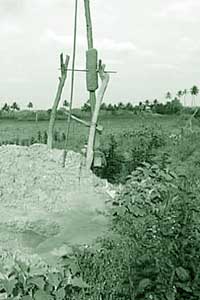 FREDRICK NORONHA

Village wells run dry as groundwater mining continues Fredrick Noronha

Over the past few months, Saligao, Sangolda and other villages have been suffering due to rampant depletion of groundwater resources. Some former agriculturists in the area have resorted to selling large quantities of groundwater pumped out from the field areas. This water is taken out of the village by tankers that ply from dawn to 11 pm during peak demand.

Because of this heavy extraction, the village wells on which the poor depend have run dry. So have ponds in the village.

A letter to the collector of North Goa was also sent on December14, 2001, urging him to put a stop to this activity.

For further information:
Fredrick Noronha
Freelance journalist
House No 784, Sonarbhat
Near Lourdes Convent
Saligao 403511, Goa
fred@bytesforall.org, or Richard Heaver at heaver@goatelecom.com

A new beginning….
The people of Nagpur district, Maharashtra joined hands with their local administration and successfully harvested 11,000 billion litres of rainwater at virtually no cost. Their initiatives pushed away the usual water scarcity by at least three months.
September 12, 2001 arrived with a new dawn, when Ashwini Bhide, a lady IAS officer in Nagpur's zilla parishad agreed to implement rainwater harvesting in her area on the suggestion of Mohan Dharia, who is working with Vanrai, a Pune-based non-governmental organisation. Within a short span of five days, she not only organised a training workshop for her colleagues working at the grassroots level but also placed a system of checks and balances to ensure that the panchayat samitis implement the project seriously and not just on paper.
Figure: The sandbag bhandara
The results speak for themselves. In just 21 days, they successfully constructed about 222 bandharas (weirs), as developed by Vanrai. These bandharas comprise of bunding the village nallahs with sandbags piled up in the dam shape. (see Figure: The sandbag bhandara) While Vanrai deposited 80,000 sandbags for the project, the respective gram panchayats also contributed with 60,000 bags. In this region, Kolhapuri bandharas are popular, which are not only expensive to construct but difficult to maintain as well. According to Bhide, "A Kolhapuri bandhara requires Rs 50 lakh to harvest 390 TMC of water. Moreover, a regular state project would have taken more than a year to take off. About 1,000 Kolhapuri weirs exist in the district and less than 100 are functioning." On the other hand, bandharas like those made by Vanarai make use of the locally available sand and shramdaan (voluntary labour) by villagers, thus eliminating the money factor and corruption.
The notable feature is that both the members from state and society worked together. Girish Gandhi working with Vanrai said, "We have implemented this project in many places in Nagpur and Pune districts. But this is the first time that the district administration has implemented it on a large scale" – thus, marking a new beginning….
Source: V Deshpande 2001, Holding on to water, Indian Express, November 18