Vol. 3 No. 6 December 2001

Workshops with a difference
The Tamilnadu (TN) unit of National Water Harvester's Network (NWHN) organised workshops for school childrens and plumbers in Chennai to spread awareness on rainwater harvesting.

Nurturing the future
Two workshops were organised for children at Children's Garden Girls Higher Secondary School in Mylapore and at St Johns Senior Secondary School, in Mandaveli. Since both these schools are located near the coastal belt, they are facing a major problem due to seawater intrusion - affecting the quality of water. The worsening situation is motivating them to look for a solution.

The TN unit while organising the workshop highlighted the urban water harvesting scenario, covering various aspects of rainwater harvesting. The objective of the workshop was to create awareness among childrens, so that they could carry the message of water harvesting, as part of the future generation.

The TN unit also planned a water picnic in which students were taken on a guided tour to places like the water reservoirs from where the city gets its water, the treatment plant, places where rainwater harvesting has been successfully implemented, and to traditional temple tanks used to recharge groundwater.

The school administration of St John's Senior Secondary School, Madaveli requested the TN unit to organise an exhibition in their school and also answer queries on rainwater harvesting, during an event to be organised by the school in January 2002, wherein the parents are also expected to participate. The TN unit also agreed to give technical advice to the Girls Higher Secondary school at Mylapore.

Promoting healthy competition
The TN unit also conducted a workshop for training the plumbers to create a healthy competition among the contractors, while facilitating better implementation of rainwater harvesting techniques. The one-day workshop was organised on December 9, 2001 at corporation school in Chennai. About 37 plumbers participated in the training program.

While welcoming the participants Shekar Raghavan an enthusiastic rainwater harvesting campaigner explained the need for trained plumbers in implementing rainwater-harvesting system in Chennai city. Subramanian, hydrogeologist at the Chennai Metropolitan Water Supply and Sewerage Board (CMWSSB), made a presentation explaining the various aspects of rainwater harvesting including roof top and surface water harvesting.

J Saravanan, networking associate, NWHN clarified the various misconceptions in the implementing rainwater harvesting. Replying to various questions raised by the participants about the quality and quantity of rainwater, he sighted an example of R Ramani who was using rainwater for domestic purposes for the last ten years. Ramani is also an ardent proponent of rainwater harvesting. Saravanan specified that since the city gets an average rainfall of 1,280 mm, annually about 2.6 lakhs litres of water can be harvested, which can cater to the needs of a family of 5 members at 700 litres per day annually. The participants were also taken for a field visit.

Several decisions were taken during this workshop. It was agreed that the TN unit will provide guidance to the participants at their request during the initial stages and send resource persons for the resident welfare association meetings organised by the plumbers. The participants intern will inform the unit about the progress of their work on monthly basis.

For further information :
J Saravanan, Networking Associate
TN Unit of NWHN, CSE
162B, Greams Lane, Thousand lights,
Chennai-600006
Email: Sara2521970@yahoo.co.in
Chennai statement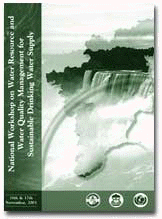 Tamil Nadu Water supply and Drainage Board (TWAD board), United Nations Children's Emergency Fund (UNICEF) and Rajiv Gandhi National Drinking Water Mission jointly organised a two-day national workshop on water resources and water quality management for sustainable drinking water supply. The theme of this workshop included rainwater harvesting, application of remote sensing and geographic information systems (GIS), community participation, water legislation, the water policy and water quality. Practitioners from water sector from various parts of the country participated.
The outcome was a set of recommendations titled 'Chennai statement', which highlighted the need for a massive national level awareness campaign on rainwater harvesting. For this various strategies like dissemination of information on rainwater harvesting, formulation of legislation and its enforcement, along with proper water pricing policy were suggested. Necessity of developing the concept of community ownership as well as revival of traditional water harvesting systems were stressed.
Looking at the great deal of enthusiasm and activities at the various levels of Tamil Nadu government, there is every reason to hope that these expert recommendations are not going to be just a bunch of papers.
For further information:
www.twadboard.com