Vol. 3 No. 6 December 2001

African Water Forum
The African Water Forum (AWF) has been established to facilitate information exchange on water management among African countries. It is the outcome of the two-day meeting organised by government of Kenya in Nairobi on October 11-12, 2001, which was attended by ministers of water resources from 20 African countries, along with some 50 water experts and representatives from international organisations.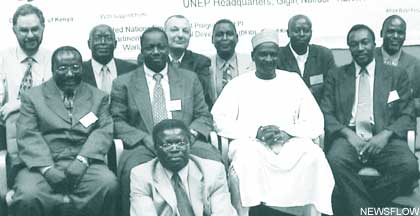 A group of African Water Forum delegates Newsflow
A new newsletter

The Orissa Watershed Mission has published a newsletter, Bhoomi Panchayat, to share the experiences in watershed development. The newsletter is published in English and Oriya so that the farmers can be kept updated about the programme.
Since June 2000, a 10 year plan to treat 25 lakh hectares of land has been implemented with a budget of Rs 155 crores. The newsletter explains about the concept of watershed management. A chart describes about the institutional structure that is in place, and about the achievements of the mission. Among the prominent highlights was the jal sanchyan abhiyan sapatha that spread the message of water harvesting in all the districts. The newsletter however lacks the touch of community participation. It describes more of achievements for the government than actually describing cases that can act as models. The newsletter can help in bring out perspectives of communities by making the newsletter an interface between the authority and the community.
For further information:
Director, Watershed Mission
Agriculture Department
Government of Orissa, Bhubanewar
Email: watershd@ori.nic.in
The Global Water Partnership's (GWP) initiative is the inspiration behind setting up this forum. On water resources management, the AWF functions complements the role of the GWP's regional and country partnership by creating a continent-wide network among these and similar groups like the Nile Basin Initiative.
During the two-day meet the participants agreed that while the forum will focus on enhancing water management at the individual country level, the GWP partnerships will continue to focus on institutional networking for promoting adoption and implementation of integrated water resources management at the policy making level. The participants discussed the policy-related constraints and challenges that they are facing while managing their fresh water resources. They agreed to work towards a solution by establishing an inter-governmental mechanism for policy dialogue at the ministerial level, while their partners like GWP would provide them the necessary support to facilitate these dialogues.


Source:
Global Water Partnership
newsletter (2001), 'Newsflow', 2.
www.gwpforum.org
Public Hearing
From the three districts of Jaipur, Tonk and Pali, villagers will gather on the 25th and 26th of February in village Nagri. A public hearing on natural resource development; people's initiative versus government response is the theme of the hearing organised by Gram Vikas Navyuvak Mandal Laporiya (GVNML). There will be a dialogue too on the strategies and action plan for resource management.

The village samitis have been working on a community -based natural resource management strategy for quiet sometime and in September 2000, they held a similar gathering. A draft was presented to the concerned government departments. The gathering was attended by sarpanchs from five districts of Rajasthan. The issues discussed on which the draft is near ready are on pastureland management, common land disputes, and nagrik adhikar patra (right to information bill). A memorandum prepared and presented to the CM, Ashok Gehlot demanded the right of panchayat over common village resources, revival of water harvesting systems, agriculture development through chouka bandi and right to the panchayat for implementing education programmes. All these issues will be debated in this workshop for two days and a draft to be finalised will be prepared.

For further information:
Gram Vikas Navyuvak Mandal Laporiya
Village Laporiya, Dudu Block, District Jaipur
Tel: 01428-24486