Vol. 3

No. 6

December 2001
Valuing the raindrop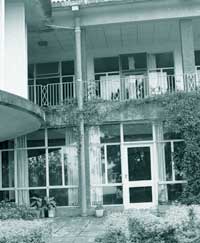 Pipelines carrying rain to underground storage tank

In the long run, healthy societies cannot exist without healthy water harvesting practices: a simple truth realised by Gordon Brown, who in 1964 incorporated the concept of rainwater harvesting in the buildings he designed for the Moral Rearmament Centre. This Centre was set up in the cloudy land of Panchgani, 150 km from Pune, Maharashtra, as a part of the movement initiated by Rajmohan Gandhi and others in India and elsewhere to rearm the people with moral values, after the second world war.

The structural design of the centre speaks for itself. The area selected for the premises was at the foothills of the Panchgani hills. The first structure that was made includes three tanks having a capacity of one lakh liters each. One of the tanks was divided into two compartments. The Rock View building houses the library, which has been built over one of the tanks. There are covered openings, which can be opened to clean the tanks.

The water that is stored is used for all purposes including drinking throughout the year. Frequent testing of water is undertaken. Pipelines are connected from rooftop to the underground chambers where the rainwater gets directed for storage. The auditorium is also made on top of a tank. The water from the tank is used for bathing. The centre recycles sewage water for gardens.

The centre's structural design encourages a way of living which allows human economic, cultural and moral needs to be satisfied while maintaining sustainable water harvesting practices – which can be easily adapted and implemented anywhere.

For further information:
Moral Rearmament Centre
Asia Plateau
Panchgani
Maharashtra
---
Irrigation cooperatives
Farmers managed irrigation systems efficiently, until government departments came with irrigation departments to mismanage them. Observing the poor infrastructure, a few non-governmental organisations (NGOs) in Maharashtra, decided to help farmers by creating cooperatives to take care of the irrigation system. These cooperatives inspired the state, and they are now planning to hand over the management to the farmers.
Maharashtra is the first state to propose an amendment in the irrigation act to help in the smooth transfer to cooperatives. The water will be made available to a farmer's cooperative on a volumetric basis by the irrigation department at a fixed price. The deal includes freedom for the farmers to decide the crops they want to sow and the price for buying the water from the cooperative.
It started with experiments on cooperative formation by Pune-based Society for Promoting Participatory Ecosystem Management (SOPPECOM), and Nasik-based Samaj Parivartan Kendra (SPK). About 250 societies covering almost one lakh hectare have been thus formed in Nasik, Marathwada and Amravati. In 1989, SOPPECOM took the initiative in district Ahmednagar, forming the Dutta water users association under the Mula project, for the Godavari Basin. They also formed 14 cooperatives, which were followed the large scale cooperative formations in Nasik.
Bharat Kavale, who is working with SOPPECOM along with a few farmers of the region formed SPK in June 1990 that housed three water user's association (WUA) in Nasik, including - Jai Yogeshwari Society, M Phule Society, and Banganga Pai Society.
Ram Das Shejwal, a beneficiary says, "Before we had water problems, but this scheme has saved us and we can grow more crops over a larger area". Crop intensity has increased by 136 per cent with an increase in a variety of cash crops. The area under irrigation has increased as also water tax recoveries. The cooperatives are also making profit.
First the cooperatives hold a meeting of the beneficiaries and deliberate on the amount of water needed and the price to pay. Then, 16 cooperatives under a farmers association (FA) discuss the water requirements for the whole region from the single project. After the proposal is passed, it goes to the department, which releases the required water. "Previously irrigation was poor due to improper water distribution", says Raju Kulkarni, chairperson of M Phule. During those days, the command area was about 151 hectares but water was provided only for 30 to 40 hectares. (see Box: Irrigation grievance)

Irrigation grievance
Though Maharashtra was pioneer in the field of irrigation rights. It has fallen far behind other states like Andhra Pradesh, Orissa, Tamil Nadu, Rajasthan and Madhya Pradesh that have undertaken this initiative. S N Lele, has written in a Marathi journal that in the past 15 years, 600 societies have been formed but only 226 have actually had agreements signed and rights devolved. These 600 societies cover only 2 per cent of the present area under irrigation. At this rate it will take about 300 to 400 years to complete the handing over of water rights.

BVNimbkar while narrating his experience said, "I have over the past six months been struggling to get water users society registered under the jurisdiction of the Nira Right Bank Canal. Though the concerned minister has issued the necessary instructions to officials, who are to issue the necessary certificates of intention. However, they continues to avoid the issue on the pretext that some of the farmers are objecting to the formation of such society. The opponents are the ones, who presently using the water at the unauthorised level".

For further information:

B. V. Nimbkar
Animal Husbandry Division,
Nimbkar Agricultural Research Institute,
Phaltan, Maharashtra
Email: nimsheep@vsnl.com

SOPPECOM and SPK helped in providing technical guidance and mobilisation to the beneficiaries. Today the cooperatives stand as examples based on which the Maharashtra government decided to hand over irrigation management to beneficiaries.

The management transfer depends on the physical status of the irrigation structures. The farmers want the government to repair all the structures that are damaged before the transfer, as it will be a problem for the farmers to repair them without technical knowledge. Here again, the government is slow. "Some government construction and maintenance work are not complete yet", says Rajubhai Kulkarni, of SPK. He adds, "The whole scheme will be successful if the government does the construction work".

The future maintenance will be the responsibility of farmers through a consolidated fund created with contributions both from the government and the farmers. The cooperative and the irrigation department will maintain a joint fixed deposit bank account. Under the scheme, 90 per cent of the contribution is from the irrigation department while 10 per cent of the funds are from the cooperative's side. The fund will be kept in fixed deposit and the interest generated will be used for maintenance and administrative works.

For further information:
K L Joy/ R K Patel
SOPPECOM, 16, Kale Park
Someshwarwadi Road
Pashan, Pune 8
Maharashtra
Email: soppecom@pn3.vsnl.net.in