Nuadihi's revival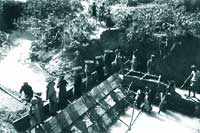 Worke on check dam under progress
Atribal village Nuadihi in Mayurbhanj district of Orissa, has overcome its persisting drinking water problem by harvesting rainwater. Technical and financial support was extended to the village by a Baripada-based non-governmental organisation, Socio Economic Benevolent Action (SEBA). Today, Nuadihi has enough water to irrigate about 95 acres of the agricultural land. However, before 2000, despite receiving sufficient rains, the women had to travel more than eight kilometres to fetch water.
The regeneration process began when SEBA on people's demand decided to built a check dam across nallah (drain) to harness the excess flow. About 80 per cent of the total project cost (Rs 2.5 lakh) was borne by the Council for Advancement of People's Action and Rural Technology (CAPART) and the rest was contributed by the community in both cash and kind. A village committee was constituted, which took charge, ensuring smooth implementation.
In the first phase, both sides of the nallah were raised, so that maximum water could be stored at a minimum cost. During the second phase, a cemented weir was constructed and a five HP diesel engine was purchased to irrigate. Villagers contributed Rs 3,000 in cash and Rs 12,710 as labour.
The community's meticulous planning and active involvement has led to groundwater recharge while strengthened the community bond as well.
For details:
Subrat Dash, SEBA,
Walliganj, Post Bhanjpur, Baripada, Mayurbhanj 757002 Orissa
seba_orissa@india.com

---

Technical training workshop, Jaipur
To popularise rainwater harvesting, a day long technical session was organised by CSE in association with Virasat Foundation, a Jaipur-based NGO. About 40 participants with diverse backgrounds attended it at Institute for Development Studies, Jaipur.
Meet on tank technology, Chennai
A Madurai-based NGO, Dhan Foundation, held a farmer's meet on tank technology at Koodal Hall, Centre for Water Resources, Anna University, Chennai. To revive tanks, the group deliberated on issues like, traditional technology, engineering hurdles and solutions and successful tank management practices.
Paani panchayat, Dhar
Over 2,500 villagers from Malwa region, Madhya Pradesh, deliberated on ways to save water in a two-day meet. In March 2003, Lok Biradari Trust, a local NGO, arranged it. The meet was people focused. Women dominated the event in voicing their concerns. It provided a platform for people to learn from each other.
Villagers meet, Amravathi
CSE was invited to sensitise the people from 156 villages of Amravathi district, Maharashtra, about sustainable rural water conservation and management practices. On May 5, the meet was organised by Ashok Sarda, chairman of Sarda College.
The crisis in Amravathi surfaced, when a dam across Shahnoor river came up. Its water was carelessly supplied to around 156 villages. As a result, these villages started cultivating water guzzling cash crops, adversely affecting the water tables. To restrict this destruction the meeting was called. About 125 villagers attended it along with the local MLA and other members of the civil society. While sounding a note of caution, the CSE staffer suggested a way out, which was much admired.
Tankas of Badi Ghodan
Badi Ghodan, a remote tribal village in Udaipur district, Rajasthan, found a solution to its critical water problem by collecting roofwater in tankas. Active involvement of the people encouraged Seva Mandir, (smandir@vsnl.com) an Udaipur-based NGO, to extend technical and financial assistance.
The organisation is well known for undertaking low cost community-based water conservation activities in the villages of Rajasthan.
The village consists of 185 households, mostly engaged in subsistence living. Sources of drinking water are limited and often run dry as summer sets in. To solve the problem, the government installed a tubewell for drinking purposes. However, most of the families were forced to travel long distances to collect drinking water. For non-drinking purposes, the water was collected from the ponds located further ahead. The village women came up with the idea of constructing tankas. To begin with, ten tankas have been built - nine for domestic use and one for a small grocery shop.
Most of the houses have handmade country tile roofing. Average area of the roof catchment is 35.7 sq m in the village. With a runoff coefficient of 0.5 to 0.6 for average annual rainfall of 625 mm, total rainwater collected from a single roof is about 12.5 cu m. The capacity of the storage tank has been designed to store 10 cu m (10,000 l) of water. However, the actual size varies (within 10 per cent deviation) with the site. About one fourth of the height of the tank protrudes above the ground to act as a courtyard.
Most of these structures are dug in hard rock. Concrete cement flooring, stone slab roofing and thick stone masonry walls on the side are provided. Fillets are installed on all corners to prevent water leakage along joints. The roofwater is diverted through easily detachable PVC pipes to the tankas.
Seva Mandir provided all the material input, while the users contributed in labour, ranging from 40 to 60 per cent of the total cost. The socio-economic benefits accured mostly by women are impressive. Local business is also expanding.