Vol. 5 No. 2 April-May 2003

Rain associations

The Uganda Rainwater Harvesting Association (URWA) is a national-level network to promote rainwater harvesting (RWH) to alleviate water and food insecurity. Presently, it has about 104 members from various non-governmental organisations, community-based organisations, research institutions, private companies, government departments, funding agencies and individuals of Uganda. Similar associations also exist in Ethiopia, Kenya and Tanzania - together constituting the Greater Horn of Africa Rainwater Partnership.
URWA supports its members efforts to do RWH by focusing on aspects like, the local institutional building and technical skill upgradation. Under awareness creation, regular training programs are conducted in tank construction, crop production and home economics. The association is also compiling a directory of all local rainwater harvesters.
URWA has been able to establish a dialogue with state to include RWH in the agenda. This breakthrough is the outcome of their persisting efforts. With RELMA's financial assistance, URWA is moving ahead towards sustainable water management practices.
For details:
Gilbert Kimanzi, URWA,
Room 203, Plot 27, Clement Hill Road, Kampala, Uganda
Saving lives

Katsukunye about 170 kilometre (km) away from Harare, Zimbabwe was well known for perennial water shortage. As the functioning of the local school and clinic also started getting adversely affected, the Ministry of Health and Child Welfare was on the verge of closing these down. However, the community's endeavour to harness rainwater and evolve rules for its sustainable management is saving several lives, everyday. About 120 people in the clinic and 700 students are its main beneficiaries.
Earlier, absence of rainwater harvesting (RWH) system and adverse hydrogeological features like rocky terrain and saline groundwater had intensified the crisis. Pregnant women were the most affected, as the potable drinking water source was almost three km away.
While searching for a solution, the local leadership approached Rainwater Harvesting Association of Zimbabwe (RHAZ) for aid, which turned to one of its members Mvuramanzi Trust. The Trust already operational in the region decided to take it up. A feasibility study suggested the use of granite rocks for the construction of 192 square meters catchment with 15 cubic meter storage tank. A smooth rock surface near the school was selected as the viable site.
All this work was accomplished with community participation. About 300 households and 460 students provided labour. Interestingly, daytime meals were provided and shared by the households, collectively. Katsukunye's local leaders supervised and mobilised resources, while providing construction material. The project concluded in 2001 with significant economic and environmental gains. A marked improvement has also been noted in the childrens school performance. Cases of diarrhoea and unhygienic child delivery have reduced considerably. The women now have more time to invest in productive ventures. Adequate gully control measures has helped to control environmental degradation around the granite rocks.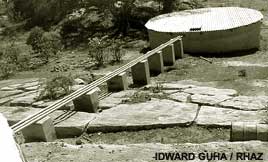 Diferent pipes managing the growing demand
The community has gone a step ahead. To avoid future conflicts for the limited amount of water, water users committees have been formed. It includes members from village, school and clinic. A demand management protocol was also formulated to allocate water as per their requirement. RWH has proved to be a reliable option in areas with serious shortages.
For details:
Edward Guha at 237612@ecoweb.co.zw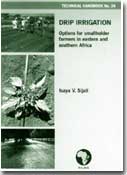 Drip Irrigation: Options for smallholder farmers in eastern and southern Africa

Isaya V Sijali
Sida's Regional Land Management Unit, Nairobi, 2001

It is a workable technical knowledge bank on small-scale drip irrigation systems. Eloquently written, it gives a guideline for installing as well as managing drip in sub-Saharan Africa. The layouts describing each technique are well marked. Information was primarily collected by the agricultural extension workers. This 60-page manual is divided into four well-structured chapters. It begins with a general review of the irrigation potential of Africa. The effectiveness of the three most popular irrigation methods viz: surface, sprinkler and localised (including drip, porous clay pots, porous clay pipes and perforated plastic sheets) systems has been critically analysed. Chapter 2 explains the environmental factors governing crop production and water requirements. Chapter 3 describes drip at a conceptual level.The last section focuses on three variations of drip.The climatic, soil and water requirements of the selected crops have been calculated. It concludes by providing the contacts of the drip system suppliers.