Vol. 5 No. 2 April-May 2003


Water plays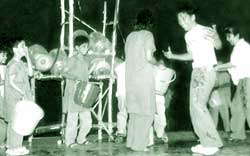 A Lively and educative way to create awareness
Don't care don't care....
From the back of the stage a group of kids are silently whispering these lines. One sees a group of dancers moving like waves together in a beautiful water ballet. But then enters Dr Don't Care. And, the problems begin. Scarcity and pollution surfaced. The two charming presenters of the show, Tulu and Lulu, wonder desperately. They start to ask audience for help to throw Dr Don't Care out .....'
The facilitators

Jal bhajan
This 60 minute audio has ten inspirational songs on traditional water systems of India. These compositions highlight the tradition, culture, significance of rain in our lives. 'Yah hi vo dharti', is one of the beautiful song — unfolding the pivotal role played by water in every aspect of human life.

The wise use
"I do not see the reason why you do not use what lies to hand. Before you try to dam our land. Your pipes cry out for renovation. Your storage tanks corrode. The valves are loose. The washers weak. I've seen the water gushing out from every reservoir and spout. Repair them it will cost far less than driving us to homelessness. But that's just one of many things.... Destroying beauty that once gone, the world will never look upon.

Vikram Seth, 'The Elephant and the Ragopan', 1991
The above scene is from 'Water, a celebration of life', a play organised by Hydrology Project, as part of the Jal Utsav (water festival) in Delhi. Over 90 kids from two Delhi-based NGOs Ritanjali and Deepalaya gave a powerful performance exploring various dimensions of the water problem in India. This visual treat was facilitated by a Netherlands-based NGO, Theatre Embassy, working primarily with the children and teachers.
Theatre, dance, music and visual art have been effectively used by a number of non-governmental organisations to create awareness on complex issues that affect the people in both rural and urban areas. This medium makes us aware of the impact of our behaviour on our environment.
Another Delhi-based NGO, Nectar, has also been working in this field. By organising street plays on water in Wazirpur J Jcolony, the message has been conveyed. People's behaviour has changed and they have started using it wisely. Over the years, Nectar has given several performances by mobilising the local people and resources.
Evidently, creative art is a simple, funny, yet powerful medium to sensitise people about the most complex issues.
Water Gala

At Hawa Mahal, Jaipur. CSE's
mobile exhibition generated a lot of interest during Viasat Foundation's week long fest
At Dastkar Mela, Delhi. CSE's stall with plethora of activities and information charmed the visitors from different backgrounds for 15 days
Participating in Jal Utsav, a week long festival organised by the Hydrology Project in Delhi, CSE sensitised people
How aware are the delhiites?
To find an answer, a survey was conducted by CSE. Questioning about 510 citizens, who came to 'Nature Bazaar', a 15-days long fest organised by Dastkar, a New Delhi-based NGO, at Dilli haat.

Awareness about the household's monthly expenditure on water is low. About 53 per cent respondents are not aware of the amount.

Among those who are aware, 31 per cent of the respondents are paying Rs 100 or less than Rs 100 for their daily municipal supply of water. Whereas, 39 per cent of the survyed citizens are spending more than Rs 200.

Awareness about the technique of rainwater harvesting is high. About 65 per cent of the respondents answered positively. However, only 22 per cent of them has actually seen these systems.