Rebuilding Karez
For peace to return to Afghanistan, the government has to address the issue of water management by evolving a long term strategy on water management. The 23 years of conflict has destroyed the country's infrastructure.
Afghanistan receive less than 300 milli meters (mm) of annual rain and in the last five years consecutive drought has worsened the situation further. Deep drilling is emerging as a major issue of concern. A sustainable solution to their water woes partially lies in repairing existing karez system that has been an integral part of the irrigation process in Iran, Afghanistan, China, Pakistan, North Africa, and the Arabian peninsula for more than 2,500 years.
The karez irrigation system relies on gravitional pull and comprises of a water source, underground tunnels, and vertical shafts that feed the water scarce areas.(See diagram: A dissected view) "A vertical well is dug to tap ground water. Instead of bringing to the surface at the site of the well, a horizontal tunnel with a gentle slope brings the water and, it surfaces usually far away from the source," explains Biksham Gujja, WWF International. The series of these tunnels supply water for both irrigation and domestic purposes. These systems are owned and operated wholly by individuals and community.
A dissected view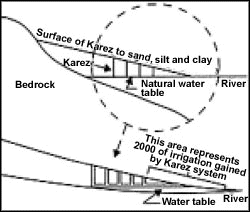 Besides, karez has been extensively used by the villagers as shelter against invading armies, since medieval times. Taliban has effectively used this system as a vital part of its guerrilla warfare. Karez is in a bad shape today, because prolonged battles have ruined the country's agricultural system.
Reconstruction projects are being taken up by the local non-governmental organisations with external funding. According to WWF International reports, "The entire system could be rejuvenated for about US$ 20 million" - not a large sum if one take into account the US$ 4.5 billion already pledged in aid. This will help in generating rural employment for millions of people - giving peace a chance.

---