Glimpses of books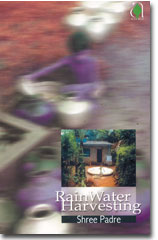 Rainwater harvesting

Shree Padre

Altermedia, Thrissur,2002, pp119, Rs 110 (PB)

This book attempts to quench the thirst of water scarcity solution seekers. Written in simple layman's english, the book, is a practical guide for the beginners.

The author Shree Padre, a farmer by profession and a journalist by obsession has zealously documented information on RWH from the world over, since last six years. He has written five books on the subject in Kannada language. Padre has recently launched Jalakoota, the water forum, to spread awareness and motivate individuals and communities to catch rain.

The 119 pages of the book are divided into two parts and 23 chapters. The first section of the book lays the foundation for a better understanding of the subject.

The different RWH techniques and methods are explained through illustrations, which are simple and easy to comprehend.

However, one illustration on page 18, presenting the natural and artificial recharge of rainwater is inadequate. This illustrated, a person pouring water from a bucket into the underground acquifer used to explain the procedure of artificial recharge. This may mislead a beginner.

The second half of the book is devoted to case studies from both India and abroad. This section helps to potray the potentiality of RWH.

A comprehensive data bank is provided at the end of the book.
---

Secrets of Thar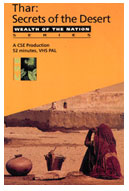 Thar, a 56-minute documentary produced by CSE as part of its 'Wealth Of The Nation' series, is a tribute to the people of Thar, who are effectively managing their natural resources. The introduction by Anil Agarwal educates the viewer on the strong inter linkages that exist between environment and culture. The film, available at Rs 750, goes on to explain, by featuring scholars like Komal Kothari, the social processes governing the functioning of the local traditional water harvesting structures – kundis, tankaas, kadins, nadi and bawaris. The impact of these time-tested techniques is there for all to see.
For details: Ashwini at: ashwini@cseindia.org
---

Explore….http://waterweb.org

This WaterWeb consortiums website aims at sharing and addressing water-related information and issues with different stakeholders. The issues are divided into 16 categories ranging from GIS and water resources modelling to wetlands, water planning and management. WaterWeb.org and the WaterWeb ring are the first forms of the group's collaboration. Web a ring is a networking tool devised to assist users to get information on water-related issues under one site and to promote similar sites to join the network. Among other things, the consortium organises an annual workshop on water information needs from a users' perspective and information distribution from a provider's perspective. It has a rich links database that can be easily accessed. The site is worth exploring to get all the information under one link.