Vol. 4

No. 3

June 2002
Creating water warriors
CSE trains plumbers and masons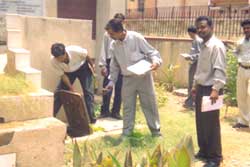 Exploring the sites
The interest of the people in implementing rainwater harvesting (RWH) has grown considerably over the past one year. However, the resource persons, who can design and implement these systems, continue to be in short supply. To counter this problem, on May 30 - 31, CSE's natural resource management (NRM) unit organised a two-day training workshop for plumbers and masons.
Twenty-four participants from different educational institutions, hotel industry and resident welfare associations (RWA) attended the programme. The workshop enriched the participants with conceptual as well as practical knowledge about RWH. The training manual was prepared in Hindi language to facilitate understanding.
On the first day, the participants were familiarised with engineering sketches in the session on 'how to comprehend technical drawings'. This session generated a lot of interest and queries on the intricacies of water harvesting.
In the next session, the participants were divided into three groups for the practical demonstration of the applicability of different RWH techniques through site visits. The sites were carefully selected, which included Jamia Hamdard University, Panchsheel club, Panchsheel residential colony and the West End colony.
The second day began with all the three groups presenting their observations on the sites visited. They came out with remarkable observations and queries. The participant from Delhi Public School, Noida wanted to know whether it was possible to put a filtering plant to re-use rainwater along with other wastewater, while the ITC Maurya Sheraton representative felt broken bricks make better filters than sand and gravel.
Participants' speak

"I am illiterate. In this workshop, by simply observing I learnt a lot. I will spread this knowledge around."

Harbhajan,
Som Vihar, New Delhi

"I was not aware of RWH before I came here. In this workshop, we have learnt more than what some one else not connected with masonry or plumbing can learn because we know the subject well."

K Kishore, Delhi Public School,
Maruti Kunj, New Delhi

"The practical knowledge imparted in this workshop, made the concept of RWH clear. CSE should organise a workshop for our managers too, so that the entire ITC group agrees to do RWH."

Rabindra Patra
ITC - Maurya Sherton, New Delhi

In the last session, the participants were given an exercise. They were asked to prepare actual RWH plans for the three buildings in the Tughlakabad institutional area — the New Delhi Institute of Management (NDIM), Indian Institute of Metals and the Annamalai University. They personally visited the site before planning.Many participants came up with more than one plan for the same building, clearly reflecting their enthusiasm to learn. The NRM unit is planning to send these plans to the respective organisations.

At the end of the day, the NRM coordinator presented certificates to the participants.CSE is planning to introduce these trained plumbers and masons to the people, who are interested in doing RWH.

In its endeavour to build the resource base, CSE announces a training workshop for the builders, architects and engineers in August.

For further information:
Eklavya Prasad at eklavya@cseindia.org
Suresh Babu SV at svsuresh@cseindia.org
Meet us every Friday!
Since May 4, a large number of people from different backgrounds have approached CSE for free technical guidance to do rainwater harvesting (RWH). Many have put our ideas to practice. Anup Ahuja from Sultanpur, Delhi, is one of them, who after doing RWH in his complex, plans to "put up an information board and motivate others to join in."
This guidance is extended as a part of our miscellaneous services programme to encourage interested interested people to implement RWH. Whenever such people approach CSE. We send them a questionnaire that once filled, provides a clear idea about their site -related requirements. With this information they visit us every friday between 2 pm – 6 pm for detailed technical guidance. On the basis of the discussion, rough drawings and cost estimates are provided. If required, CSE experts visit the site before finalising the plan.
For further details:
Centre for Science and Environment,
Core 6A, Fourth Floor, India Habitat Centre
Lodhi Road, New Delhi 110003
Tel: 4645334, 4645335