Vol. 4

No. 3

June 2002
Harvesting Hope: A Chronicle of the sixth Paani Yatra
An eclectic mix of students, engineers, non- governmental professionals, academicians, hydrologists, defense personnel, and state government employees from 12 states in India witnessed firsthand the community-based rainwater harvesting and management initiatives during the sixth paani yatra (water pilgrimage) from June 24 to 29 this year.
The six-day pilgrimage, organized by the Centre for Science and Environment, a New Delhi-based non- governmental organization (NGO), took the 27 yatris across several Rajasthan villages where water harvesting is not an intangible concept, but a living reality.
These local rainwater harvesting initiatives in Rajasthan were supported by Tarun Bharat Sangh (TBS), an Alwar-based NGO and Gram Vikas Navyuvak Mandal Laporiya (GVNML), a Jaipur- based NGO.
After a half-day orientation on CSE's water campaign, rainwater harvesting and the paani yatra at the CSE office in New Delhi, the group started for Alwar on June 25.
Their first stop was village Bhaonta in Alwar district, named the nation's 'most outstanding environmental community' and recipient of the Joseph C John award for the year 2000.
Yatris share:

Paani yatra improved my understanding on water related issues very much.
Sr. Collete Molomoo
Taru Mitra, Patna, Bihar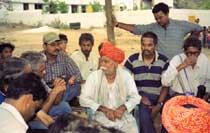 By first hand inspection and exposure, I have learnt what was not possible by reading books.
O P Goel
Soybean Processors Association of India
Indore, Madhya Pradesh
I have got an idea about the different techniques that the communities can initiate without any help from the administration to solve water related problems.
Sanjeev K Jha
3rd year, B. Tech,
Indian Institute of Technology, Kanpur, Uttar Pradesh
I came to know that we could do miracles with community participation.
G S Raju
Action Water India, WEDT
Andhra Pradesh
It has given me a lot of details pertaining to water harvesting that were previously obscured, i.e., different types of structures in use, importance of catchment area, gradient, natural drainage, proper positioning of structures etc. It has given me insight into community related problems and solutions to the problem of water shortage. It has highlighted to me the immense potential of this concept to solve water problems of the country.

R S Chowdhary
Gurgaon, Haryana
With the discussion with the village samiti members and villagers, my understanding regarding community participation improved.
Ramesh Nandy
Howrah Jila Parishad
Howrah, West Bengal
It has increased my understanding about environmental issues at the ground level.
Nandlal Yadav
Community Organiser
Gramya Sansthan, Varanasi
The community's efforts at rainwater harvesting and forest protection consist of Johads, or small earthen dams designed to capture and conserve rainwater, and a series of anicuts (small concrete dams) built with support from TBS.
While the more elaborate and costly structures built by expert engineers have typically failed in these conditions, the water harvesting structures built locally using the skill and ingenuity of gajdhars, village engineers, attest to the abilities of the community in managing its natural resources.
Yatris again encountered local ingenuity, indigenous knowledge—and pride—of the villagers who pointed to the regenerated forests of Bhaonta, earlier declared Bhairon Dev Lok Vanya Jiva Abhyaranya, or 'people's wild life sanctuary'.
The yatris next destination was Samara on the banks of the river Arvari, where villagers pointed out that even after three consecutive years of low rainfall, the village wells did not go dry.
Here water could be found at just 30 – 40 feet deep in the soil. Yatris visited an anicut under construction, one of several water harvesting structures built with help from TBS in 200 villages in the Arvari catchment area that have recharged the groundwater and have revived an endangered river.
Local governance is key in such programmes. With encouragement from the founder of CSE, the late Anil Agarwal and TBS, 70 villages in the Arvari catchment areas joined forces to create the Arvari Sansad, or Arvaric 'Parliament', to manage the endangered river and its water. Four years later, more than 142 members representing all the 70 villages meet every six months at different villages to discuss and deliberate upon water management in the member villages.
Lively conversation between TBS staff and the yatris flowed late into the night at the TBS ashram at Bhikampura village. Some engineer yatris wondered why were professional engineers not employed to build water harvesting structures. Communities that design and construct their own structures also learn maintenance methods. Also, local control translates to lower costs and more sustainable structures, the yatris learned. In a push towards self-help, programmes such as TBS seek to minimise dependence on outside "expert" assistance.
The next day, the yatris trekked for an hour to reach Kraska village, nestled in the core zone of the Sariska Tiger Reserve. Here, the johads and earthen dams built by the villagers with support from TBS have transformed the village. Although the village never had a water source and faced acute scarcity, today villagers have access to water throughout the year for their fields, livestock and for their own consumption.
That afternoon, the group visited Gopalpura, TBS's first water harvesting intervention, and therefore, a model village. The visitors were suitably impressed with the series of johads and the lush green forest protected by the village community. Yatris were introduced to the redoubtable Mangu Baba, the nonagenarian village resident who believed local control of water was a formidable weapon in the battle against poverty. He had advised TBS to build a series of johads in the village.
The yatris then visited the johad at Lava Ka Baas, now etched in public memory for the efforts of the Rajasthan government's irrigation department to demolish the locally built water harvesting structure in July 2001. Yatris were exposed, some for the first time, to a familiar conflict in development initiatives: local control and ownership over natural resources versus state government interventions in development.
The yatra continued to Neemi village in Jaipur district, where the water harvesting efforts supported by TBS has changed the fate of the village. If relocation is a useful indicator of a village's economic, social and environmental health, the residents of Neemi are quick to point out that while earlier, many villagers left for cities to sustain their families, the village now attracts labourers from outside. Yatris were also shown fertile vegetable fields—a direct result of water harvesting.
Yatris spent two nights at the GVNML ashram in Nagar village in Tonk district.
Early the fourth day of their pilgrimage, the yatris were taken to Laporiya village, renowned for its water conservation and pastureland development initiatives that are supported by GVNML.
Long channels leading to the lakes have been built to increase the catchment areas of three adjacent talabs (village ponds). Known locally as the chouka system, the 50-hectare pastureland has been divvied into 132-meter long and 66-meter wide cells lined with earthen bunds on three sides that collect and store rain water. During rainfall, excess water from one chouka, drains to the adjoining chouka, and so on, until finally flowing into the monsoon drain.
Different choukas store different levels water, facilitating a variety of grass to grow.
Small pits dug in the choukas also facilitate groundwater recharge. This simple water harvesting method is good for open pasturelands and imposes fewer restrictions on open grazing.
The water pilgrims visited Gopalsagar, the 500-year- old pond in Nagar village that was renovated with support from GVNML.
The yatris were then led to Sitapura village in Tonk district, site of a four-year conflict over pastureland encroachments between the community on one side and local power interests represented by the village elites and a sympathetic panchayat on the other.
After their recent success against local elite interests, the village community has decided to develop their pastureland into choukas. The village has started rainwater harvesting to tackle groundwater salinity. A water harvesting built on the roof of the village school ensures students now have access to plentiful supply of filtered water.
In the end, what started as a voyage of discovery about water initiatives turned into something more memorable. The water pilgrims learned that a simple water harvesting edifice has the potential to alter the economic, social and ecological terrain of rural India.