Vol. 4

No. 3

June 2002



Model projects: Showing the way
This year, to demonstrate the applicability and significance of urban rainwater harvesting,CSE is developing five model projects in Delhi.
Educational institutions, residential colonies, industries and farm houses are some of the sites, which have been selected by CSE to highlight a range of systems that can effectively trap rainwater. The impact of these works on the water tables and quality of water is being regularly monitored. Following are some of the model projects, which will be inaugurated in July 2002.
Jamia Hamdard is catching rain
Hamdard University
The university has an annual water
harvesting potential of around 578 lakh litres. In the premises, six recharge wells have been installed that receive monsoon runoff from the roofs of the library and press buildin. The storm water is also diverted into these wells. In June 2001, the Rs six lakh project was completed.
Janki Devi Mahavidyalaya
The college has an annual water harvesting potential of around 70 lakh litres. It diverts roof and storm water from the building into a recharge well and surface water in to an open well. In June 2001, the works were completed at the cost of Rs 0.80 lakh.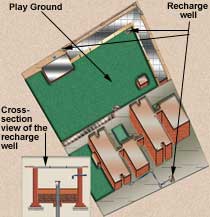 Rain system at Mira Model

Mira Model School
The total water harvesting potential of the school is around 44.66 lakh litres. The school has a recharge structure in the play ground. Surface runoff from the play ground is collected in a settlement chamber. Besides this, the school also has a recharge tank around the existing borewell in the playground. In September 2001, the Rs 1.20 lakh project was completed. Sri Ram School
The school's total water harvesting potential is 1.89 million litres annually. It diverts roof water through drain pipes to a recharge borewell after the water passes through a filtration cum buffer tank. The system, which cost Rs 1,30,000 was completed in May 2000.
Showing interest: CSE staffer presents site map to Sheela Dixit

Panchsheel Park Colony
After successfully implementing rainwater harvesting system in their club, the residents of Panchsheela Park, are now geared to install the system in their colony as well. The works began in May 2002. The entire colony generates rainfall runoff of 1,756 lakh litres. As part of its RWH drive the colony collects roof and surface water in a storm drain and diverts it into a recharge well. It uses a recharge structure in storm drains. A total of 34 recharge wells are slated to be constructed in the colony at a cost of Rs eight lakh.

On May 20, the chief minister of Delhi, Sheila Dikshit, was introduced to the rainwater harvesting initiatives in the capital. She applauded the initiative of CSE in spreading the knowledge around. Interested people can visit these sites to gather practical knowledge, free of charge.

For further information:
Eklavya at eklavya@cseindia.org/
RKSrinivasan at rksri@cseindia.org

Eco-conscious business sense

The New Delhi-based Paharpur Business Centre Software Technology Incubator Park (PBC), is effectively managing its resources by implementing rainwater harvesting. PBC has taken up rainwater harvesting, as per the designs provided by CSE.

The main objective of the system installed at PBC, Nehru Place is to arrest the decline of groundwater levels in the area. In PBC the surface water is diverted from an open area to an abandoned open well in the park. The system works this way: the surface run off is collected in a chamber and diverted to a filtering tank consisting of pebbles. From the filtering tank the water is then diverted to the open well. Roof water is collected by interconnecting four inch PVC pipe and is then diverted to the recharge well in the parking area. The recharge well measures 1m x1m x2m and has a 15m deep borewell. The system, apart from being eco-friendly makes perfect business sense too.

For further information:
Champak Roy, Pharpur Business Centre
Nehru Place Greens, New Delhi 110019
Tel: 6474701/ 6452755 Email: pbc@pbcnet.com