Recipe for greenery
The residents of Tara Apartments in Alaknanda, New Delhi, have perfected the recipe of maintaining the greenery in their complex, by simply recycling 10,000 litres of waste water everyday. As a result, now they have 'more' water for meeting their other requirements.

Hi-tech filter

Hollow fiber ultra filtration is a new device for purifying water through the use of 0.02 micron pore sized channels to remove bacteria, viruses and cysts. This technology has been developed by Zenon Environmental Inc, a US-based company and has been designed to filter water for an entire community, with a flow capacity of nine gallons per minute. The filter can be cleaned manually and does not require any replacement for at least five years. It is available at a cost of US $ 2,000.

For further information:
Faisal Haq Shaheen
fshaheen@homespring.com

It all started when Dr Pandey, a resident, got a sample of waste water from the apartments tested for its quality and, found that it could be reused.

Three months ago, a system to divert kitchen and bathroom water to a filtration system was put in place at a cost of Rs 60,000. Filtered water that comes out of the system is almost free of any colouring impurity or smell. To further improve the water quality, 250 gm of bleaching powder is used daily. The construction and minimal maintenance cost is borne by the residents. Presently, recycled water from only two blocks is meeting their demands.

Thrilled with the success of their endeavour the residents now plan to do rainwater harvesting according to the technical designs given by CSE. Recently, they approached the chief minister of Delhi for financial assistance to do rainwater harvesting.

For further information:
S K Nayar, Tara Apartments, Alaknanda,
New Delhi 110019
Tel: 6288990

Better management

In the scorching May-July period, when the depleting ground water levels trigger panic among most farmers, Karnataka's Basavaraj B stays unruffled. Reason? His six-acres of land in Hassan district yields abundant green gram even in summer because Basavaraj has learnt how to effectively harvest rain water. At the highest point in his land, he has dug a rectangular basin (150m x 20m x 1.2m) to collect rain water. (see illustration:Thoughtful planning) From here, narrow channels distribute it to the entire field throughout the year — "In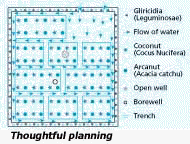 July-November for paddy and in January-April for ragi", smiles Basavaraj.

For further information:
B Basavaraju
Santeshivara
Channaraya patna
Hassan, Karnataka 573131
Can we create rain?
Impossible, say most.
But some believe it's possible!
Here's how: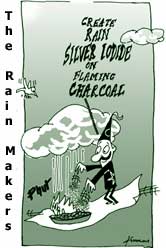 Stephen Salter, the innovator of the wave power device – 'nodding duck', recently introduced his idea of a floating wind turbine that sprays water vapour high into the air, to increase evaporation from ocean and precipitation over land. He proposes to use the centrifugal force generated by the rotating blades to pump water droplets into the atmosphere.

On July 23, 1992, Shantilal Meckoni actually created rain in Mumbai by sprinkling silver iodide on flaming charcoal to increase cloud density, also called 'cloud seeding'. Recalls Meckoni: "We started the experiment at 10.30 am at 10 sites. At 12.40 pm, it rained."
Are these techniques applicable? Can humans create rain?
Send in your views to Sumita Dasgupta at sumita@cseindia.org/ Eklavya Prasad at eklavya@cseindia.org