Vol. 4 No.3 June 2002

Return of the khatris

When people of Hamirpur and other adjoining districts of Himachal Pradesh started receiving state-sponsored piped water supply, the traditional water harvesting systems were relegated to the background. However, recent water scarcity has once again brought the age-old khatris or water caves into the spotlight. The locals along with the state government are involved in its restoration.

About khatris
Khatris are structures, about 10x12 feet in size and six feet deep carved out in the hard rock mountain. The specially trained masons construct them at a cost of Rs 10,000-20,000 each. These traditional water harvesting structures are found in Hamirpur, Kangra and Mandi districts of Himachal Pradesh.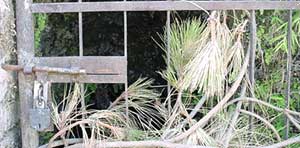 Iron doors and locks guard the water in khatris

There are two types of khatris: one for animals and washing purposes in which rain water is collected from the roof through pipes., for other are used for human consumption in which rainwater is collected by seepage through rocks. "As water is stored after filtration through different types of rocks, there is no question of impurity," says Satyadeo from Kalanjari Devi village, Hamirpur.

Interestingly, the khatris are owned by individual as well as by a community. There are government khatris as well, which are maintained by the panchayat. However, "their condition is not good. Both the government and the community are neglecting them ", informs Raghubir Singh, a resident of Lohari village, Hamirpur district..

Restoring khatris
The reports clearly indicate that the people are not only maintaining the existing khatris but are digging new ones.

The Central Ground water Board (CGWB) has prepared a master plan to tap traditional water resources. Says M Mehta, regional director CGWB, "About Rs 465.50 crore has been earmarked for the revival of springs, ponds and the construction of check damns and subsurface dykes, apart from rooftop rainwater harvesting in Kangra, Bilaspur, Una, Hamirpur, Solan and Sirmour districts."

The Union government has also approved a Rs 829.06 lakh project for developing community-based water harvesting systems in Hamirpur. Department of Agriculture, the implementing agency has received its first installment to begin the works.

Traditional water systems ensure a sustainable water supply, provided they are properly maintained by the community. It seems that both people and state have started to value them, ensuring their return.

Iron doors and locks guard the water in khatris
Chandela bunds in bind

As if receiving scanty rainfall was not a problem enough, the coarse upper soil structure and granite base in the Bundelkhand region that led to insufficient water retention has compunded the woes of the people.
What finally came to their rescue was traditional wisdom, in the form of Chandela Bunds built by the erstwhile rulers, to store water. These huge reservoirs were constructed near two adjacent mountains or hills. The bunds are characterised by trees on either corners and a temple or sacred diety placed in the centre. The water from these reservoirs was not directly used for irrigation purposes. In some of these tanks fishing was done, which is still continuing. The tragic part, is that Chandela bunds are under the threat of extinction, due to heavy siltation and encroachment of their catchment area.
Recently, while recognising their potential, the state has decided to take action. They have submitted a Rs 955.12 million proposal to the Union Ministry of Water Resources for the rehabilitation of 344 Chandela tanks in Tikamgarh and Chhatarpur districts. The project includes survey and detailed estimation, rehabilitation of tank profile, maintaining drainage arrangement and installation of measuring devices.If properly implemented, these proposed measures would make a significant difference.