Water arithmetic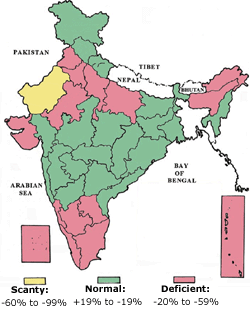 Source: Indian Meterological department, 2002
There was a thirsty crow. It peered into an earthen pitcher. There was water at the bottom. "Dregs," it cawed, alarmed. But it was thirsty. It began to drop pebbles into the pitcher. Drop by drop, the water rose to the top. The crow drank and flew away. It could have used a pneumatic drill to smash through to the water. It didn't. This water harvester of a crow could teach us a thing or two.
(1) Recognise that the source of all water on earth is rain. Briefly, hydrological cycle is when the water in turn is lifted and is eventually condensed and falls back to the earth's surface as rain.
(2) Recognise that in India the monsoon is a brief. In just 100 hours in a year, the country receives most of the rain. If this water is not harvested, there will be no water for the rest of the year.
According to the experts, there is a declining trend in rainfall over India, since 1991.This year, Rayalaseema, earlier known to be drought prone, has started receiving normal rains, whereas, Kerala, a rain rich region is under stress. Such wild fluctuations in the weather are largely attributed to the changing global climatic pattern. A cursory look at the map, clearly indicates that this year the monsoon was normal, though it was delayed. The Indian Metrological Department, recorded a departure of only -18 per cent for the country, as a whole.
Significantly,Cherrapunji, Meghalaya, is considered as the wettest place on earth, yet it continues to suffer from persisting water crunch. Whereas, Jaisalmer, Rajasthan, gets relatively less rain without feeling any crunch. Why? Answer is Jaisalmer is catching rain unlike Cherrapunji.
Delhi catches only ten per cent of the total annual rain received. As a result, when it rains, the city collapses. But, where rainwater harvesting systems are installed the scene was just the opposite.CSE is regularly monitoring the water tables of the recently inaugurated five model projects in Delhi and results are remarkable. Within two years, the water table at all these sites has gone up by four to six meters. That's why it is said, water is what we make of it!