Pollutants to bind roads
Family drip irrigation
Netafim, an Israeli trickle irrigation manufacturer, has introduced advanced 'Family Drip' irrigation systems for 900 families in Niger. It was initially developed for the average Chinese family living in semi-arid terrain. At present, thousands of such systems are operational in China.Latest drip irrigation technology is adapted to variable plot sizes and consists of standard emitters, pipes and filter equipment. It does not require pumps and electricity, as it works at low head and water is pressurised from a tank.
Water leak detection
Water leak noise loggers from Palmer Environmental, Sweden, have dramatically increased the speed and efficiency of detecting leaks in the water pipes. Installed in the Kiruna town of Sweden, it completes four night's work done by three engineers within six hours by single operator. The sensors are deployed at pipe fittings, which transmit data to a portable receiver called Patroller. These sensors are highly sensitive, thus reducing the leakage by 20 per cent.
The chemically contaminated solid, solid wastes and lake silt can safely replace sand and concrete as the first layer of road. Before usage, these pollutants just need to be stabilised with gypsum or through vegetative methods," proposes B V Subba Rao, the president of the Centre for Resource Education (CRE), a Hyderabad-based research institute.In Japan the technique has been successfully applied.
CRE's findings once approved by the Environment Protection Training and Research Institute will provide a financially viable to preserve urban lakes, without feeling the cash crunch.
Source: Deccan Chronicle 2002, CRE finds new use for polluted lake sediments, July 10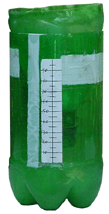 Make your own rain gauge
It will cost only Rs two. The entire procedure is very simple. All you have to do is remove the cone of a two litre, plastic bottle. Place it upside down, without the cap. Prepare a scale (made of paper) and paste it inside the lower half of the bottle to measure the rain received.
(Vijay Kedia's innovation; Tel: 0240-337974/ 339934)
Smart farming toolTreadle pump (TP) is easy-to-use, affordable, and can be manufactured as well as repaired using local materials. The technique promises sustainable benefits to the small-scale farmers.

It is a manually operated irrigation devise consisting of a sheet or cast iron pump head, a bamboo frame with two pedals and a strainer. TP's design can vary across the region. With a pumping head of 3 to 3.5 meters (m), it has the potential of lifting the water up to a maximum height of 7-m. Depending on the make, its cost may vary between Rs 576 (US $12) and Rs 1,680 (US $35). A study done by International Water Management Institute (IWMI), Sri Lanka, in India, Nepal terai and Bangladesh rates TP as the smartest farming tool. (www.iwmi.org) As it allows transition from subsistence to small-scale commercial farming, while also managing the groundwater.