As priceless as amrit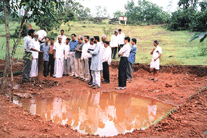 Awareness-generation trips motivate villagers
Idkidu is a small farming village in Dakshina Kannada, Karnataka, which has learnt to utilise water, economically. High profits had lured villagers to shift from paddy to areca nut (betel nut), as a result groundwater extraction increased manifold. This grim situation instead of discouraging them, spurred the villagers into action.
The results of the survey conducted by Amrutha Sinchana Farmer Service Federation (ASFSF), a local non-governmental organisation, were an eye opener. The village has 303 dug wells, and only 10 per cent have water round the year, whereas about 50 per cent of the wells remain dry for a period of more than three months. The yield of more than 50 per cent of these wells has recently reduced by almost 30 per cent. These results made the villagers realise that they were not on a sustainable path. Further, the awareness generation programme conducted by ASFSF strengthened their initiatives.
Inspired villagers, collectively constructed four check dams, while also installing rainwater harvesting system in their village temple. At the individual level, more than 20 households have taken up rooftop rainwater harvesting for recharge purposes. To keep their water consumption in check, villagers conducted an in-depth survey between June and August, and have decided to economise its day-to-day use.
"Strengthening village-based committee and installing a recharge dug-well in each house is our next objective", shared a villager, while discussing future plans.
(A Shree Padre's contribution)
For further information:

Amrutha Sinchana Raithara Seva
Okkoota, c/ o Idkidu Service Co-op Bank, Idkidu,
Dakshin Kannada district 574 220
Karnataka
Reviving pynes
Institute of Research and Action (IRA), a Patna-based non-governmental organisation, is actively encouraging the local communities to revive the traditional irrigation systems that have now fallen to disuse - ahar (a rectangular catchment basin with embankment on three sides) and pyne (channels diverting water from ahar to individual fields) system.

In 1999, they started with a 850 years old dysfunctional system serving 40 villages, located in Hadnapur, Gaya. IRA irrigation committee, representing all these villages was set up, facilitating the execution of the works with communities participation. The entire 45-km long channel was desilted and revived. The response of the locals is positive and today, about 350 ahars are being revived.

For further information:

IRA, 305 B, Lakshmi Villa,
Mahesh Nagar, PO Kishori Nagar
Patna 800 024 Tel: 0612-261977