The Alacrity cycle
By optimally combining the technique of rainwater harvesting (RWH) with wastewater treatment and reuse, Alacrity Foundation, Chennai-based flat promoters, have found an answer to the problem of water scarcity. The proper application of this technique can reduce dependence on external sources.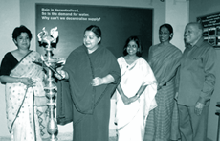 CM Jayalalitha lighting the lamp of hope and hydrological prosperity Understanding the magic of rain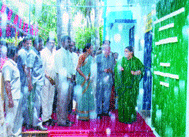 Understanding the magic of rain
According to Alacrity's calculations, RWH alone has the potential of meeting about 30 – 40 per cent of the flat complex's annual water needs. This can be further increased to 60 per cent by reusing wastewater after in situ treatment. The wastewater is of three kinds:

About 30 – 40 per cent of wastewater is from closets for flushing, and cannot be reused;

About ten per cent of wastewater comes from kitchen. It is not reused, as the level of nutrients is high;

Only the water used for bathing and washing clothes can be treated and reused for toilet flushing or groundwater recharge. It constitutes 50 – 60 per cent of the total consumption. For recharging the groundwater, the wastewater is diverted towards a specially prepared soil bed, in which semi aquatic plants are grown. If the water is to be recycled, than the bottom of the bed is made permeable to prevent percolation.
One of Alcrity's success model
From each complex a network of three different pipes separate wastewater, at initial stage itself. Such projects require moderate capital investment as well as minimal maintenance. In the 12 localities of Chennai, where Alacrity has worked – the system has been operating smoothly. One of them is in Tambaram, an 80 flat apartment, where the system is now three years old. Here, the quality of drinking water has remained stable and a dry bore well has begun yielding. The system operates on the principles of gravity with no related problems of chemicals, smell or mosquito breeding.
In many towns, traditional dug wells are being abandoned due to contamination of the water by fecal matter from septic tanks. Alacrity system can avoid such contamination, while reviving the usage of water from the shallow depths.
For further information:
Indukanth Ragade, Alacrity foundation, 25,
Thirumalai Pillai Road,
T Nagar, Chennai 600 017
Email: management@alacritymail.com