Smile!

SMILE – student's mobilisation initiative for learning through exposure - is conceived by a New Delhi-based non-governmental organisation (NGO), Indo German Social Service Society, about ten years back. It involves 22 NGOs and Pravah is one of them. On August 25, with CSE's assistance, Pravah organised a workshop for the collegiate on the issue of rainwater harvesting (RWH). A CSE staffer introduced the participants to traditions, current practices and principles of RWH. The day concluded with students expressing a desire to do RWH in their complexes.

Rotary's initiative

To sensitise the members about rainwater harvesting (RWH) a meeting was organised by Rotary's Inner Wheel Club (IWC) on August 19. A CSE representative attended as a resource person. The participants were introduced to the status and nature of the city's water problems. The examples of different sites with RWH in and around Delhi, cleared several doubts about the potential of RWH. The response of the participants was overwhelming. Manju Bogra, secretary of IWC, said "The information provided by CSE has inspired many to take up RWH, with the available resources."
Brick by brick
CSE's trains engineers and architects
CII's water meet
The Confederation of Indian Industry (CII), organised a one day seminar-cum-workshop on August 28, to sensitise its members about the potential of rainwater harvesting (RWH). The participants keenly followed the presentations given by Delhi Jal Board, Central Ground Water Board (CGWB) and CSE. During the question-answer session, CGWB was asked to share its reserves of technical data with CSE to ensure that sustainable benefits reach the people. At the end of the day, the participants visited the RWH works undertaken by Paharpur Business Centre, Delhi.

In a bid to strengthen the backbone of the construction industry, CSE organised a training workshop for builders, architects and engineers, on August 13-14. About 24 professionals actively participated from both government and non-governmental organisations. Specialised training modules were designed to encourage this group to take up rainwater harvesting (RWH).
The first session on August 13, focused on the planning and design aspects of RWH. Dilli-o-Dilli, a presentation made by a CSE staffer, discussed the effects of neglecting traditional water harvesting practices on Delhi's present water scenario. Following sessions detailed the hydro-geological set up of the city and different techniques of harnessing rain.
I am incharge of three rainwater harvesting projects. Earlier, I had some ideas . This workshop has made me confident of
implementing them as well.
SKArora,
Military Engineering Service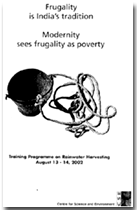 Akshay Kaul, a leading landscape architect, opened flood gates of ideas by introducing his innovative works on RWH. As a training exercise, the group then prepared designs for the sites selected by CSE.

The second day started with an impact evaluation analysis of the different RWH techniques. A site visit to CSE's model projects - Jamia Hamdard University and Panchsheel Park Colony was an experience that the group cherished the most. In the latter half of the day, different RWHlegislations of Delhi were briefed.Followed by Jeya Kumar's presentation. Being a builder from Chennai, Jeya Kumar gave the group another perspective of doing RWH.The group then collectively discussed ways to convince their clients to take up RWH.

Continuing with its endeavour CSE announces its next workshop for the army engineers in October.

For further information:
Eklavya at: eklavya@cseindia.org or Suresh Babu SV at svsuresh@cseindia.org
Nurturing future
The natural resource management unit of CSE, is offering a four-week internship programme to the students of architecture and engineering in rainwater harvesting. No fees is charged and these courses are organised during the summer and winter breaks of colleges.
During summers this year, CSE trained four engineering students — three (A Agarwal, S Pruthi and B Singh) from Delhi College of Environmental Engineering and one (Fabrice Arki) from Ecole Nationale des Travaux, Lyon, France.
In these four weeks, they did a comparative analysis of the traditional and contemporary water harvesting systems; the nature of water demand, supply, sources of water, depleting water levels, deteriorating quality amongst many other aspects. The students visit the sites, where rainwater harvesting systems have been installed. Later, they designed such systems for the new sites. At the end of the course, they were given certificates.
To join the course:
Eklavya at eklavya@cseindia.org or RKSrinivasan at rksri@cseindia.org