Glimpses of books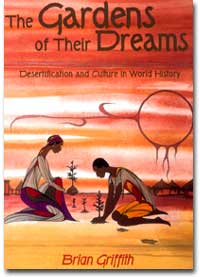 The Gardens of their Dreams:
Desertification and Culture in World History
Brian Griffith
Zed Books Ltd, UK, 2001, pp 368
This book paints a detailed picture of our ancestors' experiences in destroying and healing the ecology. Brian Griffith explores the complex socio-cultural aspects of desertification while weaving in fascinating information from different regions.
The 15 chapters of this volume revolve around three basic issues viz,
1. how the expanding wastelands have shaped people's images of nature, women, politics and religion;
2. how waves of refugees from the arid lands, including the historic migrations of Aryans, Huns and Mongols, have influenced local communities in the green border lands from China to Europe; and,
3. how locals have responded to threats of invasion and environ-mental poverty.
The connection between violence and domination on the one hand, and environmental degradation and desertification on the other is highlighted. Women's place in the desert is an interesting chapter. It shows how they fight for the rights as the environment becomes unproductive. The book ends with two stories of hope. The first focuses on nature's power of self renewal in southwest America. While the other takes us to Kenya, showing traditional farmers as a force that can transform.
The book inspires hope. Turning people back towards the path of regaining the lost gardens of their dreams. Griffith stories have a direct implication for our times and the choices we must make for a better future. Worth reading.
---

Explore....www.unesco.org/water/iyfw2

This is a special website recently launched by UNESCO to celebrate the International Year of Freshwater, 2003. It provides a platform for individuals, institutions and countries the world over to share ideas, initiatives and events. A vast array of facts on water use, health, droughts, floods and ecosystems can be easily accessed in French and Spanish as well. Surf it to keep a track of any major happenings in the water world this year. Water talk section allows you to be creatively express water through poems, pictures etc. So, as the site says, 'Jump in! Get your feet wet! Make a splash!' Let's make a difference.
---

Plumbing the Rights


This 30 minutes documentary is a part of Changing Currents, a series exploring water, globally. It is produced by TVE and screened by BBCWorld as a run up to the Third World Water Forum, 2003. These films are also available with CSE.
(Ashwini at ashwini@cseindia.org)

Extensively shot in India and South Africa, 'Plumbing the Rights', portrays the struggles of a common person for a share of water to breathe. This tussle against the state is becoming deaf and violent everyday. The film skillfully captures the complexities of the problems and the solutions devised by the people of Gujarat and Rajasthan, India and the Chatsworth Township of Durban. In Durban, people are forced to steal water, inspite of the new water act ensuring 6,000 litres of free daily supply. Watch it.