Vol. 4 No. 6 December 2002-January 2003

For water security
Attaining water security is a primary concern of every Indian, today. The thirst for information is steadily intensifying. Recognising this, CSE has strengthened its efforts to share this information. Purpose: empowering the people with knowledge that will help them fight their own battles.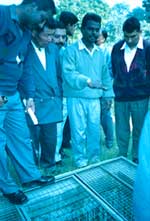 On the water front
On december 12 - 13, CSE organised a training workshop to sensitise, motivate and empower Indian military engineers to undertake rainwater harvesting (RWH) on their vast tracts of land. The sessions for both the days were comprehensivley planned to meet the intellectual requirements of the personnel, whose area of operation includes the entire country spanning the various agro-climatic zones.
The event started with an orientation on CSE's water campaign. Followed by a glimpse into the rich traditional rainwater harvesting techniques from 14 agro climatic zones of India. CSE also invited four RWH experts with unprecedented practical experience. Dr MAKhan, Central Arid Zone Research Institute, Jodhpur, Rajasthan, concentrated on the water conservation practices in the arid zone. Chewang Norphel, Leh Nutrition Project, a Leh-based NGO in Jammu and Kashmir, showed the ways to construct zings (ponds collecting melted snow for irrigation). C S Pathak, Aga Khan Rural Support Program, an Ahmedabad-based NGO in Gujarat, discussed practices of semi arid regions. KPSomaiah from MYRADA, a Banglore-based NGO, focused on the RWH systems in Deccan Plateau, Western Ghats and South Coastal Plains.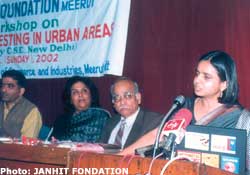 Sensitising Meerut
On the second day, 'Waterworks India', a documentary produced by CSE, was screened leaving most of the participants spellbound. In the latter half, the group visited the RWH system at Jamia Hamdard University. A meeting with the university staff convinced them of the larger impact of this simple and cost effective technique. Participants were given a chance to design a RWH system for a new building in the complex. Later, they came up with a variety of practical designs.
At the end, while giving certificates, CSE suggested a tie up with the defence forces to share and spread information on RWH. The deliberations are ongoing. In February 2003, a workshop for hoteliers will be organised.

Let us try this out?
(1) What is the source of the water that you get in your taps?

(2) What are the traditional water sources of your city? Do they work?

(3) What is the cost incurred by government for supplying water to you?

(4) What is the groundwater level in your colony?

(5) How much water do you consume everyday?

(6) What are you doing to arrest the water wastage and to recharge it as well?

Find the answers and share them with Sumita Dasgupta at
sumita@cseindia.org or Eklavya Prasad at eklavya@cseindia.org

For details: Eklavya Prasad at eklavya@cseindia.org / Suresh Babu S V at svsuresh@cseindia.org OTHER CSE'S REPRESENTATIONS:
On November 30, Exnora, a Lucknow-based NGO, organised a seminar to discuss Lucknow's degrading water scenario. Participants from CSE and different governmental departments like CGWB and Lucknow Development Authority talked about the ways of replenishing the dipping water table.

On November 30 – December 1, Maurya Sheraton, Delhi, held its annual Hotel Enviro fest. CSE took part by setting up an exhibition focusing on urban water scenario. Amazing response.

Xavier Institute of Development Action and Studies, Jabalpur, organised a two-day international water workshop on December 4 - 5. Experts from both India and abroad deliberated on emerging issues.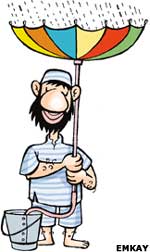 CSE participated in a seminar organised by Kheti Virasat, a local NGO, on December 8, to find answers to Punjab water crisis. Held in Chandigarh, it was attended by government officials, local NGOs and experts. CSE joined the initiatives of the Federation of Indian Chambers of Commerce and Industry on December 10, to spread awareness on water. Sunita Narain, director of CSE, emphasised the potential of a low cost technique like RWH in arresting the current crisis unleashed by scarce rains. Other speakers included, Rajendra Singh, Tarun Bharat Sangh, an NGO, MSSwaminathan, the renowned agricultural scientist, Som Pal, ex-union minister for water resources. On December 17, CSE made a presentation at Sri Ram School's eco-meet for the teachers in Vasant Vihar. Janhit Foun-dation, a local NGO organised a brain storming session to talk about the status and potential of urban RWH in Meerut. While sponsoring the event, CSE actively joined in along with CGWB, local government officials and NGOs. On December 23, to celebrate the inauguration of RWH system in Tihar jail, CSE organised an exhibition - generating a lot of interest. On December 30, DJB organised a seminar on RWH. CSE, IIT, CGWB, INTACH were among the main invites. While applauding DJB's effort to extend a support of Rs 50,000, participants raised doubts about its accessibility.
---
The facilitators

CD on rainwater harvesting

CSE has compiled a comprehensive data on rainwater harvesting (RWH)practices and practitioners from both rural and urban India. It is available in the form of a CD.
For details: Sumita at sumita@cseindia.org
Sound of water
Listen to Hariprasad Chaurasia's compositions to just enjoy the sounds of water. Marketed by Music Today first in 1993, it retains the freshness. The birth of water and dancing waters are two tracks that one cannot afford to miss.
RWH models prepared by students of Bal Bhavan Public School became focus of attention in Science Fair
Water carnival
The city of lakes, Banglore, hosted a nine day fest on 'Water in the city - Water of the people'. Organised by Max Muller Bhawan in collaboration with local NGOs, it was first of its kind in India. Photo exhibitions, film screenings, public lectures and painting competition attracted people from diverse backgrounds. The water audit done by kids from Childrens Movement for Civic Awareness forced people to think. "People either do not know or feel disempowered. We hope the fest will spark a movement to address this problem in Indian cities", hopes S Viswanathan, a water expert.