Vol. 4 No. 6 December 2002- January 2003




Punjab, ready for desi solutions
Saga of tanks

Mismanagement and neglect of traditional tanks in Andhra Pradesh have led to a severe shortage of water in the region. A known fact that has been highlighted by the members of the state assembly during a prolonged debate (in mid November) on repairing tanks. Instead of adopting a cogent approach, the government is considering a proposal to bring about 70,000 panchayati raj (PR)tanks within the ambit of minor irrigation department (MID), which has failed to maintain tanks that are already under its jurisdiction. Does this tactic intend to promote - tanks or corruption? Let us find out.

Tanks are earthen-bunded reservoirs constructed across the slopes by taking advantage of local depressions and mounds. They are not only irrigation sources but are also the main sources of livelihood for farmers with no access to canal water. An independent study reveals that large-scale canal irrigation projects have been favored. As a result, in many regions like Telegana and Rayalaseema the land under tank irrigation has registered a sharp decline.

Cutting across the party lines the legislators alleged that the government's statistics of improved aycut (tank) taken up under various World Bank schemes are far from the truth. Satyanarayana, a BJP MLA said, "In my own constituency - Medak, no funds have been released to repair tanks under Neeru Meeru program after I became MLA in 1999." Under Neeru Meeru, MID gets more funds and about 80 per cent of its maintenance budget is spent on paying wages. Now, to protect PR tanks, the appointment of 300 assistant engineers and promotion of 48 have been approved. More tanks may fetch MID more funds but the possible impact of this measure remains doubtful.

Depleting water resources and diminishing agricultural returns in Punjab are not new concerns. But the willingness to address these issues by both the state government and the people is a new phenomena and deserves attention.

Punjab is a state where the seeds of green revolution sprouted. Transforming the country from a food deficit to a surplus nation. However, in the process Punjab lost its prime soil, water and forest. As per a study done by M Singh and K Brar, Punjab Agricultural University, Chandigarh, "Since 1960s, wetlands in the state were drained and reclaimed for either cultivation or urbanisation. As a result only 11 per cent of the natural wetlands remain. Impounded wetlands has been constructed only to facilitate the irrigation network." Even the village ponds are not maintained properly. A survey done by Kheti Virasat, a Chandigarh-based NGO, in 20 villages of Ropar district, reveals that "Only 21 ponds (2 - 4 acre) exist whereas, earlier in just one village three - four of such ponds could be easily found. About seven of these are dry and 14 have dirty water". According to an estimate, more than 90 per cent of the state's ponds have been encroached upon.

Punjab has harnessed about 98 per cent of its irrigation potential. More than 95 per cent of the sown area is irrigated. Only 40 per cent of it is from canals and the rest from innumerable tubewells. For every 100 hectares about 25 to 43 tubewells exist. According to an estimate, there are about one million tubewells in the state.

Further, due to unplanned paddy cultivation,the water table has been dropping steadily during the past two decades from 50 feet in 1980 to 250 feet in 2002. "Between October to June every year, all the rivers are just dry beds of sand", reveals Jagjit Singh, ex-chairman, Soil Conservation Department, Government of Punjab (GoP).

According to Singh, "Excessive use of chemical fertilisers and pesticides has adversely affected human health and the regions diverse biodiversity. Most of the farmers in Punjab are just looking for good price with no concern for their consumers' health."

Due to the minimum support price for wheat and paddy offered by the government, an element of complacency crept in and has since increased manifold. However, in the process the quality of the produce was ignored - making it uncompetitive in the global market.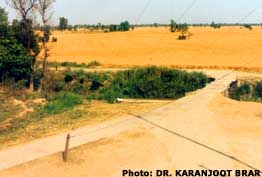 Wetland encroached for cultivation
But things have started to change for the better. To encourage farmers to diversify from mono cropping to other crops like barley, mustard and maize for the next five years, the state government has recently introduced contract farming. Experts have for long suggested this change in cropping pattern to improve the state of soil and water condition. It is not an easy task as it involves changing mindsets. But a beginning has been made. Punjab Agro Industries Corporation in collaboration with the state government is operationalising it. Assured prices are also being ensured to the farmers as an incentive.
A change in the cropping pattern can check the downslide in water table over a period of time but will it also replenish the water sources? The answer is no. Even a land of five rivers needs to do rainwater harvesting (RWH) to improve the water status. "Barish ka paani ke baat hi aur hein. Achha paani, khad se fasal ko bhi majbooti milti hai", says a farmer from Ludhiana. So, there is no alternative to RWH. All it needs is a comprehensive plan chalked out with a desi mindset.