Fog Collectors Chungungo, a remote village in the arid coastal desert of northern Chile, has more than doubled its per capita water supply by collecting fog. Their success has inspired similar efforts around Chile, Ecuador, Mexico and Peru.

It all started in 1992, when researchers from International Development Research Centre (IDRC), Canada, decided to harvest fog as a supplementary source of drinking water.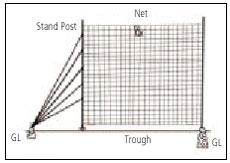 This is how fog is collected
The idea is rather simple. The condensed water droplets present in the fog precipitate when they come in contact with an object like net. As water collects on the net, the droplet joins to form larger drops that fall under the influence of gravity into a trough or gutter, from which it is conveyed to a storage tank. The storage and distribution system usually consists of PVC pipe connected to water hose for conveyance by gravity. Before usage the water needs to be chlorinated.
A fog collector is a flat, rectangular nylon net (1 mm wide and 0.1 mm thick, in a triangular weave) supported by post at either end. It is arranged perpendicular to the direction of the prevailing wind. Alternatively, the collector may be a more complex structure made up of a series of such collection panels joined together. Local topography and quality of the net material determines the complexity and the cost of the system. The installation, operation and maintenance of the system is affordable requiring little skill.
As per the IDRC studies, "Although the technique is not flawless, it work best in both coastal and mountainous areas. In Chungungo village, the fog harvesting efficiencies were found to be highest during the spring and summers, and lowest during the winter months." The frequency of fog occurrence, fog water content, wind patterns and topography are some of the suitability factors determining its application. However, its effective implementation depends on the involvement of locals like in Chungungo. Here, a total of 88 fog collectors are managed by a village-based local committee. The operation and maintenance of the system is managed by the households.
Drum kit
A low cost drip irrigation system, drum kit, has been developed by Integrated Development Enterprises in Nepal. It has the potential of enhancing the average annual income of small farm holders by allowing them to take up income generating projects like horticulture. The kit consists of a drum and a series of pipes that need to be annually replaced. The size of the drum varies as per the need. A 200 litres drum can irrigate 125 cubic meter plot.
In Nepal, about 15,000 kits have been installed. Even in India, similar kits are increasingly used by the people in Junagadh, Gujarat.

Xeriscaping
This is a water efficient landscaping method for creating lush green lawns with little water. No additional work is required. Careful planning not only reduces water usage by 75 percent but also cut down the need for fertilisers and pesticides. Plants with varying watering needs are sown in the lawn divided into four zones: oasis, hardscaped, drought tolerant and natural.