Sabdoo, surging ahead
Picture this. A village inflicted with inter-caste violence and alcoholism transforms itself into a community jointly managing its resources like arable land and cattles. Result: return of peace and prosperity. The village under scrutiny is Sabdoo, Fatehpur, Gaya district, Bihar.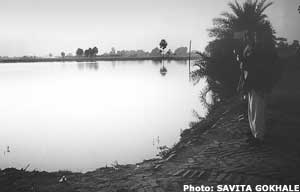 Even a drought year could not keep Sabdoo's ahar dry
The question now is how did this transformation come about? It all began when the Institute of Research and Action (IRA), a local NGO, mobilised people of 40 villages to revive a 45 kilometre long pyne (traditional water practices). Sabdoo is one of the villages, where the work was accomplished without any external help. Unwritten rules and informal institutions govern the process of distribution between these villages.
Sabdoo went a step further. Tasting the power of community-based management while conserving rainwater, the villagers decided to mould their lives around this simple yet powerful concept. "The entire process went on smoothly, as people wanted to get it done", shared Mahesh, working with IRA.
First, the medhbandhi (farm bunds dividing farmers' land) were dismantled turning the total 125 acres of village's arable land into one farm, with additional 50 acres. For initial value addition, 25 acres were earmarked for floriculture and 15 acres for vegetables. Now, instead of the entire village, only 20 people are actively involved in agriculture.The rest are either collectively working on cattle rearing, fish farming and horticulture or are in the services sector.
The quality of produce is emphasised upon. As a result, an improvement has been registered in both productivity and income levels. The income is proportionately distributed on land ownership basis. Few landless families of the village have got regular work. Significantly, the fights among the villagers (earlier, more than 50 per cent of these were on water sharing) have declined.
For details:
IRA, 305 B, Lakshmi Villa,
Mahesh Nagar, POKishori Nagar,
Patna 800 024 Bihar Tel: 0612 - 261977
Pioneering work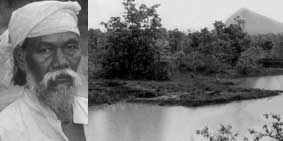 The people of Kursala village in Kalahandi, Orissa, have overcome their water problem by just deciding to conserve their forests and rainwater. About ten years ago, Komal Lochan Jani, a local, taking the lead, built 50 small ponds, while taking up intensive plantation work (including fruit bearing trees) with community participation. Kursala has broken the cycle of irregular rains, drought and migration. Now they even have adequate irrigation water in May and June. Recently, the village handed over 492 acres of forest back to the state.
For details: intowat@bol.net.in