Vol. 4 No. 6 December 2002- January 2003



A rich harvest

CSE monitors model projects: Startling results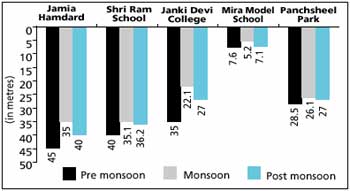 Improving water tables at Model Projects
Its time to take stock of the performance of the model projects inaugurated in Delhi by CSE in August 2002. What has the impact of rainwater harvesting (RWH) been on the quantity and quality of the groundwater before and after monsoon? Results based on regular monitoring and independent analysis clearly indicates a spectacular improvement. (See graph and table)
22 water samples from 11 different sites were collected and tested for physicochemical flutuations at CSE's Pollution Monitoring Lab. The sites including Jamia Hamdard University, Janki Devi Memorial College, Mira Model School, The Shri Ram School and Panchsheel Club, School and Colony. These are the five model projects designed by CSE to reaffirm the potential of urban RWH.
A substantial increase in the groundwater levels clearly reinstates the capacity of RWH in plugging the current gap of more than 310 MGD between water demand and supply. Significantly, in 91 per cent of the samples there is a fall in the level of dissolved solids. There is also a decline in the acidity, nitrate, nitrite, chromium and flouride contents.
Rainwater is one of the purest sources of water available.So, if the water table rises after monsoon due to RWH, the quality too improves with the dilution of freshwater.
For details:
Eklavya at eklavya@cseindia.org
Srinivasan at rksri@cseindia.org;
Tel: 26081110 / 24 Ext 219
The water quality index
Indicator
Jamia Ham-
dard
Shri Ram School
Janki Devi
Mira Model
Panch-sheel
Pre–M
Post–M
Pre–M
Post–M
Pre–
M
Post–
M
Pre–
M
Post–
M
Pre–
M
Post–
M
pH
7.11
7.45
7.26
7.73
6.32
7.19
7.26
7.73
6.59
7.39
Nitrate
( Mg / l)
4.49
2.35
3.53
2.43
20.6
3.91
3.53
2.43
59.5
3.26
Turbidity
(NTU)
2.1
1.2
3.83
2.62
2.83
0.66
–
–
14.98
0.36
Acidity
( Mg / l)
18
0
20
0
34
0
20
0
50
0
Calcium
( Mg / l)
64
21.64
–
–
52
32
40
32
268
48
Magnesium
( Mg / l)
88
32
–
–
174
50
346
159.9
90
71.9
TDS (ppm)
595
517
724
692
–
–
–
–
2140
1550
Hardness
( Mg / l)
160
54
–
–
–
–
864
100
218
120
Oil & grease (ppb)
30
20
40
15
20
10
40
15
30
17
Chloride
( Mg / l)
–
–
–
–
131
75.8
–
–
456
417
Chromium (Mg / l)
0.0175
–
0.003
0
0.01
0
0.003
0
–
–
Iron( Mg / l)
–
–
0.082
0
–
–
0.082
0
–
–
Note: Pre – M = Pre Monsoon; Post – M = Post Monsoon;