Reasserting rights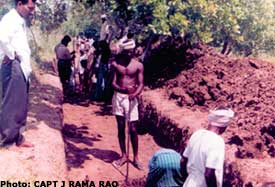 Working for rights
When the people are driven to the wall, they react to survive. That's what girijans (a tribal community) of Cherukupalli and Tarakalagudem village, Sattupalli block, Khammam district, Andhra Pradesh, did to regain their rights on the local water sources.
Ginnelavagu, a perennial water source flows by the side of these two villages but they were deprived of its waters by influential non girijans living downstream. Moreover, the efforts of girijans to utilise springs water by diverting it to a sump and manually lifting it were tampered with. The different state departments did not extend any help.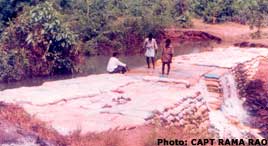 Enjoing rights
Faced with acute drought this year, which ruined their entire kharif crops and little water to drink, girijans united to assert their rights over Ginnelavagu's water. The village communities from both the village built a sand bag check dam across Ginnelavagu. About 5,000 bags were used to construct the structure that is 12 feet in width and ten feet high. Its height can be raised to impound more water, if such a need arises. A 300 feet long feeder channel was also dug through the lands owned by girijans.
As they were united, all this was accomplished without opposition. A decision to unitedly assert their rights has earned them prosperity and respect.
(With inputs from Capt J Rama Rao)
Haryana documents
The Directorate of Agriculture (DoA) in Haryana has come out with a series of 18 pamphlets detailing the district wise rural groundwater status. The survey was undertaken to substantiate the efforts of the Water Conservation Mission to promote efficient use of water. The set is available free of cost at DoA, Sector 21, Panchkula district, Haryana.
Mission possible
Appalled by government's apathy, Wangbok Hynniewta, the officer-in-charge of Sohra police station, Cherrapunjee, took action. Working after office hours, he built a check dam and a water tank with 2,000 litres capacity, at the cost of Rs 6,000. The initial response of the locals was negative but now they are confident of overcoming scarcity without waiting for government's support.